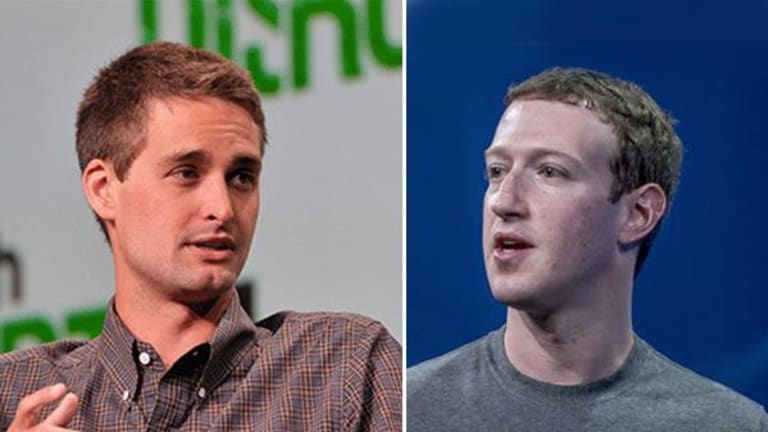 Publish date:
Facebook's Bold Moves to Copy Snap Could Draw Attention of Regulators
Facebook's latest copycat services involve its core app, and should be widely used. If regulators wanted to probe Facebook's moves, past actions against Microsoft and Google would offer some precedent.
Facebook's latest copycat services involve its core app, and should be widely used. If regulators wanted to probe Facebook's moves, past actions against Microsoft and Google would offer some precedent.
If one wanted to argue against the efficient market hypothesis -- the theory that markets immediately price in all relevant information, thus making it very difficult for investors to get an edge -- mentioning the selloff seen inSnap Inc. (SNAP) - Get Reportin response to Facebook's (FB) - Get Reportlatest moves wouldn't be a bad place to start.
Between the tests that Facebook had been running for months and the launches it has done for Instagram, Facebook Messenger and WhatsApp, Facebook's actions (with perhaps one exception) shouldn't have been a surprise to anyone.
All the same, one can't blame Snap investors for being nervous about how aggressive and transparent Facebook has become in its attempts to eat Snap's lunch. Another thing to consider, though, is that given the nature of past antitrust actions against tech giants, U.S. or European regulators could probe Facebook's moves, particularly if Snap sees more pain on account of them.
After rallying on Monday in the wake of bullish coverage from IPO underwriters, Snap is down over 3% today following news Facebook is launching three Snapchat-like features for its core mobile app:
Stories, a service that (like the Snapchat feature of the same name) lets users share photos and videos to a stream whose contents disappear after 24 hours.
A revamped camera that allows masks, filters and frames to be added to photos and videos. Augmented reality-like "reactive effects" that let users interact with digital artifacts such as falling snow are part of the package.
Direct, a service that clones Snapchat's ability to share disappearing photos and videos to specific friends.
Of the three, Direct is the only service that wasn't previously known to be in testing. Given that the service breaks with Facebook's strategy of moving private messaging between Facebook friends to its Messenger app, the move speaks volumes about how seriously Facebook is going after Snap, and how comfortable it has become with having its apps encroach on each other's turf.
All three services, meanwhile, have already been launched in some form on other Facebook apps. Instagram Stories launched last August and now claims over 150 million daily active users (DAUs), and has more recently been followed by Snapchat Stories clones for Messenger and WhatsApp (albeit with some friction). Messenger's camera now supports masks and filters, and WhatsApp and Instagram Stories support the ability to draw on and add text and stickers to visual content. Meanwhile, Instagram added support for disappearing private messages in November.
Jim Cramer and the AAP team hold positions in Facebook and Alphabet for their Action Alerts PLUS Charitable Trust Portfolio. Want to be alerted before Cramer buys or sells FB or GOOGL? Learn more now.
Of its four platforms, Facebook's core app and Instagram might be the best places for hosting disappearing content streams, since users are accustomed to sharing material on each app's main feed that could be seen by hundreds of people or more. And with Facebook claiming 1.23 billion DAUs for its core app and Messenger as of December -- about three times as many as Instagram and more than seven times as many as Snapchat -- odds are that it won't take long for its latest Stories clone to gain a following if it's promoted on the home page of Facebook's app.
Facebook Stories and Direct both aid Facebook's ongoing efforts to combat a decline in the amount of user-generated material shared on its core app, as users worried about what content is viewable by hundreds of "friends" and permanently attached to their Facebook profiles move more sharing to messaging platforms. Stories content can still be seen all of those Facebook contacts, but it's not permanent. Moreover, one could argue that outside of some truly embarrassing material, self-censoring Facebook users are more worried about sharing opinions than photos or videos.
As The Verge observes, it's telling that for now, Facebook isn't making its latest Stories clone available to brands and publishers. That's not the case for either Instagram or Snapchat Stories, both of which have been widely embraced by companies and celebrities.
Over the long run, there's a good chance that Facebook will run video ads against all four of its stories services, as it has already begun doing for Instagram Stories. Together with Facebook's tremendous ad scale and targeting/measurement tools, that makes its services a direct threat to Snap's Stories video ad business, which appears to be its largest revenue-generator.
On top of that, Facebook is now going after Snap's other ad business -- the "sponsored" lenses and geofilters that users can attach to content -- by letting brands create photo/video masks for Facebook Stories. The first masks will be for upcoming movies such as Alien: Covenant and Guardians of the Galaxy Vol. 2.
But for all of their potential, Facebook does need to build tools for sharing content to multiple stories services at once. With all of the user overlap that exists for the company's four big platforms, it's likely that many users will choose to create stories for only one platform and ignore the others. And in the event that users create them for multiple platforms, a lack of cross-posting tools could mean that a user will have to load multiple apps to see all of the content a friend shared over the last 24 hours, which doesn't make for a great experience.
Instagram has already made it easy for someone sharing content to the main Instagram feed to simultaneously share it on Facebook and other social platforms. Look for Facebook to roll out similar options for sharing stories content in the coming months.
Already, Instagram Stories has taken a toll on Snapchat's DAU growth, which fell to just five million in the fourth quarter of 2016 from 21 million in the second. And there are also reports that some prominent Snapchat Stories accounts have seen big traffic declines thanks to Instagram. Facebook's latest actions could yield additional DAU pressure starting in Q2 2017.
While there has been speculation that Snap could sue Facebook for its blatant copying, lawyers have argued that simply taking the idea behind an online service doesn't violate copyright and trademark law. Moreover, Facebook, like other Internet giants, maintains a large software patent portfolio for defensive purposes, and could likely countersue Snap if it wanted.
The greater legal risk to Facebook might not come directly from Snap, but from antitrust regulators. Past actions against Microsoft (MSFT) - Get Report and to a lesser extent Alphabet/Google (GOOGL) - Get Report arguably yield some precedent for regulators going after a tech giant that sought to crush a smaller rival by launching a competing product or service and bundling it with widely-used offerings.
The DOJ's famous antitrust suit against Microsoft revolved around the company's bundling of Internet Explorer with Windows, and its destructive impact on web browser Netscape. Likewise, the European Commission's (EC) suit against Microsoft was partly related to its bundling of Windows Media Player with Windows, and the harm done to streaming software rivals. These suits respectively ended with a settlement and a fine that amounted to slaps on the wrist, but they also arguably distracted Microsoft at a time when Windows' dominance over the consumer tech landscape was starting to fray.
Both the EC and the U.S. FTC have probed Google Search's integration of content from other Google services, such as Google Shopping and Maps, in its search results. With Google making a solid argument that such integration enhances the usefulness of its results, the FTC has backed off on this matter. But the EU charged Google last year over its Google Shopping integration, among other things.
If regulators do go after Facebook over its Stories clones and other attempts to mimic Snap, expect the company to argue, as Google has, that it's simply trying to improve the user experience. But the breadth of its imitation, along with the fact that many of the services it has launched run alongside, rather than directly integrate with, existing services, this argument could be a tough sell if regulators are in a litigious mood.
And while various U.S. regulators have been signaling a more hands-off approach under the Trump Administration, the EC has certainly been in a litigious mood when it comes to U.S. tech giants. Snap is still basking in the afterglow of a successful IPO for now, but if Facebook's moves lead the company's DAU growth to turn negative or its revenue growth to significantly deteriorate, it's not hard to imagine Brussels lending a sympathetic ear.