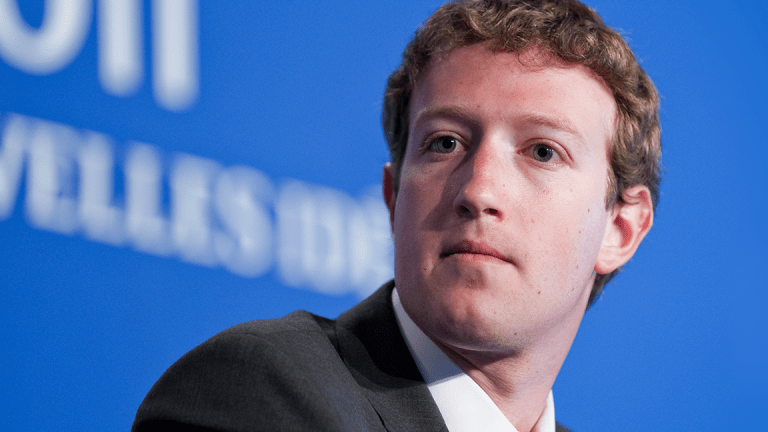 Facebook's Big Spending Plans Are Overshadowing Its Strong Earnings -- for Now
The social media giant's plans to spend heavily in 2018 on content-policing and video efforts are weighing on shares. But its Q3 results provide little to complain about.
Time and time again, Mark Zuckerberg has shown that he's quite comfortable with depressing Facebook Inc.'s (FB) - Get Report near-term profits to make investments he thinks are crucial to its long-term plans.
And over the past year or so, Zuck has shown a pretty high level of PR savvy, trying to defuse or at least lessen swelling public criticism of Facebook's policies and media power by doing everything from announcing changes to Facebook's fake news-flagging policies to revising the company's mission statement to doing a cross-country road trip.
Those two things -- an aggressive spending mindset and tremendous PR/image sensitivity -- have led Zuckerberg to sign off on 2018 spending plans that are a lot more ambitious than what many expected. And for the moment at least, investor unease about those plans, together with the near-60% 2017 run-up Facebook had delivered going into earnings, are keeping shares from moving higher following a stellar Q3 report. They finished after-hours trading down 1.8% to $179.30, after making new highs in regular trading.
Continuing a long string of quarterly beats, Facebook reported Q3 revenue of $10.33 billion (up 47% annually) and GAAP EPS of $1.59, easily topping consensus analyst estimates of $9.85 billion and $1.28. And the company's closely-watched active user figures were close to expectations: Monthly active users (MAUs) for Facebook proper and Messenger grew 3% sequentially and 16% annually to 2.07 billion; daily active users (DAUs) grew at the same rates and reached 1.37 billion.
Ad revenue, which now makes up 98% of total revenue, grew 49% annually to $10.14 billion on the back of strong news feed and (to a lesser extent) Instagram ad sales. With the help of currency swings -- they boosted sales growth by 2% in Q3, after depressing it by 2% in Q2 -- ad growth actually improved from Q2's 47%, even though Facebook has cautioned for a while that growth will slow as increases in its news feed ad load (the number of ads shown for a given amount of viewing) diminish.
Payments and other fees revenue, hurt for a long time by declining Facebook PC gaming activity, fell 5% to $186 million. But -- perhaps thanks to Facebook's Instant Games platform, which launched last fall -- that was a smaller drop than Q2's 20%, and sales rose 18% sequentially.
Facebook's bottom line also got a boost from lower-than-expected spending growth: GAAP costs and expenses rose 34% to $5.2 billion, below Facebook's prior full-year spending growth guidance of 40% to 45%. And on the earnings call, the company cut its guidance to 35% to 40%.
But for the time being, all of that's being overshadowed by Facebook's preliminary guidance for costs and expenses to grow 45% to 60% in 2018. And for capital spending, already forecast to grow 56% this year to $7 billion, to roughly double next year.
Infrastructure investments needed to support the billions upon billions of hours of video uploads and views Facebook is seeing have a lot to do with the capex budget. And the cost/expense growth is partly due to depreciation expenses caused by heavy capex, as well as Facebook's investments in video content (possibly $1 billion through the end of 2018) and in AR/VR and global web connectivity efforts.
However, the cost/expense growth also has much to do with Facebook's plans to significantly ramp how much it invests -- both in people and technology -- to monitor its content and deal with things like fake/misleading news, abuse, hate speech and politically-motivated ad buys from unknown sources. The announcement comes shortly after Facebook, Alphabet Inc./Google (GOOGL) - Get Report and Twitter Inc. (TWTR) - Get Reportwere grilled in Congressional hearings over Russian ad buys in advance of the 2016 election.
Jim Cramer and the AAP team hold positions in Facebook and Alphabet for their Action Alerts PLUS Charitable Trust Portfolio. Want to be alerted before Cramer buys or sells FB or GOOGL? Learn more now.
"We already have about 10,000 people working on safety and security, and we're planning to double that to 20,000 in the next year to better enforce our community standards and review ads," said Zuckerberg on the call. CFO Dave Wehner later qualified that remark by noting the 10,000 people include those working at Facebook "partners" on safety/security issues. Regardless, Facebook's hiring of content-reviewers, together with its still-aggressive hiring of engineering talent, led headcount to rise 47% annually in Q3 to 23,165.
Outside of the spending forecast, and perhaps to a small degree the slowdown in Facebook's emerging markets user growth -- it was affected by Facebook hitting the 1-year anniversary of the arrival of promotional mobile data plans in India and other markets -- there was little for investors to take issue with in Facebook's report. While the ad load growth slowdown and a rising mix of video ads led the growth in Facebook's paid ad impressions/clicks to slow to 10% from Q2's 19%, this was offset by ad price growth improving to 35% from 24%.
Video ads played some role here, as did the fact that lower ad inventory growth naturally serves to boost prices. But management was eager to stress on the call that the steady improvement in Facebook's targeting and measurement tools (enabled by its unmatched user data), improvements that are upping the frequency at which Facebook campaigns drive things like e-commerce transactions and app installs, remains a key factor. COO Sheryl Sandberg also insisted that Facebook still has plenty of room to grow adoption of its most advanced targeting tools, and (with the help of Facebook's new Watch video ad platform) to supply more high-quality video ad inventory.
Sandberg also disclosed that Facebook now has over 6 million advertisers (most of them small businesses), up from 5 million in April. Zuckerberg, meanwhile, disclosed Facebook's two most popular Snapchat Stories clones, Instagram Stories and WhatsApp Status, have over 300 million DAUs apiece. Instagram Stories crossed 250 million DAUs in June, and WhatsApp Status did so in July.
If Facebook was still trading at its early-July levels, the many positive storylines in its Q3 report and call would likely be good for a strong post-earnings pop, even if accompanied by a heady spending forecast. With the stock trading above $180 going into earnings, the spending guidance is causing investors to take a breather.
That said, considering how much trust Facebook's management has earned over the years to make big investments wisely, the breather might not last too long, at least if equity markets remain friendly.
TheStreet's Eric Jhonsa previously covered Facebook's Q3 report and earnings call through a live blog.
More of What's Trending on TheStreet: