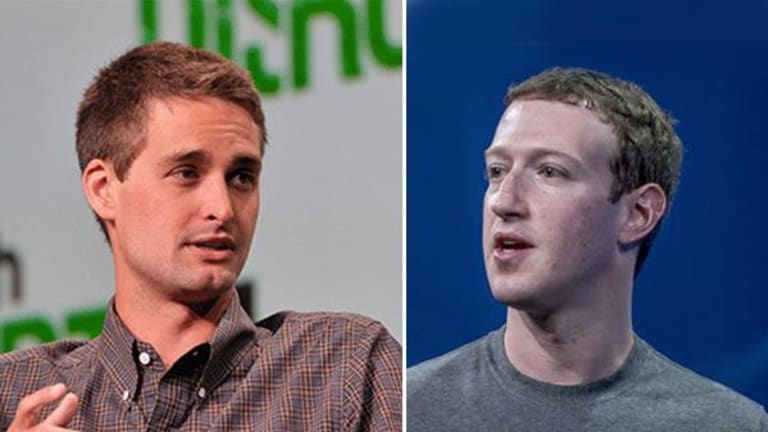 Facebook's Augmented Reality Strategy Finally Goes Beyond Just Copying Snap
The social network giant is turning to its developer ecosystem and AI investments as it seeks to build the most popular platform for creating AR-enhanced content.
This column originally appeared on April 18 on Real Money, our premium site for active traders. Click here to get great columns like this.
With all of the moves that Facebook (FB) - Get Facebook, Inc. Class A Report has made over the past several months to add content editing and sharing features to its apps that strongly resemble ones supported by a certain newly-public rival, one can't fault the tech press for assuming that its F8 developer's conference would feature more of the same. Especially since that rival unveiled a new feature on Tuesday -- the ability to add 3D "lenses" to photos and videos taken with a phone's rear camera, rather than just selfies -- that seemed like just the kind of thing Mark Zuckerberg's company would show off at F8.
Facebook did indeed reveal similar tools. But it also went far beyond that, leveraging two of its strengths -- the company's large developer ecosystem and its engineering prowess -- to back up Zuckerberg's claim that Facebook is on its way toward building "the first mainstream augmented-reality platform." And it's doing so at a time when growing consumer interest in AR and the capabilities of newer smartphones could make a leadership position in this field quite valuable.
While Facebook made numerous announcements during its 80-minute F8 keynote address, none was arguably larger than the unveiling of its Camera Effects platform, which lets third-party developers create masks, filters, frame effects and other digital objects that can be added to material recorded with the camera features within Facebook's mobile apps, including live video. A pair of free tools, known as AR Studio and Frame Studio, will be provided to developers looking to support the platform.
Importantly, Facebook's platform doesn't merely support the kind of digital overlays currently enabled by its camera features, as well asSnap Inc.'s (SNAP) - Get Snap, Inc. Class A ReportSnapchat -- for example, a digital hat that might be placed on a user's head while taking a selfie, or a storm cloud appearing above his or her head. Instead, the company wants to use AI to understand things like what objects are in a scene, the location and type of setting in which content is being recorded in and the depth and positioning of detected objects. This information, in turn, is used to figure out what kind of AR content to show or recommend, and to optimize how it's displayed. Content that's not only used to entertain, but also to inform users about their real-world surrounding and in some cases create digital artwork.
Examples given at F8 include adding an information card to a wine bottle, having digital steam appear above a coffee cup, gauging the depth of a table on which a cereal bowl is placed to show animated sharks swimming around it and recognizing that a sporting event is being recorded and having digital confetti fall when a team scores. Facebook pointed out that it put a lot of work into making some of the algorithms powering such features efficient enough to run smoothly on an average smartphone. Snap will likely have a hard time replicating Facebook's AI work. And even if it can, matching the developer/brand support Facebook's platform will see will be very tough.
Alphabet/Google (GOOGL) - Get Alphabet Inc. Class A Report and perhaps Apple (AAPL) - Get Apple Inc. (AAPL) Report, each of which have big AI investments and developer ecosystems of their own, might have more success. But lacking Facebook's social clout, they'll have to come at it from a different angle, respectively baking features into iOS and Android camera apps and hoping those tools will be used more than Facebook's.
If Google/Apple create such features and they see strong uptake, Facebook won't be thrilled, since it would prefer that users spend as much time within its apps as possible, and since (as is already the case for Snapchat) there's room to monetize AR content via "sponsored" lenses, filters and perhaps information overlays. But it might not be too upset either, since chances are that much of the AR content created with a Google or Apple camera app will eventually end up on a Facebook platform. Just as long as it doesn't end up on, say, Snapchat or Twitter (TWTR) - Get Twitter, Inc. Report instead, the company can live with the outcome.
Apple,Alphabet and Facebook are holdings in Jim Cramer'sAction Alerts PLUS Charitable Trust Portfolio. Want to be alerted before Cramer buys or sells AAPL, GOOGL or FB? Learn more now.
Facebook's main goal is to make its apps as popular a venue for sharing AR-enhanced photos and videos -- ideally created via Facebook's own platform, but potentially through someone else's -- as they are for sharing standard photos and videos. Pokemon Go's success was apparently an eye-opener for Zuck, showing how phones are becoming a major AR platform as AR headsets (something Facebook and a slew of others are working on) remain a work-in-progress. His company also has to be aware of the AR content the dual-lens cameras found on the iPhone 7-Plus and certain high-end Android phones could enable -- things like automatic background removal and 3D object-modeling.
But if Facebook wants to see strong Camera Effects adoption, it will need to do a better job of helping consumers discover third-party content than it has for some of its recent platforms. Indeed, two of the more notable non-AR announcements made during the F8 keynote involved addressing content-discovery shortcomings:
Chatbots built for Facebook's Messenger bot platform (unveiled to much fanfare at last year's F8, has seen a mixed reception since) can now be browsed through a discovery tab. They can also be used to embed content within standard Messenger chats -- for example, a user could share a Spotify song or a play-by-play sports ticker.
Games created for Facebook's Instant Games platform (launched last November) can now be accessed through a dedicated Messenger games tab. The platform now also supports more advanced real-time and turn-by-turn games, along with bots that let game developers engage with players.
Both platforms aim to give developers an alternate way to gain users than app downloads, which are hard to come by for many smaller developers in crowded app stores. The bot platform's long-term success is still up in the air -- many interactions remain awkward and/or inefficient -- but integrating bot content with regular Messenger chats rather than requiring standalone conversations feels like a step in the right direction. Meanwhile, with Facebook now claiming 800 million game-players on its sites and apps (up 23% annually), Instant Games seems well-positioned for success as long as game-players can find what they're interested in.
There were also a handful of other noteworthy F8 announcements:
Facebook made Spaces, a social networking app for VR headsets, available in beta mode for the Oculus Rift. Spaces lets users interact in a virtual environment via digital avatars imposed over a background, while also allowing them to share their real-world camera views and conduct video calls with Messenger users not using Spaces. It has intriguing long-term potential, but is unlikely to be widely used in the short-term, given how few VR headsets have been sold to date.
Workplace, Facebook's enterprise social networking solution -- It competes with products such as Salesforce.com's  Chatter and Microsoft's  Yammer, and to some degree Slack -- was updated to support chatbots and integration with several more third-party apps. Facebook also said it plans to offer a free version of Workplace for businesses to try out.
Facebook's core Graph API, which lets apps access data and content from Facebook's massive social graph, has been updated to include information on 140 million places.
But it's the AR announcements that seem the most strategically important. Considering how cameras have become as much of a core smartphone interface as touchscreens and keyboards -- there is, after all, a reason why Snap calls itself a camera company, or why Messenger exec Tony Leach said his company "[likes] to think of the camera as the new keyboard" -- evolving camera apps and services to intelligently understand and interact with real-world objects and people feels like a natural evolution.
Facebook is unlikely to be the only big tech company whose solutions are frequently used to enable such interactions. But it did just put itself in good position to enable a decent portion of them, and perhaps also to monetize some of them and outflank a pesky smaller rival.
Read MORE trending tech stories on TheStreet:
How Intel Is Putting More Effort Into Fighting AMD
Why You Should Put IBM's Stock in the Garbage Can and Then Light It on Fire