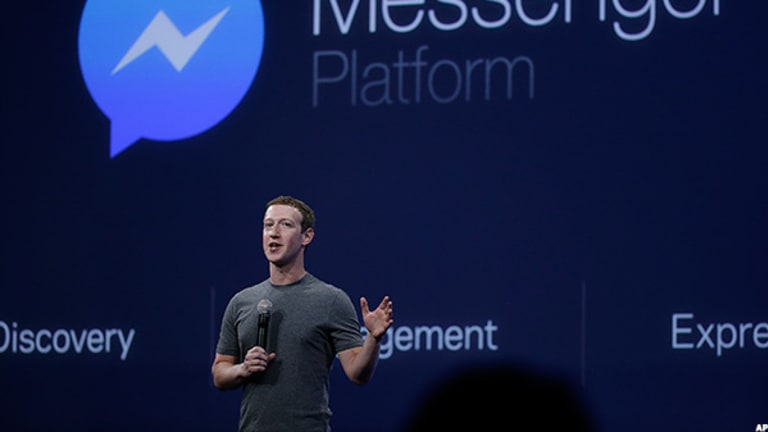 Facebook's Ad Load Slowdown Is Real, But It Still Has Plenty of Ways to Pick Up the Slack
For now, there's little to worry about.
For several quarters now, Facebook Inc.  (FB) - Get Meta Platforms Inc. Class A Report has warned on its earnings calls that the number of ads it shows on its core news feed for a given amount of viewing time (ad load) won't grow much in the future, and that it will have to rely on other means to grow ad sales. The company's second-quarter results showed both that its ad load slowdown is very real -- and that for now, it's little to be worried about, as surging ad prices, user growth and Instagram are enough to pick up the slack.
Facebook reported Q2 revenue of $9.32 billion (up 45% annually) and GAAP EPS of $1.32 (up 69%), topping consensus analyst estimates of $9.2 billion and $1.12. The growth was fueled by a 47% increase in (what else?) ad revenue to $9.16 billion. Payments & other fees revenue, hurt by declining PC gaming activity, fell 20% to $157 million.
Shares briefly slipped post-earnings on Wednesday, as some investors that had already seen Facebook gain 41% in 2017 sold on the news. But they soon reversed course, and added to their gains following an upbeat earnings call during which Facebook slightly cut its 2017 spending guidance: The company now sees 40% to 45% 2017 cost and expense growth, versus a prior outlook for 40% to 50% growth, and forecast capital spending will be at the low end of a prior $7 billion to $7.5 billion range.
Early Thursday afternoon, Facebook shares were up 4.4% to $172.85, a new all-time high.
Ad revenue growth slowed just slightly in Q2 from Q1's 51% clip and Q4's 53%, even though Facebook's paid ad impression growth slowed to 19% from Q1's 32% and Q4's 49%. The reason for this: Facebook's price per ad rose 24%, a sharp improvement from Q1's 14% and Q4's 3%.
Those numbers generally fit with what online ad agency Merkle saw in Q2. Merkle reports its "median advertiser" upped its Facebook ad spend by 56% relative to a year ago, even though it typically saw 9% fewer ad impressions and paid 3% less for ads bought on a cost-per-click (CPC) basis. These trends were easily offset by a 57% increase in average price for ads bought on a cost-per-thousand-impression (CPM) basis (often the case for display and video ads), and a 39% increase in paid clicks.
Slower ad supply growth is naturally boosting prices. But given that supply is still growing (albeit at a slower rate), it's also clear that strong ad ROIs -- made possible by Facebook's powerful and steadily improving targeting abilities -- are motivating marketers to pay more for ad impressions and clicks. A growing mix of video ad sales might also be helping, given that video ads tend to carry relatively high prices.
And as far as ad impression growth goes, Facebook (judging by Merkle's data) seems to be getting a boost from higher click rates for ads bought on a CPC basis -- another product of better targeting. User growth, of course, also helps: A month after disclosing it had topped two billion monthly active users (MAUs), Facebook announced MAUs grew 4% sequentially and 17% annually in Q2 to 2.01 billion. Daily active users (DAUs) rose 3% sequentially and 17% annually to 1.33 billion.
Jim Cramer and the AAP team hold positions in Facebook and Alphabet for their Action Alerts PLUS Charitable Trust Portfolio. Want to be alerted before Cramer buys or sells FB or GOOGL? Learn more now.
More of What's Trending on TheStreet:
Instagram, which topped 700 million MAUs in April and whose ad load remains below that of Facebook's news feed, is also contributing to impression growth. Facebook doesn't break out Instagram's ad sales, but annual sales forecasts in the $4 billion range aren't hard to find; research firm eMarketer expects Instagram's revenue to grow 106% this year to $3.92 billion. COO Sheryl Sandberg did disclose on the call that over 15 million Instagram business profiles have been created, up from eight million as of March.
CFO Dave Wehner cautioned on the call that in addition to slower ad load growth, ad impression growth could be impacted later this year by Facebook's efforts to invest in non-news feed mobile video services (for example, professional videos show in the Facebook app's Video tab), which feature relatively few ad impressions. He also mentioned that PC ad growth, which came in at 17% in Q2 in spite of lower PC traffic, will slow as Facebook passes the one-year anniversary of the start of its efforts to combat PC ad-blockers.
On the other hand, Sandberg's discussion of Facebook's ad product efforts drive home how much room it still has to improve ad ROIs and, in certain areas, impressions. Among other things, she highlighted Facebook's early success at running ads against Instagram Stories, a problem for Snap Inc. (SNAP) - Get Snap, Inc. Class A Report , which depends heavily on Snapchat Stories ad revenue; its efforts to help businesses target consumers based on past purchase activity, and the launch of Facebook's Dynamic e-commerce ads for additional verticals such as travel (an attempt to encroach more on Alphabet Inc./Google's (GOOGL) - Get Alphabet Inc. Class A Report turf). She also noted that Facebook still has a ways to go in improving the ability to measure how and when ads drive real-world purchases, something that does much to encourage advertisers to spend more.
Facebook's Earnings Blowout Proves Its Ad Business Is Booming
Facebook Blows the Minds of Investors Yet Again With How Much Money It's Making
Then there's Messenger and WhatsApp, two platforms claiming over 1.2 billion MAUs apiece -- WhatsApp also now has over 1 billion DAUs, according to Wehner -- and which produce almost no revenue today. On one hand, management cautioned repeatedly that it's still early days for Messenger/WhatsApp monetization -- no ads appear on WhatsApp, and Messenger just began testing news feed-like ads on its home tab -- and that it will move slowly to get the experience right. However, Mark Zuckerberg said he'd like to see Facebook "move a little faster" on this front, and suggested messaging monetization will be an area the company invests more in over the next year.
Zuck did also admittedly state that Messenger and WhatsApp are being treated as three-to-five year opportunities, and that over the next two to three years, growing video ad sales is "going to be a much bigger driver of the business." But that just goes to show how much room for expansion Facebook still has: Even with ad load growth slowing, the company has enough near-term growth levers in front of it that it can take a very slow and careful approach to monetizing the world's two most popular messaging apps.
TheStreet's Eric Jhonsa previously covered Facebook's earnings through a live blog.
More of What's Trending on TheStreet:
Here's How You Can Get a Decent Job at Amazon on August 2
How Amazon's Jeff Bezos Surpassed Bill Gates to Become the Richest Person on the Planet