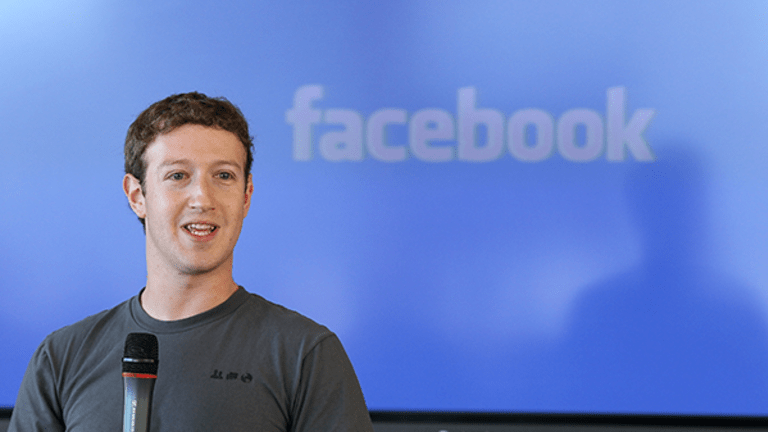 Facebook Reaps Big Rewards as Small Businesses Keep Spending More Online
The company now has over five million advertisers, and it's well-positioned to add plenty more thanks to the reach and versatility of its platforms.
As Facebook (FB) - Get Meta Platforms Inc. Class A Reportand Alphabet/Google (GOOGL) - Get Alphabet Inc. Class A Report increasingly divide up a mobile-dominated online ad world between them, small businesses are proving as much of a heated battleground as major brands and e-commerce firms. Both companies have some unique strengths in this battle, but between the two, Facebook's strategic position is arguably more enviable.
The social media giant announced on Monday that it has over five million total advertisers, up from four million in September and three million March 2016. It also said 75% of its advertisers are now located outside the U.S. -- North America still accounts for nearly half of its revenue -- and that close to 50% of advertisers create ads on mobile devices.
The disclosures come two months after Facebook said during its fourth-quarter earnings call over 65 million businesses had set up Facebook pages, and that 5 million now had Instagram business profiles. The company also stated its top 100 advertisers accounted for less than 25% of its Q4 ad revenue ($8.6 billion, up 53% annually), and that their spending share declined from a year ago.
The enormous array of ad products, targeting options and measurement tools Facebook has developed for advertisers certainly helps the company's cause. Ad formats range from media-rich Canvas Ads to product listing-filled Dynamic Product Ads to Link Ads aimed at getting users to visit a website.
Meanwhile, the wealth of data Facebook has on its users' demographics and interests enables advanced targeting, and it has created a slew of measurement tools for learning how much a campaign boosted sales, increased brand awareness and drove online and offline store visits.
Some of Facebook's efforts to win over smaller advertisers go above and beyond what one might expect from an online ad firm. These include creating a dedicated mobile app for building and tracking ads, creating free online courses for running campaigns and directing would-be advertisers to vetted "Marketing Partners" who can help them with their ad efforts. The company has also done much to let the Facebook Pages linked to many ad campaigns become free miniature websites, replete with shopping sections and messaging tools for contacting customers/followers.
But from a big-picture perspective, perhaps what matters most is that Facebook is where consumers are spending much of their digital time -- the company's 1.2 billion-plus daily active users (DAUs) spend over 50 minutes per day on Facebook proper, Instagram and Messenger -- and its news feeds, business pages and messaging apps collectively lend themselves well to both reaching out to potential customers and engaging with existing ones. That has led it to be an indispensable part of many small businesses' marketing efforts, whether they're buying Facebook ads or simply hosting pages for now.
Facebook and Alphabet are holdings in Jim Cramer'sAction Alerts PLUS Charitable Trust Portfolio. Want to be alerted before Cramer buys or sells FB or GOOGL? Learn more now.
Google's main sales pitch for small businesses, by comparison, is that consumers are turning to Google Search and Maps when they're specifically looking to frequent one type of business or another. That gives it an unmatched position at the bottom of the proverbial purchase funnel that businesses would be foolish to ignore -- especially in an era when over 60% of searches happen on mobile devices and a third of those searches are local in nature, with local searches growing faster than mobile searches overall.
And like Facebook, Google has done a lot to grow its small business appeal. This includes letting businesses add things like store hours, directions and user reviews to their Google listings, making it easy to launch campaigns for its core AdWords search ad platform, supporting e-mail and location-based targeting and coming up with ways to measure physical store visits stemming from ads. It has also pitched small businesses on buying YouTube and Google Shopping ads, and has begun in earnest over the past year to make Google Maps a core part of its local ad strategy.
There's a lot of room for both companies to grow their small business ad sales, as ad dollars keep moving to digital channels and Google/Facebook keep taking share within those channels. Research firm BIA/Kelsey forecasts U.S. digital ad spend will grow 13.5% in 2017 to $44.2 billion. It has also forecast location-targeted U.S. mobile ad spend will rise to $32.4 billion in 2021 from $12.4 billion in 2016.
But whereas a large chunk of Google's small business ad sales are quite transactional in nature -- they're ultimately about getting someone in the market for a particular product/service to place an order, make a call or visit a store -- Facebook's are more varied. Some Facebook campaigns do specifically focus on creating sales or leads, but others aim to do things like build awareness for a business/brand or strengthen existing relationships, often with the hope that some of those targeted will like/follow the business and recommend it to friends.
That gives Facebook the ability to both support numerous campaign objectives and sometimes drive giant returns on investment (ROIs) for well-executed campaigns.
A BIA/Kelsey survey run last fall found 77.6% of surveyed small and mid-sized businesses saying they use social media to promote their businesses, with 45% saying they use Facebook Pages and 25% Facebook ads. A survey from e-mail marketing firm GetResponse found that of the 70% of businesses planning to up their digital marketing spend in 2017, 59% expected social networks to primarily drive their spending growth.
And with only five million of its 65 million-plus business page users currently active ad-buyers, there's still a lot of room for Facebook to create new small business ad-buyers. Three and four-figure ad sales to car repair shops and niche online retailers may not be as flashy as multi-million dollar wins with a Nike, Disney or McDonald's, but the dollars are clearly adding up.