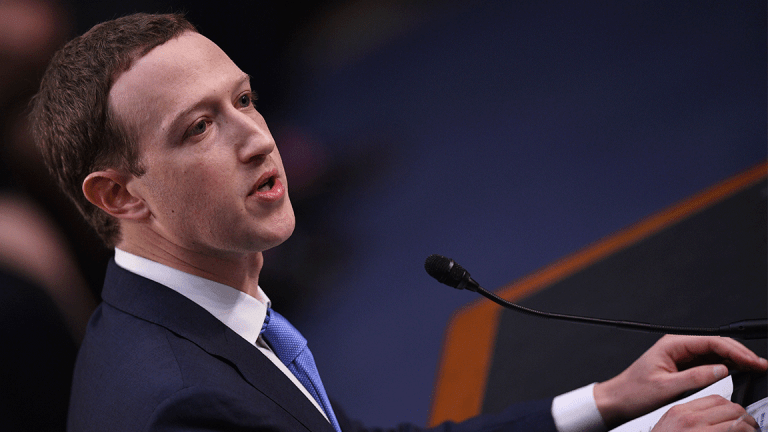 Facebook Partners With Publishers to Launch News Tab, But Not Everyone Is Happy
Facebook took the wraps off News Tab, an initiative aimed at boosting news publishers, on Friday. But it drew fire for including far-right publisher Breitbart News.
Facebook  (FB) - Get Free Report  CEO Mark Zuckerberg is seeking to mend fences with publishers, but the move is already courting some controversy. 
On Friday, the social media giant unveiled Facebook News, which consists of a tab within Facebook's app dedicated entirely to news, and is rolling out on a test basis to some U.S. users. FB shares rose 0.8% on Friday to $187.89.
The new initiative involved cutting deals with several "trusted" news publishers, including The New York Times, The Wall Street Journal, The Washington Post, BuzzFeed and Business Insider, that will publish some of their content within the tab, and in some cases remove a paywall if they have one. The idea is to give "people more control over the stories they see, and the ability to explore a wider range of their news interests, directly within the Facebook app," in addition to highlighting the most relevant stories of the day, said Campbell Brown, who heads up the project, in a blog post.
But Facebook sparked a furor over the inclusion of one publisher in particular: Breitbart News, a far-right site that peddles white nationalism, conspiracy theories and bigotry, according to watchdogs and critics. Breitbart won't be compensated for the news it publishes within the tab, according to a New York Times report, but the move still raised eyebrows. 
"It is a right-wing political operation that spreads lies, foments extremism and pushes white supremacy," said Angelo Carusone of Media Matters for America, a nonprofit media watchdog, in a statement. "Even the Senate Press Gallery denied Breitbart permanent press credentials recognizing that it did not meet the standard of a legitimate news operation."
At an event on Friday with News Corp CEO Robert Thomson, CEO Mark Zuckerberg responded to questions about Facebook News, the standards for inclusion, and its business model.
Facebook has been criticized over time for playing a role in siphoning off readers and advertising from news publishers, particularly struggling local papers. According to a Pew Research report published last year, 43% of Americans get their news from Facebook.
He pointed the audience to a set of guidelines for inclusion in the news tab. According to those guidelines, content must be "meaningful and informative" as well as "authentic and accurate" and publishers must also abide by Facebook's community standards. 
"The standards are transparent...I think a part of having this be a trusted source is that it needs to have a diversity of...views in there," Zuckerberg told an audience. "I think you want to have content that has different perspectives, but complies with the standards we have on this." He added that Facebook users want to "share their voice" in a way that "feels authentic" to them. 
Republican politicians and other conservative political influencers have regularly accused Facebook of censoring conservative views on the platform. Weeks ago, Zuckerberg hosted several meetings and dinners with conservative politicians or pundits, which raised concerns that the oft-embattled Facebook chief intends to partner up with right-leaning political groups in driving certain initiatives. 
Zuckerberg also touched on the deals Facebook struck with publishers. Some are receiving licensing fees from Facebook for inclusion in the tab, he said, while others provide a limited set of content for free. Facebook will compensate some of the major publishers included in the news tab as much as $3 million per year, the WSJ reported. Other, smaller outlets may receive licensing fees in the six figures.  
"There are a number of publishers whose content are based on paywalls...we've had to structure specific relationships to that some of the content can be visible behind the paywall," he said. 
Save 57% during our Halloween Sale. Don't let this market haunt you; join Jim Cramer's Investment Club, Action Alerts PLUS. Click here to sign up!
Facebook is a holding in Jim Cramer'sAction Alerts PLUS Charitable Trust Portfolio. Want to be alerted before Cramer buys or sells FB? Learn more now.