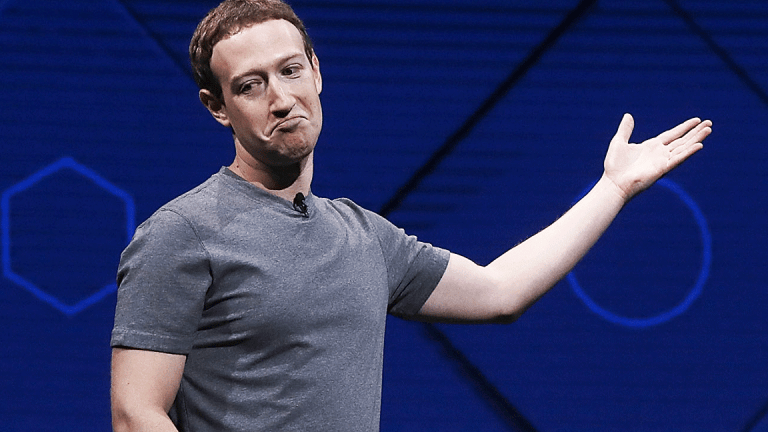 Publish date:
Why Facebook Might Only See a Modest Revenue Hit from Its Data Scandal
Mark Zuckerberg suggests the Cambridge Analytica controversy hasn't done major damage to user activity. And it looks like the impact on ad sales might be small as well.
Mark Zuckerberg suggests the Cambridge Analytica controversy hasn't done major damage to user activity. And it looks like the impact on ad sales might be small as well.
Though it could impact the company's unmatched ad-targeting abilities a bit, the ongoing Facebook (FB) - Get Report /Cambridge Analytica uproar doesn't look half as bad for Facebook's top and bottom lines as many doomsday predictions would suggest.
At least when one remembers that trending Twitter (TWTR) - Get Report hashtags might not be all that reflective of broader public opinion, restricting what data developers can access from a social platform isn't the same as restricting what data advertisers can use, and in a vacuum at least, most consumers would rather see ads that are relevant to their interests and buying habits than ones that aren't.
Facebook (FB) - Get Report shares rose 2.7% on Thursday after Mark Zuckerberg held a Q&A session with reporters on Wednesday afternoon. The gains come even though much of the coverage of the talk has focused on a simultaneous disclosure that Facebook believes Cambridge Analytica had access to information about 87 million users (37 million more than previously estimated), and that Facebook will make data-sharing controls it's required to roll out in Europe available globally as well.
Jim Cramer and the AAP team hold a position in Facebook for their Action Alerts PLUS Charitable Trust Portfolio. Want to be alerted before Cramer buys or sells FB? Learn more now.
A likely reason for the gains: Zuckerberg stated on the call that he doesn't believe there has been "any meaningful impact" from the #DeleteFacebook campaign or advertiser pullouts that have followed the Cambridge uproar. Mindful of public opinion, Zuck did add that such actions did still "[speak] to people feeling like this is a massive breach of trust and that we have a lot of work to do to repair that."
The remarks align with reports from various third-party sources. On Thursday, Wells Fargo's Ken Sena stated he's seeing "no material impact on advertiser spending" from the controversy. Social ad firm 4C Insights previously offered similar commentary.
Nonetheless, it wouldn't be stunning if the Cambridge fallout did cause at least some damage to Facebook's ad sales. One reason for this: Facebook announced on March 28 it's ending its Partner Categories ad product, which let marketers use offline shopping and interest data about Facebook users to better target them (without learning their identities). Acxiom (ACXM) , a provider of such offline data to advertisers, saw its shares hammered on the news. And on Thursday, Morgan Stanley cut its Facebook target by $30 to $200 partly due to concerns about the shuttering of Partner Categories.
But advertisers will still reportedly be able to use offline data they've obtained on their own to improve their targeting. And thanks to the treasure trove of anonymized online data it can provide about its users, Facebook relies far less on data from the likes of Acxiom than some peers. Advertiser access to this anonymized online data, it should be noted, won't be impacted by the slew of changes Facebook is making to its programming interfaces (APIs) to restrict what user data apps can obtain (some new ones were announced on Wednesday).
Indeed, the API restrictions could make Facebook even more of a "black box" to advertisers, thus increasing the value of its anonymized data to them. Likewise, Facebook's decision to end Partner Categories could be a calculated bet that a broader industry push to stop using third-party offline data to inform targeting would work to its relative advantage.
But even if that's not the case, the damage done by these moves to Facebook's news feed ad revenue, which has been surging as the strong return seen by advertisers on Facebook campaigns propel ad prices higher, should be limited in scope.
A second potential risk is that a meaningful number of Facebook users in the U.S. and EU respond to the data controversy and the rollout of revamped privacy controls by restricting how much data they share with Facebook. Users who do so would still see ads, but they'd be less effectively targeted, and that would inevitably affect pricing.
However, there isn't a lot of evidence for now that such activity is happening on a large scale. And as Zuckerberg noted on the call, many users are comfortable with a measure of data being used to provide more relevant ads. "I think the feedback is overwhelming on the side of wanting a better experience. You know, maybe its 95-5 or something like that in terms of the preferences that people state to us and in their use of the product," he said.
Facebook might not be entirely out of the woods yet: Zuckerberg is due to testify before Congress on April 10 and 11, and though the remedies reportedly being floated in Washington don't seem especially harsh, there's still some risk that the company could see a harsh government response to the Cambridge Data controversy.
But as Facebook continues reacting to it, and as more data emerges about what the controversy has and hasn't done to its business, things don't look nearly as bleak as some early headlines suggested.