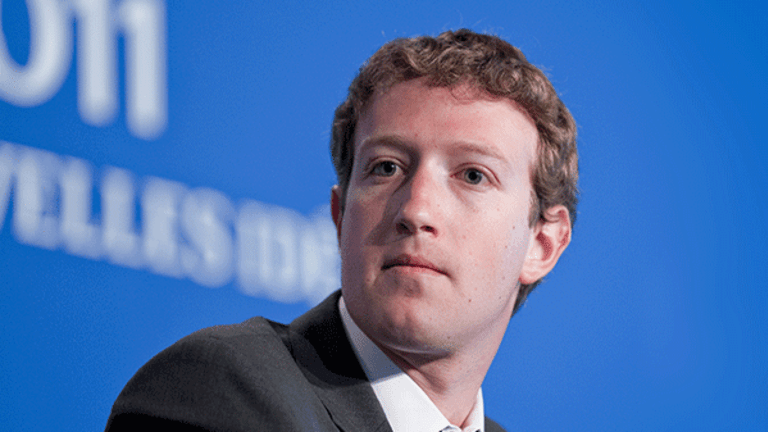 Facebook Might Be Prepping a Secondary News Feed That Could Prove Lucrative
A new "Explore" tab being tested in Facebook's app would further a goal of being a place to discover new content. It could also include video, and easily be monetized.
A new "Explore" tab being tested in Facebook's app would further a goal of being a place to discover new content. It could also include video, and easily be monetized.
This column has been updated from March 3 to note a Wall Street Journal report stating Facebook is looking to finance TV-like original shows that it would showcase in its Video tab.
You'll be hard-pressed to find a big, ad-supported, online media provider that doesn't consider Facebook (FB) - Get Report a key part of its distribution strategy. With over 1.2 billion daily users spending an average of over 50 minutes per day on Facebook proper, Instagram and Facebook Messenger, Facebook has surpassed even Alphabet/Google (GOOGL) - Get Report as a source of referral traffic for many publishers.
The fact that so many top publishers are constantly sharing material on Facebook, and that Facebook has amassed mountains of data on what kind of content its users like to see, bodes well for its budding efforts to be a place that users specifically visit to see media content, rather than just what their friends and family are sharing. There could also be a couple of valuable ancillary benefits.
Over the last couple of months, Facebook has been testing an "Explore" tab that appears at the bottom of its core iOS and Android apps. Tapping on the tab pulls up a news feed filled with articles and videos that Facebook thinks a user might be interested in, based on his or her likes and content shared by "friends." However, unlike the main news feed, one can see material here that's neither from an account a user follows, nor liked/shared by a friend.
In that respect, Facebook's Explore tab has much in common with Instagram's Search & Explore tab, which shows photos and videos from non-followed accounts that Instagram thinks a user might enjoy. It also bears a resemblance to the dedicated Video tab that Facebook has placed near the top of its core app, and to some degree to the Marketplace tab that sits next to it.
Aside from its data and publisher support, the strong uptake seen for Facebook's Instant Articles, which allow articles to be viewed in full on Facebook's app, increases the usefulness of a dedicated content-discovery section. So might the fact that so many publishers are now attaching video clips to their posts, and that --although the platform remains very much a work in progress -- a number have embraced Facebook's Live streaming service.
And from a financial standpoint, it can't be ignored that Facebook could just as easily run "Sponsored" news feed ads on the Explore feed as it can on its main news feed. That could be pretty important, given Facebook has signaled on recent earnings calls that it won't significantly increase the main feed's ad load going forward. Ad load growth, together with user growth, higher daily usage and better Instagram monetization, contributed to the blistering 57% ad sales growth Facebook posted in 2016.
Jim Cramer and the AAP team hold positions in Facebook and Alphabet for their Action Alerts PLUS Charitable Trust Portfolio. Want to be alerted before Cramer buys or sells FB or GOOGL? Learn more now.
The tab could also be a good fit for the "premium" video content that Facebook has said it wants to host more of. On the company's last earnings call, Mark Zuckerberg indicated Facebook is actively engaging professional video content creators, and that creators will be able to monetize their videos via "mid-roll" ads that appear during the middle of a video. Re/code has reported publishers will get a 55% revenue cut, the same as what YouTube offers.
On Friday evening, The Wall Street Journal reported Facebook is "soliciting pitches for TV-like original programming in about half a dozen genres, including sports, science, pop culture, lifestyle, gaming and teens." The shows would consist of weekly series featuring episodes lasting up to 30 minutes.
Facebook is reportedly willing to both license shows at a rate of "low- to mid-six figures per episode," and provide ad revenue cuts. Notably, the company is also promising content creators their shows will be featured prominently within its Video tab, which Facebook reportedly considers a better place than the standard news feed for longer videos. If an Explore tab sees a full launch, the content could also be showcased there.
Another possible benefit to Facebook's Explore and Video tabs: By shifting more media content viewing to them, Facebook has more leeway to emphasize user-generated content (i.e., status updates and photos/videos uploaded by friends) on its main feed. Multiple reports have indicated the sharing of such content has been pressured by the growing use of messaging apps for such purposes. Facebook has already been responding to this problem by tweaking its news feed algorithm to further prioritize user-generated content, as well as notifying users when a friend who hasn't shared anything in a while has done so.
Over the long run, search could also aid Facebook's efforts to become a popular content-discovery hub. The company was handling two billion searches per day as of mid-2016, less than a year after making all public posts searchable. But there's still a lot that Facebook can do to improve its search experience. It's unlikely that Facebook will ever fully replace Google as a content-searching tool for most users, but given how much is published on Facebook and how much time is spent on its app, it could turn into a valuable complement for many.
In the aftermath of the 2016 election, a lot of ink has been spilled in recent months over whether Facebook qualifies as a "media company." Regardless of where one stands in that particular debate, it should be quite clear by now that Facebook is a massive media platform.
The company's recent moves show that it's well-aware of this, and also that it's still only scratching the surface of what it can do as a media giant.