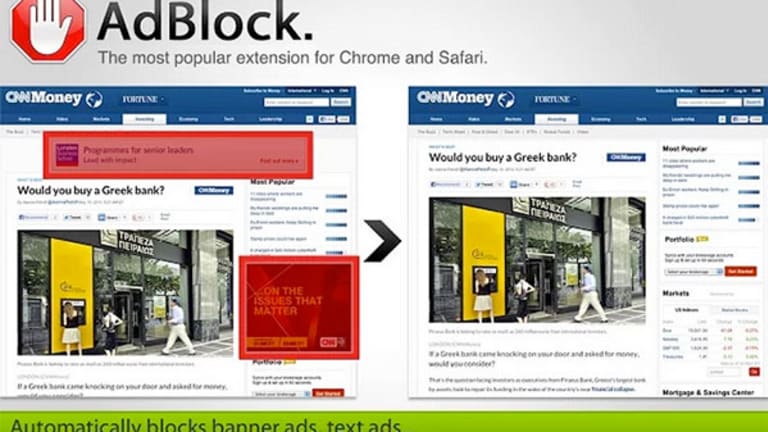 Facebook May Not Have to Worry About Ad-Blockers, But Others Aren't So Safe
While Facebook's mobile exposure limits the damage ad-blockers can do it, many web publishers and ad tech firms are in a tougher position.
Facebook's (FB) - Get Meta Platforms Inc. Report new battle with ad-blockers shines a light on the financial impact ad-blocking plug-ins built into PC web browsers is starting to have on many online publishers and ad tech firms. And while Facebook apparently has some tools at its disposal to counter the threat, smartphones and tablets might be the only safe harbors for other companies in the crosshairs.
Earlier this week, the social media giant announced it's changing the code of its web ads so that it's indistinguishable from other news feed content, and thus immune to ad-blockers. Looking to appease those upset by this move, Facebook also announced it'll let users opt out of receiving targeted ads that rely on customer lists or a user's likes/interests.
To defend its move, Facebook commissioned a study from research firm Ipsos that found the most widely-cited reasons for using ad-blockers include a wish to avoid ads that are disruptive to the user experience, slow down browsing and pose security risks. The company insists its sponsored news feed ads don't fit any of those descriptions.
As one would expect, AdBlock Plus, provider of the world's most popular ad-blocker (it has over 100 million active users, largely in Europe and the U.S.), wasn't pleased with Facebook's move, and quickly announced a workaround. Facebook, in turn,  claimed the workaround blocked not only ads, but also "posts from friends and Pages," and rolled out a code update meant to neutralize it. AdBlock responded with another workaround, and Facebook countered with another code update.
Facebook's engineering resources, together with the fact its sponsored news feed ads have long looked much like other news feed content, leave it in good position to win its battle with AdBlock. But even if it doesn't, the damage would be limited by the fact the lion's share of Facebook's ad revenue -- 82% as of the second quarter -- now comes from mobile devices, with most of that coming from apps for which ad-blockers rarely function.
And while ad-blockers do exist for some mobile browsers, their usage rates in developed countries remain well below usage rates for PC ad-blockers.
For some other companies such as Alphabet (GOOGL) - Get Alphabet Inc. Report, the impact of ad-blocking is limited by their ability to get some of their ads on "whitelists" created by AdBlock and others for ads deemed to be "non-intrusive." Google and Bing search ads are among those that are on AdBlock's whitelist; the company doesn't charge small and mid-sized sites whose ads meet its criteria to get placed on the whitelist, but (controversially) does charge larger sites.
Facebook and Alphabet are holdings in Jim Cramer's Action Alerts PLUS Charitable Trust Portfolio. Want to be alerted before Cramer buys or sells FB or GOOGL? Learn more now.
Thus the companies most at risk from ad-blocking are ones that still get much of their ad revenue from PC browsing, and which rely on formats that are intrusive and/or easily distinguishable from other content on a site. For example, distracting banner ads, ads that appear on top of an article and need to be manually closed and ads that appear before a web page or video loads.
Ad tech firms such as Criteo (CRTO) - Get Criteo S.A. Report, The Rubicon Project (RUBI) - Get Magnite, Inc. Report, Tremor Video (TRMR) and Rocket Fuel (FUEL) are among those at risk here. As are publishers such as WebMD (WBMD) , Demand Media (DMD) and InterActiveCorp (IACI) .
The problem is clearly getting bigger: Ad firm PageFair
there were 198 million global ad-blocker users as of June 2015, with over 43 million in the U.S. The former number should now be comfortably above 200 million. Just how much a publisher gets affected by this trend depends a lot on how much they improve ad quality, and how quickly they grow their mobile exposure.