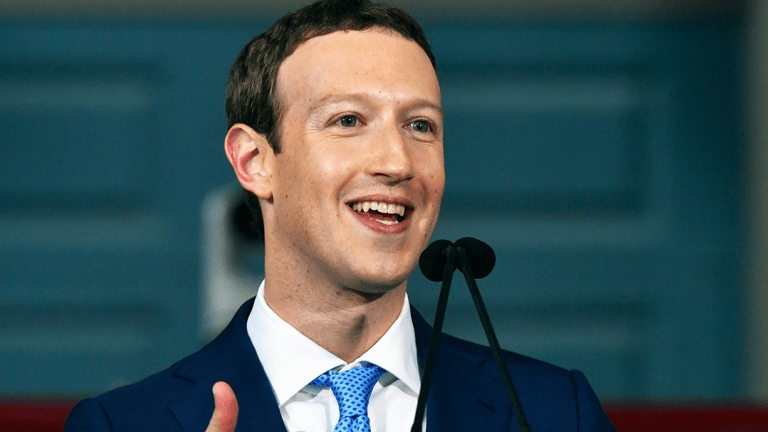 What Would Happen to Facebook if Mark Zuckerberg Ran for President?
The Facebook co-founder and CEO has denied he's planning a run for the Oval Office. But here's what might happen if he did.
Facebook Inc. (FB) CEO Mark Zuckerberg has publicly denied any rumors that he's pursuing a bid for the White House, but that hasn't stopped some folks from speculating. 
It also hasn't prevented people from asking questions like, where would Zuckerberg stand on the hot-button issues? Or, who would win in a race between President Donald Trump and Zuckerberg? (Spoiler alert: It would be a tie, according to the Democratic polling firm Public Policy Polling.)
There's other, thornier questions to be pondered, too. What would happen to Facebook if its CEO became America's commander in chief? What about Zuckerberg's controlling stake in Facebook? 
Again, since Zuckerberg hasn't announced any intent to run, it's unlikely that many of these issues will come to a head any time soon. But, should he ever declare his candidacy in a Facebook post in the dead of night, there are some ideas as to what might happen. 
"While Zuckerberg has said he's not running for president, it's not hard for anyone to imagine how a Zuckerberg presidency would...allow him to extend his governance from the world within Facebook to the broader world," said Kate Losse, who was the 51st Facebook employee and worked as a product manager there from 2005 to 2010, as well as a ghostwriter for Zuck himself.
"So while he has stated he is not running, it is not at all difficult for me (or, I imagine, anyone else) to conceive it happening," Losse added. 
All things considered, Zuckerberg hasn't done a great job of convincing people he doesn't want to run for some type of public office. For most of 2017, he's been on a cross-country tour to meet more Facebook users. His philanthropic organization, the Chan Zuckerberg Initiative, hired former Obama campaign manager David Plouffe and former George W. Bush campaign manager Ken Mehlman. On several occasions, he's made sweeping, campaign-esque statements that articulate stances on issues like a universal basic income, solar energy, immigration and affordable housing. Then there's the clause written into a proposal for a new share structure that would have let Zuckerberg retain control over Facebook if he left for a government position for two years. 
That controversial plan to create a new class of non-voting shares ultimately failed, after shareholders filed a lawsuit claiming the proposal would be a "self-interested agglomeration of power." Still, it seemed to indicate that Zuckerberg thought it was necessary to at least have some precautions in place lest he ever make the leap into politics.
More of What's Trending on TheStreet:
"That suggests he does not plan to separate the powers or divest, and Trump may have set a precedent for this," Losse said. "This points to the way that business, particularly in tech, is becoming less distinguishable from government and vice versa." 
It might seem surprising, but if Zuckerberg was elected president, he might not actually have to divest his Facebook holdings. There's no better example than Trump, who handed control of his business empire to his sons, but still maintains ownership. According to many legal experts, including Richard Painter, who served as chief ethics lawyer in the George W. Bush administration, that "doesn't really count" as divestiture, said Ryan Hagemann, director of technology policy at the libertarian think tank the Niskanen Center.
Whether people would be outraged by Zuckerberg still being connected to Facebook while in office would depend on how they view his motives, Hagemann said. It could be argued that Zuckerberg, like some tech leaders, is acting on a desire to make the world a better place, rather than profit-driven motives, he added.
"Whatever someone might think of Mark Zuckerberg's motivations, contrasted with President Trump's rhetoric, I'd say Zuckerberg would get at least as much slack if he were to hold onto his shares as Trump has been given for his supposed 'divestment,'" Hagemann explained. 
Another, albeit more minor, question to be asked is, would Zuckerberg advertise his presidency on Facebook? The proposition could be compared to if Fox News CEO Rupert Murdoch ran for political office and used Fox News to promote his campaign, or if New York Times chairman Arthur Sulzberger used the newspaper to promote a hypothetical campaign. 
The conflict of interest likely centers around ethical journalistic standards, instead of a question of legality, Hagemann said. If people view Facebook as a media company, then they'd be subject to those ethical standards, but if not, "the waters are murkier," he noted. 
Then there's the debate over what would happen to Facebook if Zuckerberg pursued a career as a public servant. Naturally, most opinions default to COO Sheryl Sandberg assuming Zuckerberg's role. Sandberg has said she's happy at Facebook, however, adding that she "doesn't want another job" (albeit in response to rumors she would be Disney's (DIS) next CEO). 
Even if Sandberg would be a worthy replacement for Zuckerberg, it's understandable to wonder if Facebook's value is truly tied to its founding father. Some make the argument that Apple Inc.'s (AAPL) success is still connected to former CEO Steve Jobs, so could the same be said for Facebook? According to Hagemann, probably not, because Facebook is so ubiquitous at this point.
"The platform already has about a quarter of humanity engaged," he noted. "I don't think the company's continued growth is necessarily predicated on Zuckerberg remaining as CEO."
"However, he is the face of the company, and leaving could send negative market signals throughout the social media ecosystem," Hagemann said.
Facebook and Apple are holdings in Jim Cramer's Action Alerts PLUS Charitable Trust Portfolio. Want to be alerted before Cramer buys or sells FB or AAPL? Learn more now.
More of What's Trending on TheStreet:
Editors' pick: Originally published Sept. 29.