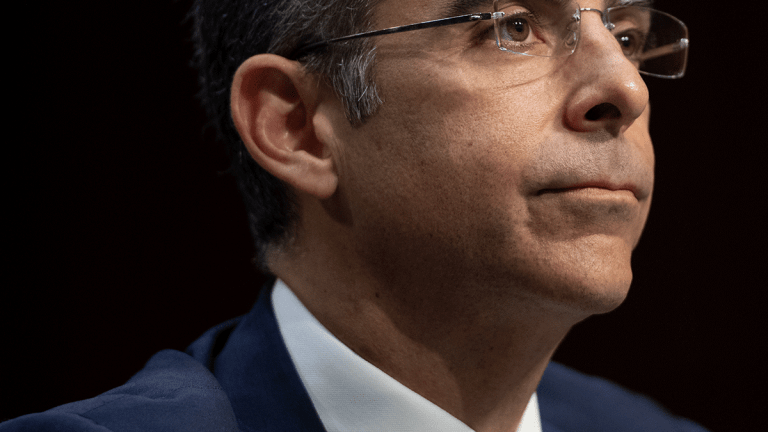 Combative Hearings for Facebook's Libra Suggest Project Could Face Long Delays
After the contentious series of hearings, Rep. Maxine Waters and others said that Facebook CEO Mark Zuckerberg should be called to testify on plans for the cryptocurrency.
When Facebook (FB)  went to Capitol Hill this week to defend its Libra cryptocurrency, the company was met with outright hostility from many of the lawmakers scrutinizing the project.
Members of the Senate Banking Committee had no shortage of choice words for David Marcus, the executive heading up Libra and the former president at PayPal (PYPL) .
Sen. Sherrod Brown said that it "takes a breathtaking amount of arrogance...to look at [Facebook's] track record and think... Let's run our own bank and our own for-profit version of the federal reserve. Let's do it for the whole world."
Facebook's stated mission in launching Libra is to connect the unbanked or under-banked across the world with a payment service that includes the ability to send money abroad. That altruistic-sounding mission statement, however, was greeted with deep skepticism, even sarcasm.
"Wonderful public service you're doing there," said Sen. McSally (R-AZ).
Would the hearing have gone differently if it were, say, Visa (V) or another less scandal-plagued finance or tech firm rolling out the project? Undoubtedly yes, said Braden Perry, an attorney at of Kennyhertz LLC specializing in regulatory and financial matters.
"There's much more regulatory and legal scrutiny to Facebook over other potential players in the blockchain world," he said. "There have been multiple established entities, such as JP Morgan Chase's (JPM) continued blockchain projects, that are quietly expanding and testing the technology. But Facebook has had its flaws."
Facebook's infamous "move fast and break things" mantra -- and the numerous ways it's broken the trust of its users through misuse of personal data -- set the tone for the lawmakers' questioning. As Marcus reiterated at various points, Facebook (along with its fellow tech giants) is supportive of a federal privacy law -- one issue with sufficient bipartisan momentum that we could see a law emerge in the next couple of years, some experts believe. 
The Libra bashing continued into Wednesday with another hearing, this time with the House Financial Services Committee. That committee's chair, Rep. Maxine Waters (D-CA) has been a leading critic of Libra and has previously asked Facebook to halt work on the project; Marcus said on Wednesday that they would not halt work on the project, but that Facebook would delay launch until it has satisfied the concerns of regulators.
Wednesday's House hearing revealed more of a partisan divide in the member's questioning of Marcus, with many Democratic lawmakers probing Libra's impact on consumers and on the financial system, while many Republican lawmakers suggested that Facebook should be given latitude to innovate with the new technology. 
"The hearings, as in most congressional hearings, were more about soundbites than understanding the underlying technology," Perry said. Still, it's likely that the lawmakers, at minimum, will hinder and delay Libra's planned 2020 launch -- "especially on the heels of the FTC's record-breaking $5 billion fine for continued privacy and data failures," he noted. 
"Emerging technology is a tough pill for lawmakers. It's much easier to say no than to say yes," Perry added.
So what are the next steps in potential regulation of Libra? Several lawmakers insisted that their committees need to hear about it from the boss himself, Facebook CEO Mark Zuckerberg.
"We need to get Mark Zuckerberg here...this is the biggest thing this committee will deal with in a decade," said Rep. Brad Sherman (D-CA). On Thursday, Waters said that her committee will call Zuckerberg in to testify.
Facebook shares were down 0.5% to $200.78 on Thursday and are up 48% year to date.
Facebook and JPMorgan areholdings in Jim Cramer'sAction Alerts PLUS Charitable Trust Portfolio. Want to be alerted before Cramer buys or sells these stocks? Learn more now.