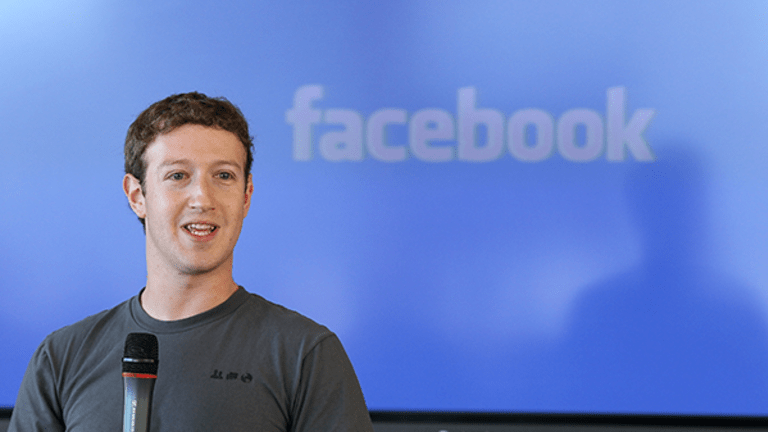 Facebook Is Well-Positioned to Launch a Cheap and Powerful Home Touchscreen Gadget
The social media giant reportedly has big plans.
The social media giant reportedly has big plans.
To date, nearly all of Facebook Inc.'s (FB) - Get Report  hardware moves have aimed to support or augment its core social media and communications apps and services -- apps and services that in turn are monetized via targeted ads or will be in the future. Odds are that the company's reported plans to launch a pair of home devices with built-in voice assistant services will be put in service of that goal as well.
This would open the door for Facebook to price its hardware at least one of its devices very aggressively, and make up for it via ad sales. It could also let the company bring some unique strengths to bear as it battles Amazon.com Inc. (AMZN) - Get Report and Alphabet Inc./Google (GOOGL) - Get Report , each of which have some big competitive advantages of their own.
On Tuesday, August 1, Bloomberg reported that Facebook's Building 8 hardware lab is testing a "video chat device" that would support Facebook services and could launch at next year's F8 developer conference (it usually takes place in the spring). The device will reportedly sport a wide-angle camera, microphones and speakers, and a test model features a "thin, vertical stand" holding up a 13-to-15 inch touchscreen. That's much larger than the 7-inch screen found on Amazon's Echo Show device, which was launched a couple months ago.
Facebook is also said to be working on a standalone smart speaker that would compete against Amazon's Echo speakers and the Google Home speaker, and perhaps to some degree Apple Inc.'s  (AAPL) - Get Report recently-unveiled HomePod. Both devices are meant to run a Facebook voice assistant service -- presumably Facebook's M assistant, which has been in testing for a couple of years and pairs traditional AI-powered assistant services with help from actual humans.
Jim Cramer and the AAP team hold positions in Facebook, Apple and Alphabet for their Action Alerts PLUS Charitable Trust Portfolio. Want to be alerted before Cramer buys or sells FB, AAPL or GOOGL? Learn more now.
The report comes four months after one from Business Insider that claimed Building 8 is working on a camera with augmented reality (AR) abilities, and perhaps also a consumer drone. BI added that the division is adding retail, supply chain and customer support talent to further an ambitious hardware push.
The video chat device might run on a version of Android (no surprise), and -- in a feature that has unsettled privacy advocates -- may be able to "automatically scan for people in its range and lock onto them" using its camera. Notably, Facebook's "early plans" for the product call for a price in the "low $100 range," which would easily undercut the $229 Echo Show.
It's quite unlikely that Facebook could turn a profit on device sales at such a price point, given the cost of a notebook-sized touchscreen as well as components such as the processor, camera module, memory chips, mics and speakers. Assuming Bloomberg's report is accurate, Mark Zuckerberg & Co. are clearly aiming to make up for hardware losses via ad sales.
And in well-monetized Western markets at least, that might not be too hard to do: Given the size of the device's screen, Facebook could easily replicate its PC news feed experience, replete with ads, with marketers having to make no changes to either their ad designs or buying/targeting programs. Instagram feed ads could also be shown without any trouble, and considering how well-suited the device is for showing video, it acts as a good venue for showing the professional content (monetized via mid-stream ads) that Facebook is aiming to populate its Video tab with.
As an aside, if Google ever decides to launch a similar device, it too would be well-positioned to sell the hardware at a loss and make up for it via ads. Google Search and YouTube could be enlisted for the effort, and so could Google Maps and Gmail to an extent.
More of What's Trending on TheStreet:
The sky-high engagement rates seen for Facebook's services should both aid its monetization efforts and make those services a key selling point for its touchscreen device. In April 2016, Zuckerberg disclosed the average Facebook user spends over 50 minutes per day on Facebook proper, Messenger and Instagram. That figure doesn't account for WhatsApp, which has become a text-messaging replacement for many of its billion-plus daily active users.
Messenger's services, which have grown considerably in number over the last two years, will likely be tightly integrated with the device. Chances are the video chat feature will rely on Messenger's video chat platform -- here, Messenger's 1.2 billion-plus users can give the feature a big edge over the Echo Show's video chat feature -- and that the app's voice-calling and messaging services will also be baked in.
Facebook could also integrate things like Messenger's Bot platform -- in addition to supporting voice and text-based interactions, it now also supports bots that act as embedded apps -- and the Instant Games platform it launched for the news feed and Messenger in 2016. It's still early days for monetizing Messenger, but Facebook has begun taking steps in this direction.
But while a low-cost touchscreen device is quite intriguing, a standalone Facebook smart speaker would probably face a more uphill battle. A speaker lacking a screen will naturally be much tougher for Facebook to monetize via ads, and thus justify selling at a loss. And since it can't show Facebook's feeds or support its photo and video services, the speaker's primary selling point has to be the M assistant service, which still has a lot of catching up to do.
The Alexa voice assistant built into Amazon's Echo hardware and a growing number of third-party devices claims an unmatched ecosystem of smart home hardware and online services supporting the platform. Amazon reported a month ago that Alexa supports over 15,000 third-party "Skills," up from 7,000 in January. Google Assistant, meanwhile, may offer the most accurate and powerful core assistant services, thanks to Google Search integration and Google's massive AI investments in areas such as voice recognition and natural-language processing.
And both Amazon and Google have big leads on Facebook in terms of taking in real-world commands and queries, and optimizing their assistant services in response to them. Moreover, questions still remain about how well the M assistant's partial reliance on human support will scale when the service rolls out to tens or hundreds of million of consumers.
Apple, whose Siri assistant continues garnering mixed reviews, wisely chose not to challenge Amazon and Google head-on in the home speaker market, and is instead launching a $349 speaker differentiated via superior audio quality and tight Apple Music integration. Facebook will need to come up with some unique selling points of its own for a standalone speaker; built-in Messenger voice calling and speech-to-text messaging are two possibilities.
Not every product or service Facebook launches becomes a hit, as things like the company's Home Android interface or Paper news-reader app drive. But between its reported feature set and pricing, and its ability to leverage Facebook's powerful ecosystem and unmatched social graph, there's quite a lot that looks promising about Facebook's home touchscreen device.
Watch More with TheStreet: