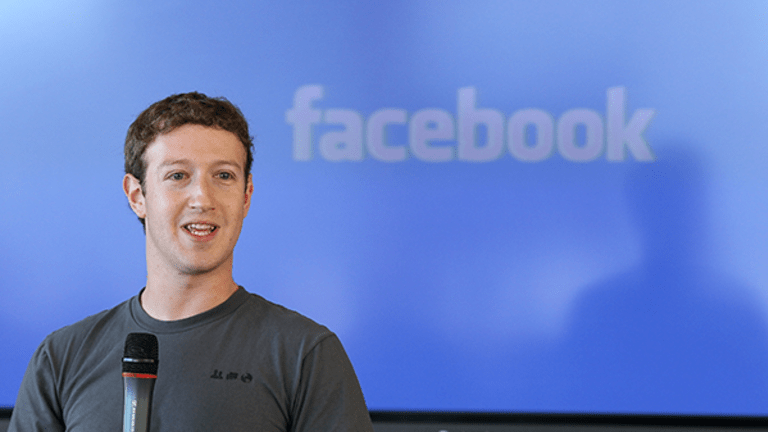 Publish date:
Facebook Is a Great Fit for Live Sports, But It's Likely to Be a Niche Player For Now
The social media giant's new soccer streaming deal makes sense on multiple levels. But the rights for many popular sporting events are off-limits for the time being.
The social media giant's new soccer streaming deal makes sense on multiple levels. But the rights for many popular sporting events are off-limits for the time being.
As Facebook (FB) - Get Report gets serious about becoming a venue for browsing and discovering professional video content, it makes plenty of sense to have live sports be part of the effort. But for a couple of reasons, Disney's (DIS) - Get Report ESPN and other major sports content providers shouldn't get nervous just yet.
The social media giant just struck a deal with Major League Soccer (MLS) and Spanish-language broadcaster Univision that gives it exclusive English-language rights for streaming 22 MLS games that Univision is due to air in Spanish this year. Facebook will also host 40 episodes of an MLS-produced show, to be known as Matchday Live, that will feature game highlights and analysis. Matchday Live's pilot episode aired last week.
The announcement comes a little over a year after Facebook launched Sports Stadium, a service built into its core app that provides scores, stats and play-by-play info about live games. Sports Stadium also turns up relevant posts from sports teams, journalists and a user's friends, and lets users create news feed posts that alert others to when a user is following a game.
Facebook, of course, isn't the only prominent tech name to show an interest in hosting sports content. Twitter (TWTR) - Get Report hosted 10 Thursday night NFL games last year, and has also struck deals for games and/or related shows with the MLB, NHL, NBA, Wimbledon and the Pac-12. Amazon (AMZN) - Get Reportwas reported in November to have held sports-licensing talks with a slew of leagues and TV networks, and to be debating whether its licensed content should be included free with Prime or offered as an add-on subscription.
The fact that Facebook is already widely used, whether via Sports Stadium, Groups or just the regular news feed, to follow sports news and discuss live games works in its favor. The Wall Street Journal notes that about 35% of Facebook's 1.86 billion monthly active users (MAUs) follow at least one sports page. Such engagement has to appeal to leagues and teams wanting to create more social buzz around their games.
It's likely not a coincidence that the MLS deal comes just after Facebook was reported to be "soliciting pitches" for TV-like series containing episodes lasting up to 30 minutes. The company has been promising show creators an ad revenue cut in addition to licensing fees. No word on whether the MLS deal features a similar arrangement.
Jim Cramer and the AAP team hold a position in Facebook for their Action Alerts PLUS Charitable Trust Portfolio. Want to be alerted before Cramer buys or sells FB? Learn more now.
Facebook also recently launched a video app for streaming set-tops and smart TVs, and last year created a dedicated Video tab for its core app that lets users discover video content that Facebook thinks might be of interest to them; an Explore tab for finding content in general is in testing. The company, already considered a core digital ad platform by many big-name brand advertisers, has also begun selling "mid-roll" video ads that appear in the middle of longer videos, and are thus well-suited for sporting events.
But for everything that Facebook's sports efforts do have going for them, the fact remains that most marquee sports content is off-limits for several years or more, thanks to multi-billion dollar licensing deals sports leagues have inked with ESPN, Time Warner's (TWX) Turner unit, broadcast networks and others.
The nature of the MLS deal, in which an existing rights owner (Univision) handed off licensing rights that it wasn't using, drives this home. So do Twitter's efforts: Its much-hyped NFL deal was limited to a small number of games that the NFL was able to let an online content provider air in tandem with CBS or NBC, and its other deals with major sports leagues tend to involve either shows, not-very-popular college events or a handful of out-of-market games.
Moreover, even if a marquee sports package became available and Facebook was willing to spend what it takes to land it, sports leagues could be wary of limiting distribution to an online content provider. A solution that can't be accessed by TV viewers the traditional way is bound to make many leagues nervous.
On the bright side, there's a good chance that many of those unused licensing rights that Facebook is able to get its hands on will be cheap to buy. Twitter reportedly paid just $10 million for its 10 NFL games, and then tried to sell the ad inventory for them for $50 million. It's not hard to imagine Facebook getting similar returns on licensing deals, given its scale and ad-targeting abilities.
And further down the line, it's possible that sports leagues will insist in licensing talks with TV networks that they retain the right to also license some or all of their content to an online provider. While that could lower how much TV networks are willing to pay, leagues could calculate that the revenue they'll get from an online distributor, along with the benefits that come from the reach and social buzz it can provide, will more than offset it.
But in the near-term, the likes of Facebook and Twitter will likely remain niche players when it comes to live sports viewing. ESPN and its peers should probably be more concerned about how social media usage (along with other types of digital content viewing) is eating into TV viewing and thus contributing to cord-cutting and ratings declines, rather than any direct competition social platforms might provide to them.