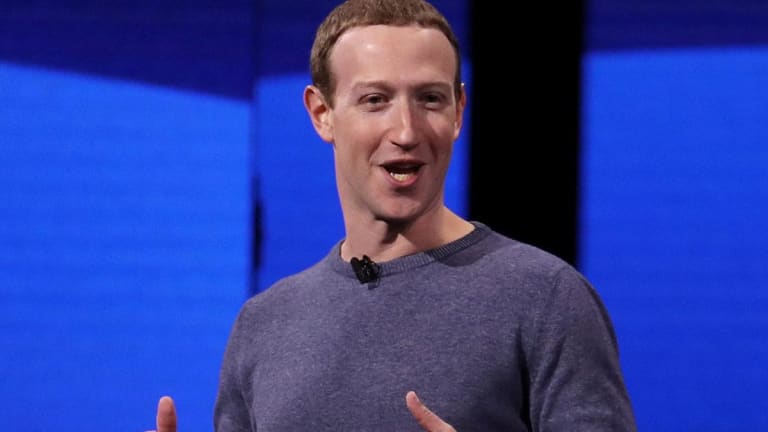 Facebook's Future Is 'Private' -- But Also Driven By Payments and Commerce
Mark Zuckerberg is overseeing a major overhaul of Facebook's major platforms to focus on private and secure communications that will also make it easier to do business on them.
The future is about safety and privacy, Mark Zuckerberg asserted on Tuesday. But it also seems to be about payments and e-commerce. 
At Facebook's annual F8 developer conference, the Facebook CEO put a finer point on the company's ambitious vision of overhauling its apps around privacy. Facebook (FB) shares ticked up in the hours leading up to the event but closed down 0.7% to $193.40 on Tuesday.
Messaging apps are the "foundation of this vision," Zuckerberg told an audience that included thousands of viewers on a Facebook livestream. That also means Facebook's family of messaging services, which include Facebook Messenger, WhatsApp and Instagram, are all in various stages of being revamped with less emphasis on public interactions. Facebook's scandal-plagued main app, which has been centered around the news feed, has also been redesigned to focus more on Facebook groups rather than public comments.
In the keynote, Zuckerberg and other Facebook executives made the case that the changes will be better for users and for society at large. But you also didn't need to look hard for the business case behind the "privacy-focused platform" that Facebook is building.
Facebook earns 99% of its revenue from advertising, according to FactSet -- a reality that raises plenty of questions around how a new emphasis on privacy will affect its business model.
The answer may be remaking Facebook in the image of Tencent's (TCEHY) WeChat, the does-it-all app that dominates communication and commerce in China. 
At the F8 keynote, Zuckerberg and others teased several features for businesses, buyers and sellers, ranging from the ability for businesses to showcase a product catalog on WhatsApp to an emphasis on Marketplace -- which was displayed in multiple instances during the presentation -- as part of the redesigned Facebook app.
Zuckerberg also talked up a peer-to-peer payment feature on WhatsApp, saying: "I believe it should be as easy to send money to someone as it is to send a photo...we're already testing this in India... and we're already working on rolling this out later this year."
One early example of Facebook's move into commerce is Instagram Checkout, a feature announced in early April that allows users to buy products without leaving Instagram.
That feature is accessible to U.S. Instagram users and a limited set of businesses, so it isn't known yet how widely it's been adopted. But on a recent call with investors, Facebook COO Sheryl Sandberg extolled the opportunity given how accounts interact on Instagram.
"130 million Instagram accounts are tapping to reveal products or learn more about products and posts every month. So we think there is a real opportunity," she said. "Obviously, if people learn about things through our ads and then close the loop all the way to purchase, it's very strong for proving ROI. It also helps us measure that return as well."
However, Sandberg also cautioned that it would take a very long time to develop, and that it's "as early as anything can be."
Year to date, Facebook shares are up 43%.
Facebook is a holding in Jim Cramer'sAction Alerts PLUS Charitable Trust Portfolio. Want to be alerted before Cramer buys or sells FB? Learn more now.