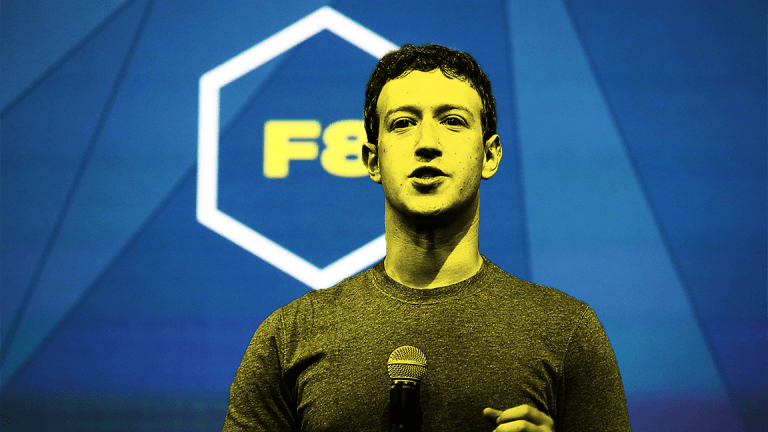 5 Things We Just Learned About Facebook From Its Big Developers Conference
Attending F8 shows just how much attention Facebook is giving to Instagram, Messenger and WhatsApp -- and for good reason.
Attending F8 shows just how much attention Facebook is giving to Instagram, Messenger and WhatsApp -- and for good reason.
Even before its recent issues, Facebook (FB) - Get Report  didn't receive nearly as much unconditional love from consumers as, say, Apple (AAPL) - Get Report  and Amazon.com  (AMZN) - Get Report tend to get. And when it comes to launching new products and services, its track record has been pretty mixed, with some offerings turning into hits and others sputtering.
But compared with Twitter (TWTR) - Get Report , which still struggles to post even 5% annual user growth in spite of being far smaller than Mark Zuckerberg's company, Facebook has shown a pretty good knack for both keeping its finger on the pulse about what consumers truly find indispensable about its platforms (regardless of their misgivings), and how to keep them hooked.
Though not all of them will be major successes, the services unveiled at this year's F8 developer conference offer fresh evidence of how well Facebook now seems to get that maintaining (and ideally, strengthening) its utility-like status with consumers has to be its top priority in a world awash with good digital entertainment options. That its biggest risk isn't that the Cambridge Analytica scandal results in tons of deleted accounts or crippling regulations, but that -- with U.S. usage of Facebook's core service having come under some pressure over the last 18 months -- consumers don't find Facebook's platforms all that useful and engage with them less.
As discussed earlier, Facebook's F8 keynote announcements suggest Mark Zuckerberg & Co. are obsessed with growing social sharing activity. Here are some other takeaways from the keynote, as well as from F8 sessions for developers and partners:
1. Facebook wants to help create connections among people who don't already know each other.
The surprise unveiling of a Facebook dating service is pretty clear-cut evidence of this. So are the several Facebook Groups announcements made at F8: Among other things, Facebook is creating a dedicated Group tab within its app, making it easier to create a Group and rolling out new services for discovering groups and interacting with them. And at an F8 session focused on Groups, the company highlighted its hands-on work with companies and organizations to expand the reach of their Groups, including by helping them extend features found within their mobile apps.
As Snap  (SNAP) - Get Report and others continue battling Facebook's platform by leveraging contact book data to connect users with their friends and family, Facebook seems eager to leverage its unmatched scale among social platforms to help form brand-new connections.
2. Facebook's big AI investments are making themselves felt.
During last month's Congressional hearings, Zuckerberg talked up the long-term potential for Facebook to use AI/machine learning to automatically flag harmful content. At F8, the company showed off several of its other uses for AI, including language-translation for Messenger, the automatic organizing/tagging of Instagram content and the transformation of regular smartphone camera photos into 3D photos.
Chalk these efforts up as one more example of how tech giants, aided by their giant R&D and capital spending budgets, are turning their AI investments into a major competitive advantage relative to smaller peers that can't afford to keep pace. Nvidia (NVDA) - Get Report , whose server GPUs enable the training of machine learning algorithms at Facebook and other tech giants, can't be too upset.
3. Facebook is getting serious about convincing businesses to embrace Messenger.
Compared with a messaging app like Tencent's WeChat (dominant in China), the use of Messenger as an advertising and commerce platform remains in its early stages. But as the existence of several F8 sessions related to Messenger business use drive home, the company's efforts on this front can't be called experimental either.
After a bumpy 2016 start, Facebook's Messenger bot platform -- it relies on both chatbot interactions and webpage-like modules that are embedded within chat threads -- supports over 300,000 bots, including many from big brands. Messenger now also supports a Customer Chat Plugin for websites, and there are now three different ad products tied to the platform: News feed ads for Facebook's core service which contains buttons that launch Messenger chat threads, "sponsored messages" from businesses that a user has already interacted with and news feed-like ads that appear within the Messenger app.
COO Sheryl Sandberg insisted during last week's earnings call that in the near-term, growing Messenger usage and fostering "organic" interactions with businesses are more important to Facebook than monetizing the platform. But the foundations for more aggressive monetization via ads (backed by e-commerce/payments services) are being quickly put into place.
4. Messenger and WhatsApp are each taking a page from the other.
WhatsApp, which just saw co-founder and CEO Jan Koum announce he's stepping down amid differences with Facebook's leadership, has historically been a mostly no-frills platform focused on chat and voice/video calling. And Messenger, with its support of things like third-party bots and games, has been more feature-rich and complicated.
Now, the apps are converging a little, even if important differences remain. Facebook just previewed a much simpler and more streamlined Messenger interface. It also announced that WhatsApp will soon support stickers and group video chats, and that a version of the WhatsApp Business app meant for large enterprises will be rolling out.
5. Instagram has never been more valuable to Facebook...and Facebook realizes it.
Even 12 months ago, Instagram's immense popularity with the lucrative younger U.S. demographic groups who were starting to spend a little less time on Facebook proper made it a valuable insurance policy. Today, following the Cambridge Analytica scandal and other controversies, Instagram's value in this regard is even higher, given that its brand has been mostly unscathed by all of the bad PR that Facebook proper has received.
The new Instagram services revealed at F8 -- an improved Explore tab, group video chats that support Instagram content-sharing, a "bullying filter" to apply to comments, support for the Camera Effects platform for creating augmented reality (AR) content and the ability to add content from third-party apps to Instagram Stories -- are more evolutionary than revolutionary. But in aggregate, they suggest continuing Instagram's heady momentum remains a top priority, as is protecting its reputation as a friendlier, photo and video-centric alternative to Facebook.
And from the looks of things at F8, Instagram's business partners are also quite enthusiastic about the platform. Whereas every Messenger F8 session that I attended had more than enough seating, a session on Instagram Stories ads and business profiles was filled to capacity, with dozens of would-be attendees unable to enter.
Jim Cramer and the AAP team hold positions in Facebook, Apple, Amazon and Nvidia for their Action Alerts PLUS Charitable Trust Portfolio. Want to be alerted before Cramer buys or sells FB, AAPL, AMZN or NVDA? Learn more now.