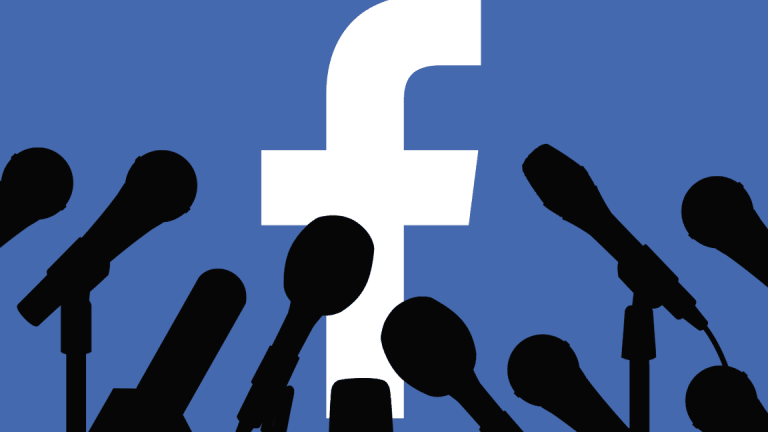 Facebook Dispelled Worst-Case Fears About User Growth and Its Core Business
Though some of the company's user growth numbers disappointed, its earnings call remarks put to rest worst-case fears.
It's a cliche, but it bears repeating: Markets hate uncertainty, and often react positively to news that looks bad on the surface but removes their worst-case fears.
Facebook (FB) - Get Free Report  investors were reminded of this truism following the company's Q4 report -- shares closed after-hours trading up 1.4% to $189.50, erasing initial declines of as much as 5%. After user growth and engagement disclosures in its earnings report heightened recent fears, earnings call remarks did much to calm them.
And that, perhaps, may have left investors more comfortable focusing on the fresh dose of good news that the Q4 report provided for Facebook's booming ad business.
Facebook reported Q4 revenue of $12.97 billion (up 47% annually, or 44% in constant currency), handily beating a $12.55 billion consensus. GAAP EPS of $1.44 missed a $1.94 consensus, but that was only because of a $2.27 billion one-time hit (not baked into analyst estimates) related to tax reform. Excluding the hit, EPS was at $2.21.
Driving the beat: Ad revenue rose 48% to $12.78 billion, nearly matching Q3's 49% growth and topping a $12.38 billion consensus. Though ad impression growth slowed to just 4% from Q3's 10% and Q2's 19% -- Facebook has cautioned for a while that impression growth would slow as increases in news feed ad load diminish -- the company's average ad price rose 43%, a much better clip than Q3's 35% and Q2's 24%.
So why did shares initially sell off following the report? One culprit was that monthly active users (MAUs) and daily active users (DAUs) respectively came in at 2.13 billion and 1.40 billion, up 14% apiece but (after many quarters of beating estimates) slightly below consensus estimates of 2.14 billion and 1.41 billion.
Also: Facebook disclosed that its North American DAUs slipped to 184 million from Q3's 185 million, ending a very long string of sequential increases. With nearly half of Facebook's revenue still coming from North America, these DAUs are more valuable on average than ones found elsewhere.

Facebook's North American DAUs fell a little sequentially.
And Mark Zuckerberg was quoted in the earnings release as saying that Q4 news feed algorithm changes that reduced the number of viral videos shown to users lowered time spent on Facebook by roughly 50 million hours per day. On the call, he added that this decline was equal to 5% of time spent.
Zuck of course is only three weeks removed from stating that Facebook will roll out product changes this year aimed at fostering "meaningful social interactions," including algorithm changes that lead less publicly-shared content from "businesses, brands and media" to appear in news feeds. And that as a result, time spent and some other engagement measures will drop in the near-term.
The Facebook CEO reiterated this commitment on the call, and once more asserted a stronger focus on driving social interactions is both better for user well-being/satisfaction and will put Facebook on better footing long-term. "[H]elping people connect is more important than maximizing the time they spend on Facebook," he said.
It's quite possible that such changes will strengthen Facebook's appeal long-term, given the risk that users treating Facebook's app as a way to aimlessly scroll through brand, publisher and viral content -- as compared with interacting with family, friends and other Facebook users -- will decide they have better uses for their digital entertainment time. But regardless, investors worried that Facebook's engagement rates and ad impressions would fall meaningfully this year were in a selling mood.
But this started to change after CFO Dave Wehner stated on the call that Facebook doesn't expect the North American DAU decline seen in Q4 turning into a trend, even if quarterly fluctuation is possible. He also suggested that ad impression growth would stabilize, with "modest" increases seen going forward.
Wehner did forecast that Facebook's constant currency (CC) revenue growth would continue declining in 2018. But this fits with both past comments and analyst expectations. Facebook's pre-earnings 2018 revenue consensus implied 32% dollar-based growth, a major slowdown relative to reported 2017 growth of 49%. Look for that 2018 consensus to rise some post-earnings.
Also: During the Q&A session, COO Sheryl Sandberg noted that a shift in Facebook time spent towards social interactions could actually yield "more monetization opportunities," since less time would be spent consuming longer-form content. There have already been expectations that many brands and publishers would respond to Facebook's algorithm changes by spending more on ads to grow their reach. And that this, in turn, will provide a fresh boost to ad prices benefiting from limited supply growth, the quality of Facebook's ad products and continued targeting and measurement improvements.
Investors reacted favorably to the commentary. And they apparently weren't bothered much by the aggressive spending outlook shared on the call: Wehner reiterated guidance for Facebook's GAAP costs and expenses to rise 45% to 60% in 2018, steeper than reported 2017 growth of 34%. And he forecast -- in what's good news for suppliers such as Intel (INTC) - Get Free Report , Nvidia  (NVDA) - Get Free Report and Arista Networks (ANET) - Get Free Report  -- capital spending would be in a range of $14 billion to $15 billion, more than twice reported 2017 capex of $6.73 billion.
The company had previously guided for 2017 capex of $7 billion, and for 2018 capex to be roughly double that amount. All that spending will keep a lid on Facebook's free cash flow (FCF) growth in 2018, following a 2017 in which FCF rose 50% to $17.5 billion. But much like Amazon or Netflix, markets are trusting Facebook to invest wisely.
They also trust that Facebook still has some major levers to drive growth beyond just higher news feed ad prices. Among them: Monetizing Facebook's Snapchat Stories clones. Instagram Stories and WhatsApp Status each now claim over 300 million DAUs, and Sandberg noted Instagram Stories ads (launched last year) are "a small but quickly growing part of [Facebook's] revenue."
Interestingly, Zuckerberg predicted Stories in general "are on track to overtake posts and feeds as the most common way that people share across all social apps," and that the format's growth will "have an impact on how we build product and think about our business, including WhatsApp and Instagram." He also disclosed that WhatsApp, which presently generates almost no revenue, now claims more than 1.5 billion MAUs overall. That's up from 1.3 billion as of July.
Video is another growth opportunity. Sandberg mentioned that mobile accounted for 50% of Facebook's Q4 video ad revenue, up from a prior 41%. She also indicated Facebook's mid-stream video ads (launched in 2017 and found on videos shown on Facebook's Watch platform, among other places) are performing well, with over 70% of 15 second-plus ad breaks being viewed to completion.
Sandberg also highlighted opportunities to get a larger chunk of spending in ad verticals that Alphabet/Google (GOOGL) - Get Free Report has long towered over, such as travel and e-commerce. Facebook is aiming to do this in part by letting advertisers craft multi-stage ad campaigns; after a user has engaged with an initial ad that makes him or her aware of a product, a second ad is shown that aims to drive a transaction.
Some of the Stories and video opportunities will still take time to ramp. But in the meantime, more established ad offerings, and the higher ad prices they're commanding, should be able to keep driving strong sales growth. Particularly given what Facebook just shared about what its planned news feed changes will and won't do.
TheStreet's Eric Jhonsa previously covered Facebook's earnings through a live blog.
Jim Cramer and the AAP team hold positions in Facebook, Alphabet and Nvidia for their Action Alerts PLUS Charitable Trust Portfolio. Want to be alerted before Cramer buys or sells FB, GOOGL or NVDA? Learn more now.

More of What's Trending on TheStreet: