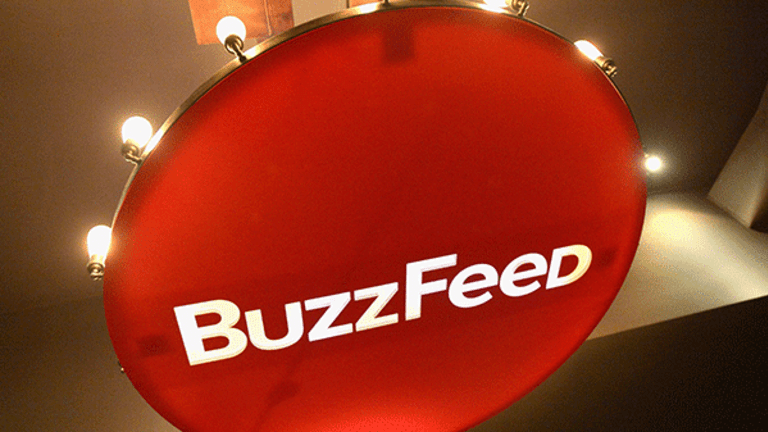 Facebook Deal With BuzzFeed, Vox, Group Nine Should Scare TV Networks
The social media giant's reported content deal with the trio of companies stands to make it even harder for traditional TV networks to increase their advertising sales.
BuzzFeed needs the cash, and Facebook (FB) - Get Meta Platforms Inc. Class A Report needs content it can call its own. And TV networks, large and small, may have to brace for even more competition from the world's largest social media platform.
Facebook has secured licensing deals with four of the most successful purveyors of millennial-focused videos, Reuters reported, citing several sources familiar with the situation. The deals call for BuzzFeed along with Vox Media, owner of The Verge, SB Nation and Recode, as well as ATTN and Group Nine Media, owner of Thrillist and NowThis, to create long- and short-form video content specially for Facebook's burgeoning video service.
In return, BuzzFeed and the other media companies in the deal will receive as much as $250,000 for the longer, scripted shows and $10,000 to $35,000 for the shorter programming. Additionally, the creators will take 55% of revenue from ads, Reuters reported.
Facebook and BuzzFeed representatives could not be reached for immediate comment.
The licensing rumors pushed Facebook shares up $1.21, or 0.8%, on Thursday afternoon to $151.25.
For BuzzFeed, the potential cash infusion stands to offset operating costs that have required the news and entertainment site to repeatedly return to venture capital firms and others for additional funding. BuzzFeed has raised about $446 million in funding from Comcast's (CMCSA) - Get Comcast Corporation Class A Report NBCUniversal and venture capital firms Andreesen Horowitz and New Enterprise Associates, as well as Hearst, among others, according to Crunchbase. Its valuation is estimated at $1.7 billion, putting it alongside other digital media upstarts such as Vox Media, which has a valuation estimated to be as much as $1 billion. (Vox also has received a $200 million investment from NBCUniversal.)
As for Facebook, the deal with content creators is all about owning scripted shows that run 20 to 30 minutes, Reuters said. Controlling the content, Facebook can sell even more advertising, bolstering its already dominant industry position. The content producers also expected to create shorter, unscripted bits roughly 5 to 10 minutes in length, though Facebook won't own that video, the report said.
For, Facebook, owning its own video content stands to heighten already-heated competition with Alphabet (GOOGL) - Get Alphabet Inc. Class A Report and Snapchat (SNAP) - Get Snap, Inc. Class A Report . But a more acute impact could be felt by traditional TV network owners, especially those owning lots of cable TV stations. During the first quarter, ad sales at cable networks suffered a conspicuous downturn. Time Warner's (TWX) Turner cable group, which includes TNT, TBS and CNN, posted a 2% decline in ad revenue even as its stations televised the hugely popular NCAA men's basketball tournament
If Turner couldn't post an upturn during a quarter that included a well-watched edition of March Madness and record audiences at CNN, the prognosis can't be good for the rest of its networks -- and the rest of the TV industry. 21st Century Fox (FOXA) - Get Fox Corporation Class A Report , AMC Networks (AMCX) - Get AMC Networks Inc. Class A Report and Disney (DIS) - Get Walt Disney Company Report reported similar advertising weakness at their cable TV and broadcast networks. Ad sales at Disney's broadcast division, which includes ABC, fell 3.3%.
Advertising is becoming an increasingly difficult business for all web publishers not named Google and Facebook. Already, the duopoly swallows two-thirds of all U.S. digital advertising and accounts for one-fifth of all internet ads worldwide, nearly double the market share from five years ago, according to media agency Zenith. But for Facebook, it's all about competition with Google, its larger rival. In 2016, Google brought in $79.4 billion in ad revenue worldwide, triple that of second-place Facebook at $26.9 billion, the agency said.
To be sure, Facebook's video platform, featured on its very popular app, will compete in an already crowded market for short-form video. In addition to Alphabet's YouTube and its subscription-based sister platform YouTube Red, Facebook will go head to head with Snapchat's Discover, Comcast's Watchable and Verizon's (VZ) - Get Verizon Communications Inc. Report Go90, along with BuzzFeed and Now This, among the most popular sites among millennials.
All told, it's yet another sign of marketers' increasing embrace of digital at the expense of traditional TV, and another cause for concern for TV networks, large and small. 
Jim Cramer and the Action Alerts PLUS team have some thoughts about Facebook, Alphabet and other holdings of their investment club. To find out what they are telling their members, get a free trial subscription to Action Alerts PLUS.