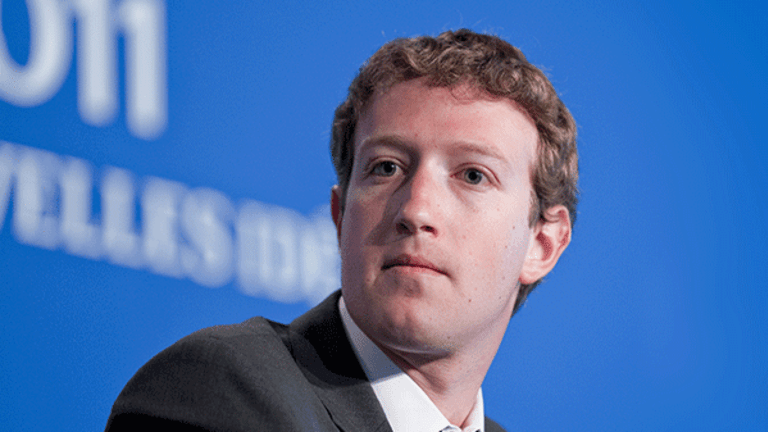 Facebook Shares Drop as Company Deals With Recent Complaints, Criticism
Russian political advertising, fake news, anti-Semitic ad-targeting and data privacy complaints are all rocking Facebook's newsfeed.
With scrutiny of Russian political advertising, fake news, anti-Semitic ad-targeting categories and data privacy complaints from European regulators filling up Facebook's (FB) newsfeed, shares of the social media powerhouse declined on Monday.  
The question is whether Facebook can solve the problems--as when it jump-started its lagging mobile advertising strategy--or whether they balloon and bring government scrutiny or regulation. 
"There is a negative reaction in the stock, but it is fixable," Tigress Financial Partners analyst Ivan Feinseth said of the negatively newsflow that has followed Facebook since mid-September. 
Shares of Facebook dropped 4.5% to $162.87 on Monday. The stock is up nearly 42% for the year.
"I have a buy rating and see this dip as a buying opportunity," Feinseth said.
The headlines have not been pretty. Pro Publica noted that "Facebook Enabled Advertisers to Reach 'Jew Haters.'" Vox explained "Why 'fake news' is an antitrust problem" to readers and argued that the social media company is basically a monopoly. While a €1.2 million ($1.4 million) fine from Spanish regulators is small change to Facebook, it could foreshadow a tougher stance on consumer protections as London kicks out Uber for poor corporate citizenship.  
But Facebook could use artificial intelligence, machine learning and policies to address the wide-ranging complaints, Feinseth said.
In addition to warnings in its "terms of use" policy, he suggested, Facebook could address privacy concerns by letting users opt-out of data sharing programs. 
Facebook can also refuse ads or content that cross a line. "They ought to have the right to apply an editorial license to what they think is acceptable as far as postings and advertising," he added.
Meanwhile, another analyst suggested that the torrent of critical press represents a "headline risk" for the near term but should not rock Facebook's model.
More of What's Trending on TheStreet:
"In six months, if Facebook can keep growing its users across its suite of apps and if it can continue to take advertising from legacy media, that is what investors will care about," he said, though the potential for regulators in Europe or elsewhere to put restrictions on Facebook's immense log of personal user data is a larger concern. "Advertisers like the granularity of the data Facebook has," he said. "That is what sets Facebook apart even from Google (GOOGL) ."
Facebook and Alphabet are holdings in Jim Cramer's Action Alerts PLUS Charitable Trust Portfolio. Want to be alerted before Cramer buys or sells FB or GOOGL? Learn more now.
Mark Zuckerberg pledged in a Thursday blog post to work with Congress on Russian interference in U.S. elections via Facebook ads, and to be more transparent about political advertising on the site. Broadcast TV stations have to disclose ad payments through an FCC web site, such as this filing by the Fox (FOXA) Miami affiliate about Trump campaign ad sales.
"We have laws that say the Russians can't advertise politically," Wedbush Securities analyst Michael Pachter said. "Facebook has an obligation to report it and they did."
While calls for Zuckerberg to testify before Congress suggest the potential for more scrutiny, Pachter suggested that the First Amendment would protect Facebook from severe regulations. The analyst has not changed his price target or outlook because of the recent news.
"It's going to be hard to limit speech in the U.S. because of the Constitution," he said, noting that regulations overseas were more likely.  "Maybe there can be some regulation (regarding) an advertisement that incites people to violence," he said, noting that Twitter (TWTR)  could face greater pressure because ISIS has used the social media network as a recruiting tool.
Facebook is unlikely to see regulations on what data it can collect, Pachter added, but could on how much data it discloses to advertisers. 
"Telling McDonald's a million people like McDonald's and visit your McDonald's Facebook page and interacted with your most recent revival of McRib, that doesn't violate my privacy if I'm one of those million," Pachter said. "As long as McDonald's doesn't know its me."
Facebook can deploy artificial intelligence to help it root out fake news and improper ads, and give users the ability to opt-out of some of Facebook's advertising programs. Don't expect too many of Facebook's 2 billion users to sweat the fine print in the terms of use, though.
"Most of the people who post on Facebook are exhibitionists," Pachter said.