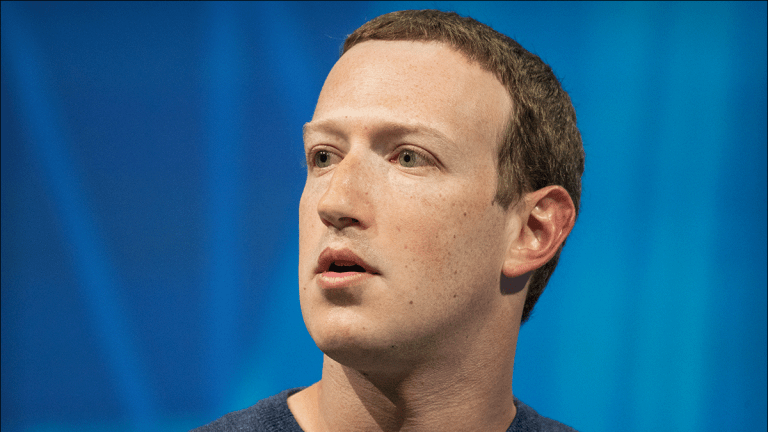 Facebook's Mark Zuckerberg: 'I Expect This Is Going to Be a Very Tough Year'
On its third-quarter shareholder call, Facebook CEO Mark Zuckerberg dedicated much of his time to defending Facebook against an ongoing political backlash and growing regulatory threats.
Facebook's (FB) - Get Free Report third quarter earnings call wasn't all about revenue, profits and user growth. 
Shares of Facebook rose 5% after it topped expectations on earnings and revenue, posting EPS of $2.12 versus estimates of $1.91, and revenue of $17.65 billion versus estimates of $17.37 billion. On a shareholder call following the release, however, CEO Mark Zuckerberg used much of the time to defend the company's positions on political advertising, antitrust concerns, and other issues related to the regulatory backlash the company is facing. 
Zuckerberg kicked off the call by announcing that Facebook director Sue Hellmann, CEO of the Bill & Melinda Gates Foundation, is leaving the board; he also reiterated that it was a "good quarter" for the business with several product initiatives underway. Zuckerberg then addressed the policy and social issues Facebook is wrestling with, including a recently formalized settlement with the FTC over Cambridge Analytica violations and its investments in combating foreign election interference.
"I want to make sure that everyone is clear about what we stand for and why we're making some of the decisions that we're making," Zuckerberg said, before launching into a defense of Facebook's policy of not vetting ads by politicians, even if they contain lies, which has drawn a sharp backlash in the run-up to the 2020 presidential election. Earlier this week, hundreds of Facebook employees signed a letter asking Zuckerberg to revise the policy. 
Citing what he called Facebook's principle of supporting "free expression," Zuckerberg denied that Facebook has a business interest in allowing misleading ads on the platform, saying that ads from politicians will make up only 0.5% of Facebook's revenue in 2020. 
"We face a lot of criticism from both progressives and conservatives, and, frankly, if our goal were trying to make either side happy, then we're not doing a very good job because I'm pretty sure that everyone is frustrated with us," he said. "Over the next year of campaigns, we're going to be at the center of the debate any time there is content or policy on any of our services that people believe could advantage or disadvantage their side. This may lead to more investigations, and the candidates are going to criticize us. I expect that this is going to be a very tough year."
Continuing a theme of each earnings call since July of 2018, when Facebook disclosed sharply increased spending on safety and security measures following the Cambridge Analytica scandal, the company said it's continuing to invest significant sums -- roughly $5 billion per year -- in combating harmful behavior on Facebook. And Zuckerberg added that pace will likely continue, despite investments in artificial intelligence, machine learning and other technology-based solutions to security issues. 
"I don't foresee any time in the near future that AI is going to make it so that the cost comes down," Zuckerberg said. "There's just so much content flowing through the system that we do need a lot of people looking at this. And I don't think that's going to change any time soon."
At times, Zuckerberg sounded as if he were responding to the many criticisms raised by lawmakers during his recent appearance before the House Financial Services Committee to discuss Libra, Facebook's planned cryptocurrency. At that Oct. 23 hearing, Zuckerberg sparred with lawmakers over a broad range of grievances, such as Facebook's policy of not removing false ads by politicians, a recently settled civil rights lawsuit over discriminatory advertising, and Facebook's sheer size and immense market power.
In response to a question about whether regulatory scrutiny will make it harder for Facebook's to stay competitive, Zuckerberg pivoted to Facebook's position on antitrust matters. Facebook is facing a federal antitrust review, as well as an investigation by 47 state attorneys general into its business practices and whether they stifle competition. 
Zuckerberg said there would "a lot of scrutiny" into Facebook's acquisition of Instagram, which was was "a lot more complementary than I think we ever expected," he said. 
"I think for all the concern about whether there is enough competition, the space today continues to be incredibly competitive. We have different competitors in the space today like Snapchat which shows that people are always building new ideas," Zuckerberg added. 
Year to date, Facebook shares are up 38%. 
Facebook is a holding in Jim Cramer's Action Alerts Plus portfolio.
Save 57% during our Halloween Sale. Don't let this market haunt you; join Jim Cramer's Investment Club, Action Alerts PLUS. Click here to sign up!