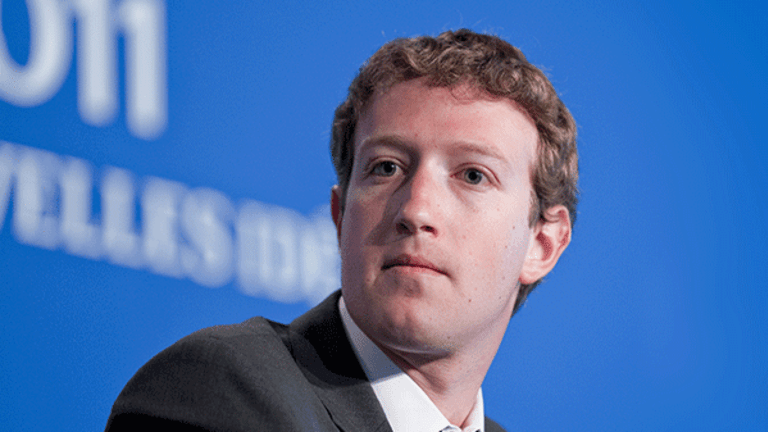 Facebook and Twitter Try a Promising New Angle on Live Streaming With 360-Degree Video
By providing more immersive user experiences and encouraging engagement, 360-degree video can boost live streaming's appeal. Facebook still appears to be in the driver's seat.
Roughly 21 months after Twitter (TWTR) - Get Report launched Periscope and 16 months after Facebook (FB) - Get Report began making its Live service available, the verdict on live streaming remains very mixed.
On one hand, Live and Periscope have yielded plenty of great first-person footage of events such as concerts, speeches and protests. It has also provided some viral hits (see BuzzFeed's exploding watermelon stream), and many streams with celebrities and others that appealed to viewers thanks to their unscripted, down-to-earth feel.
On the other hand, unscripted video streams shot from smartphones whose holders tend to move their phones around as they shoot have also often yielded sub-par viewing experiences. And alerting potential viewers to an interesting live stream as it unfolds remains a work in progress, as does informing them about about the interesting parts of previously-recorded streams, so they don't have to sit through the boring parts.
The arrival of 360-degree live video on Live and Periscope -- Facebook announced it's supporting the feature via select content providers in early December, and Twitter/Periscope did the same this week -- certainly doesn't fix all of these issues. That's especially true since -- unless one attaches an accessory such as the Periscope-compatible Insta360 camera to a phone -- they require the use of 360-degree camera rigs, rather than smartphones. But in a few different ways, it can make live video more popular.
The first, obvious way is that 360-degree video can provide a far more immersive and comprehensive viewing experience for many live events. It can deliver a very different perspective for watching, for example, a raucous concert or a big football game, than what one gets from traditional video.
The second is that it encourages users to engage with content by swiping a screen or clicking/dragging a mouse to get their preferred view. Facebook has observed live video tends to produce much higher user engagement rates than recorded video, and this might even be moreso the case for 360-degree streams.
Facebook is a holding in Jim Cramer's Action Alerts PLUS Charitable Trust Portfolio. Want to be alerted before Cramer buys or sells FB? Learn more now.
Third, given how little 360-degree video exists right now, users might seek out 360-degree live streams shot at various locales simply because they haven't seen anything comparable before. If one wants a quality rectangular clip of a first-person view from the top of the Empire State Building or Pikes Peak, YouTube is more than happy to oblige. Getting a 360-degree view is tougher...for now.
Fourth, 360-degree video lends itself very well to virtual reality headsets. Though it's still early days for VR, cheap headsets that pair with Android phones -- such as Samsung's (SSNLF) Gear VR, which relies on software from Facebook's Oculus unit -- are steadily proliferating.
Although live streaming isn't a zero-sum game, Facebook arguably still has an edge on Twitter, as its much larger active user base and high engagement rates -- the company claims the average user spends over 50 minutes per day between core Facebook, Messenger and Instagram -- will often translate into larger audiences. In addition, Facebook is uniquely well-positioned for streams aimed at a user's friends and family, and has been aggressive in paying celebrities and media firms to produce material for Live.
But Periscope can still appeal to some of the celebrities and media personalities who have large Twitter followings. Supporting 360-degree video is just one of many ways in which Twitter has been tweaking its user experience in an attempt to boost weak active user and engagement growth rates -- see recent tweets from CEO Jack Dorsey that suggest a willingness to let users edit tweets, bookmark content and more easily follow topics of interest, among other things.
There's also Alphabet's (GOOGL) - Get ReportYouTube, which added support for 360-degree live streaming in April. YouTube's billion-plus active users and strong ties with many big content creators could make it a big live streaming player in time. However, YouTube hasn't done as much as Facebook and Twitter to promote its live content, and uptake among rank-and-file users appears to be limited.
In many ways, it still feels as if live streaming is in its early innings. Many of the 2016 announcements involving the technology were about expanding rudimentary feature sets, providing more connectivity/sharing options and most of all bringing tools to a mass audience. 2017 should see live streaming services evolve into more legitimate entertainment platforms, with a healthy increase in the amount of quality content produced, and better tools for discovering it.
Much of this content will involve traditional video made with smartphones. But the stage is being set for 360-degree streams to play an important role as well.
Alphabet is a holding in Jim Cramer's Action Alerts PLUS Charitable Trust Portfolio. Want to be alerted before Cramer buys or sells FB? Learn more now.