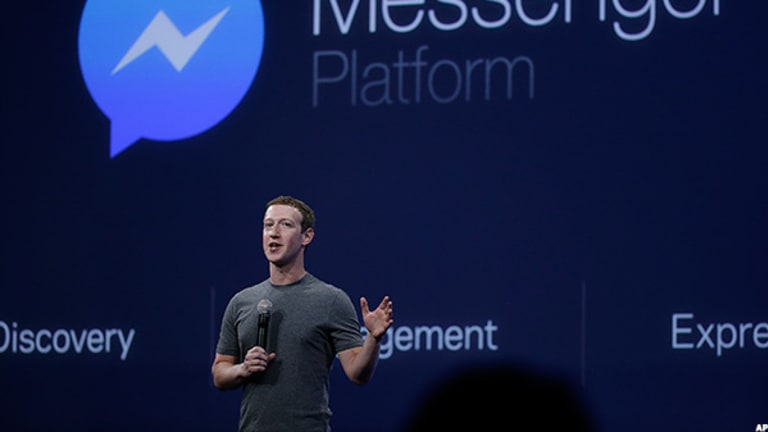 Facebook and Apple's Messaging Apps Might Need to Go Back to the Drawing Board
The tech giants have each seen disappointing responses for new features added to their messaging platforms. But it might not be hard to right the ship.
As Line (LN) - Get LINE Corp. Reportand Tencent's WeChat have convincingly shown in Asia, there's no unwritten rule that messaging apps need to stick to basic person-to-person communications features. If their owners execute properly, the apps can leverage their communications tools and user data, as well as the huge amount of time many users spend on them each day, to become advanced (and highly lucrative) platforms used to play games, conduct transactions and consume media content, among other things.
But the "execute properly" part can't be overlooked. Adding big new features for an app that has been embraced by hundreds of millions of users for its core messaging features (and perhaps also voice/video calling) doesn't guarantee the new features will be embraced the same way, and risks sparking a backlash if the features change the app's interface in a way that users find intrusive. The response to some of Facebook (FB) - Get Meta Platforms Inc. Class A Report and Apple's (AAPL) - Get Apple Inc. Reportrecent moves drives this home.
In the aftermath of last week's launch of Messenger Day, a Snapchat Stories clone built into Facebook Messenger, the feature has received a barrage of media criticism. In a much-discussed post, VC and former columnist MG Siegler argued that building a Stories clone (i.e. a service that lets users share photos and videos that disappear 24 hours after being uploaded) made sense for Instagram, whose core feature is a feed of photos and videos, but not on Messenger, which he deems to be "fundamentally about chatting."
Siegler also dislikes how users now get a pop-up message whenever they've shared a photo (possibly containing sensitive material) in a private chat asking them if they want to add the photo to their Day feed. And he points out that he has little interest in seeing most of the Day streams (published by Facebook "friends") that he has come across. Mashable's Rachel Thompson echoed the last claim, stating Day feed is "brimming with stories by Facebook friends I barely know and should have deleted a very long time ago."
Jim Cramer and the AAP team hold positions in Apple and Facebook for their Action Alerts PLUS Charitable Trust Portfolio. Want to be alerted before Cramer buys or sells AAPL or FB? Learn more now.
In contrast to Siegler, tech analyst Jan Dawson considers adding a Stories clone to Messenger "absolutely logical," given the success of Instagram Stories and the fact that Snap Inc.'s (SNAP) - Get Snap, Inc. Class A ReportSnapchat remains a (photo/video) messaging app at heart. However, he also calls Day's implementation "massively distractive and obtrusive." He cites the replacement of Messenger's camera icon with a Day icon, the invitation one gets to post content to Day upon launching Messenger and the fact that the presentation of Day stories on Messenger's main page "are far larger and less in keeping with the overall design of the app than their Instagram counterparts."
Facebook's WhatsApp has also seen a backlash to its launch of a Stories clone, known as Status, but one that it's already in the process of addressing. Users were irate that the launch of Status coincided with the removal of a feature by the same name that let users provide away messages for their contacts. However, WhatsApp announced this week's it's bringing back the feature.
Meanwhile, Facebook Messenger has for some time been dealing with waning consumer and developer enthusiasm for the chatbot platform it launched last spring. Though pitched as a way to get information and conduct transactions without downloading another app, users have complained that conversing with a bot is slower and less convenient than either navigating an app or visiting a website.
Apple, for its part, has seen a subdued developer response for the app store it launched last September for its iMessage messaging app. App analytics firm Sensor Tower just reported that only about 5,000 iMessage-enabled apps have been published--for comparison, the iOS App Store had 2.2 million apps as of January--and that the number of new apps launching has slowed sharply over the past 2 months.
Do these setbacks mean that Facebook and Apple's messaging apps should stick to what they're best known for? Not necessarily. Many of the issues faced by their newer features can be fixed with better implementation.
Facebook should definitely stop prompting users to upload privately shared photos to Day feeds. And it should probably change how Day stories are presented on the main home page, perhaps moving them to the top of the page a la Instagram Stories or just making them accessible through a non-intrusive menu tab, as WhatsApp has done with its Stories clone. It might also be worth taking a page from Facebook's news feed and creating an algorithm that makes sure Day feeds from a user's close family members and friends are shown first.
But considering everything that Snap, Tencent and others have added to their messaging apps, there's no reason a feature like Day can't exist within Messenger, and potentially be widely used. Arguably the larger problem facing Messenger Day and WhatsApp Status, and perhaps also the Stories clone being tested for Facebook's core app, is that many of those already sharing via Instagram Stories (it now has over 150 million daily active users) are going to find sharing to a second, third or fourth Snapchat Stories clone quite tedious. The solution here is to create cross-platform tools that let users simultaneously share to multiple clones--all of which can be monetized via ads in time.
For Messenger's chatbot platform, the main problem isn't its attempt to provide a substitute for app downloads, but its insistence that conversations with bots are the way to do it. Last year, Tencent exec Dan Grover had an insightful post in which he pointed out that WeChat had succeeded in creating a media and e-commerce platform within its app not by creating bots, but by "streamlining away app installation, login, payment and notifications," while still letting developers provide app-like interfaces.
Facebook recently took a step in the same direction by giving bot developers the ability to add app-like menus to their chat threads. It has also let users selects pre-written commands/requests for a bot interaction, and be pushed content on a daily basis. With most consumers spending the lion's share of their smartphone time on a handful of apps (several of them typically from Facebook and Google), an alternative to app downloads that can be accessed through a messaging app with over a billion monthly users could see strong adoption if handled right.
As for the slowdown in iMessage developer work, it might have much to do with how iMessage's app store has been buried within the app. To access the app store, a user needs to launch a conversation thread, and then tap a series of icons. If it could be accessed via iMessage's home page, a larger portion of the 9-figure user base for Apple's Messages app would doubtlessly use it. Particularly since--in addition to numerous sticker apps--the app store contains a decent assortment of games, messaging tools and commerce/payment apps.
A quick look at Tencent and Line's financials shows just how profitable big mobile messaging platforms can be when popular services monetized via ads, payments and in-app purchases are layered on top of them. There are a lot of reasons to think that Facebook and (to a lesser extent) Apple can eventually do the same, even if their messaging apps are still in the trial-and-error phase when it comes to expanding beyond their core features.
Action Alerts PLUS, which Cramer manages as a charitable trust, is long FB and AAPL.