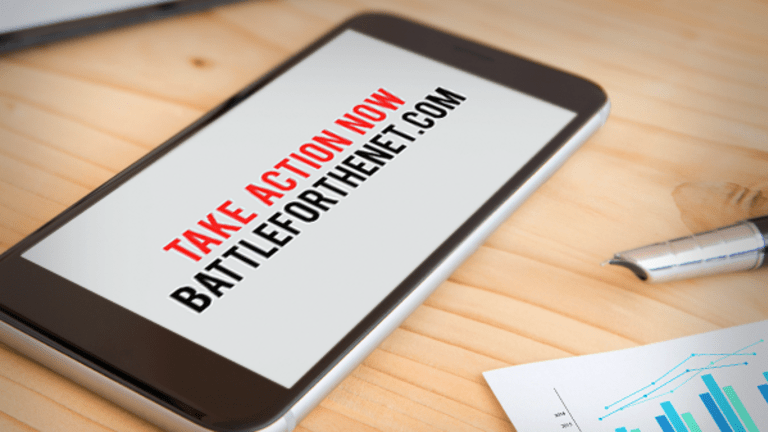 Facebook, Amazon, Netflix, and Google Join Clash Over Net Neutrality
The battle over Internet rules heats up ahead of a July 17 deadline for public comments with the FCC.
As a deadline approaches for comments on new rules for how the government regulates Internet service, Facebook Inc.  (FB) - Get Meta Platforms Inc. Class A Report , Amazon.com Inc.  (AMZN) - Get Amazon.com, Inc. Report , Netflix Inc.  (NFLX) - Get Netflix, Inc. Report and Alphabet Inc.'s  (GOOGL) - Get Alphabet Inc. Class A Report  Google are joining an online "day of action" to rally support for net neutrality.
"The FCC wants to destroy net neutrality and give big cable companies control over what we see and do online," the group Battle for the Net states on its web site. "If they get their way, they'll allow widespread throttling, blocking, censorship, and extra fees."
FCC Chairman Ajit Pai wants to undo Obama administration policies through a new set of rules he dubs "Restoring Internet Freedom." The deadline for comments on Pai's rules is Monday, July 17. People can file reply comments that respond to issues addressed in the first round of comments until August 16.
Pai says the government should move back to the "light-touch regulatory framework" that the Clinton administration put in place during the 1990's. "Under this framework," Pai said in a late-April speech announcing his new rules, "America's Internet economy produced the world's most successful online companies: Google, Facebook, and Netflix, just to name a few."
Google, Facebook and Netflix do not seem to be reassured. The companies are taking part in Wednesday's Internet rally that opposes Pai's initiatives -- although none of the companies would say exactly how they will do so. 
Former FCC Chairman Tom Wheeler reclassified broadband service under Title II of the Communications Act, which treats Internet service more akin to a traditional telecom or utility service, in 2015. Previously, the FCC classified broadband as an information service, which has less oversight. Wheeler also put forward what he called "bright line" rules that prohibit service providers from blocking content, throttling traffic or setting up Internet "fast lanes."
The FCC may have felt that it had to either reclassify broadband or lose its authority over the Internet. A 2014 a Washington, D.C., Circuit Court decision in litigation brought by Verizon Communications Inc. (VZ) - Get Verizon Communications Inc. Report said that the prohibition on blocking cannot be imposed unless the ISP is classified as a telecommunications service, and not as an information service. 

Pai argues that reclassifying broadband under Title II constituted government overreach that will discourage investment in broadband, and wants to return to regulation of ISPs as an information service. He also wants to consider whether the FCC should keep Wheeler's bright line rules.
Comcast Corp. (CMCSA) - Get Comcast Corporation Class A Report  has said that the government can still ensure a free and fair Internet without reclassifying broadband, and accused Pai's opponents of exaggerating their case.
"Notwithstanding the multiple mischaracterizations of the FCC intentions, this is not a proceeding designed to eliminate enforceable Open Internet protections," Comcast Chief Diversity Officer David Cohen blogged in May when Pai formally proposed the rules. "The purpose is to find a path to protect the openness of the Internet without reliance on the dangerous and inappropriate Title II as the source of authority for such rules."
The debate over broadband regulation pits Internet powers such as Amazon, Facebook and Google against AT&T Inc. (T) - Get AT&T Inc. Report , Comcast, Verizon and other telecommunications firms that provide Internet infrastructure.
For another week, the public can make its voice heard.
The comments may have a limited influence on the FCC's vote judging by comments made by Commissioner Michael O'Rielly, however. "Thankfully, our rulemaking proceeding is not decided like a 'Dancing with the Stars' contest, since counts of comments submitted have only so much value," O'Rielly said at a May hearing.
Facebook, Alphabet and Comcast are holdings in Jim Cramer's Action Alerts PLUS Charitable Trust Portfolio. Want to be alerted before Cramer buys or sells FB, GOOGL or CMCSA? Learn more now.