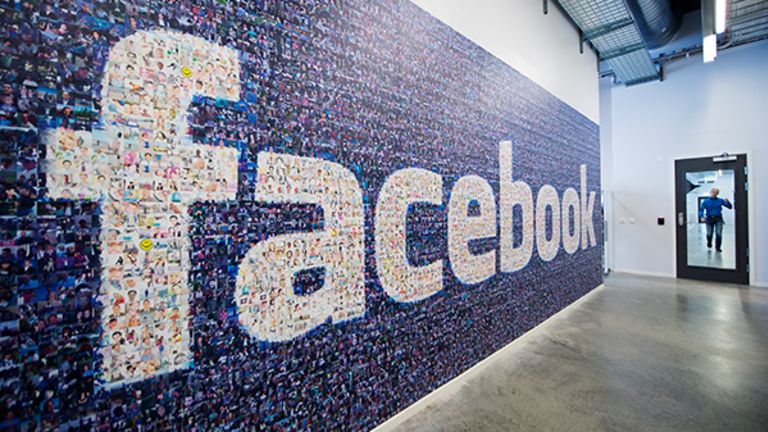 And There Goes Facebook's Stock
Here's the chart view.
Investors, get ready to hit the "like" button. Facebook Inc. (FB) - Get Report looks as if it's ready to kick off a major buy signal this week.
That's an important about-face.
After all, big tech stocks, and the "FAANG" group made up of Facebook, Amazon.com (AMZN) - Get Report, Apple (AAPL) - Get Report, Netflix (NFLX) - Get Reportand Alphabet's (GOOGL) - Get Report Google, in particular, have been conspicuously correcting in recent weeks. That dip is starting to look like a buying opportunity in Facebook here.
Part of that has to do with how well Facebook has managed to make it through the recent tech correction vs. its peers -- and then pop back up toward prior highs. In the context of the rally that the FAANG stocks kicked off 2017 under, that tech "selloff" doesn't look so troubling:
Looking at Facebook's chart above, shares have managed to hold onto their uptrend, marked by the 50-day moving average, the dashed line that's been rising just below Facebook's price action.
Sure enough, in spite of the recent hiccup in shares, Facebook is still a whopping 34% higher today than it started 2017. That gives the social media giant the distinction of being the best-performing FAANG component year-to-date.
Don't worry if you've missed out on that upside move, though. Another major thing that sets Facebook's chart apart here is the bullish technical setup that's been shaping up in shares since mid-April. Simply put, Facebook's chart points to a second leg higher this summer -- to spot it, we'll zoom into a bigger chart for a technical look at what's happening in shares.
In case you're unfamiliar with technical analysis, here's the executive summary: Technical analysis is a way for investors to quantify qualitative factors, such as investor psychology, based on a stock's price action and trends. Once the domain of cloistered trading teams on Wall Street, technicals can help top traders make consistently profitable trades and can aid fundamental investors in better planning their stock execution.
So, what do the technicals say about Facebook here?
Since April, Facebook has been forming a pretty textbook example of an ascending triangle pattern, a bullish continuation setup that signals more upside ahead. The ascending triangle pattern is formed by horizontal resistance up above shares at $155, with uptrending support to the downside. Basically, as FB bounces in between those two technically important price levels, shares have been getting squeezed closer and closer to a breakout through our $155 price ceiling. When that happens, we've got a buy signal.
What makes that $155 level so important for Facebook? It all boils down to buyers and sellers. Price patterns, like this ascending triangle setup, are a good quick way to identify what's going on in the price action, but they're not the ultimate reason shares look attractive here. Instead, the "why" is driven by basic supply and demand for FB's shares themselves.
The $155 resistance level is a price where there has been an excess of supply of shares; in other words, it's a spot where sellers have previously been more eager to step in and take gains than buyers have been to buy. That's what makes a breakout above $155 so significant -- the move means that buyers are finally strong enough to absorb all of the excess supply above that price level.
Relative strength, the indicator down at the bottom of Facebook's chart, adds some extra upside confidence to this trade right now. That's because our relative strength line has been in an uptrend since shares bottomed back in January, signaling that FB is still outperforming the rest of the market right now. As long as that relative strength uptrend stays intact, Facebook remains statistically more likely than not to keep on outperforming.
Buyers are clearly in control of the price action in this stock right now. Once shares materially push through $155, we've got a brand new buy signal in this serial outperformer. Keep a close eye on shares -- they're within grabbing distance of that buy zone this week.
Visit here for the latest business headlines.
This article is commentary by an independent contributor. At the time of publication, the author was long Apple.