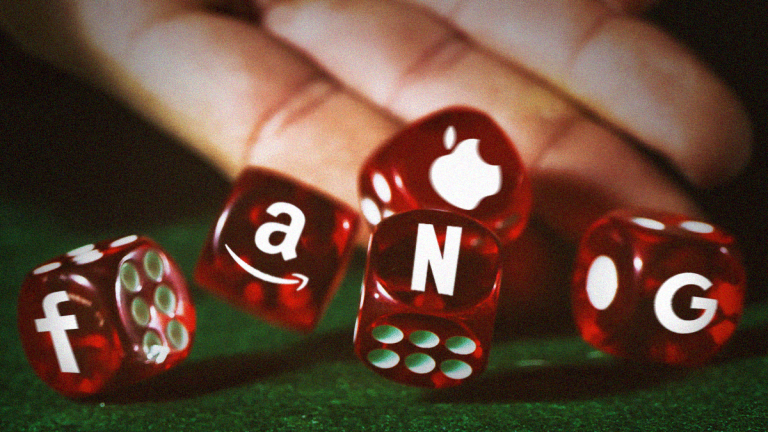 Hot FAANG Stocks Could See Still More Gains, Barclays Says
Despite their strong performance so far this year, most of the FAANG stocks are still below their previous peaks.
Although most of the FAANG stocks have ripped through the first half of 2019 with outsized gains, analysts at Barclays remain largely positive on the group of stocks for the rest of the year. 
While the S&P 500 is up 18.5% year-to-date, Facebook (FB) is up 51% to $197 a share, Amazon (AMZN) is up 31% to $1,979 a share, Apple (AAPL) is up 27% to $200 and Netflix (NFLX) is up 42% to $382. The only laggard has been Google owner Alphabet (GOOGL)  , which is up just 7% to $1,120. 
Yet Barclays' Ross Sandler wrote in a note Tuesday that "we generally like the backdrop for large cap internet heading into 2Q earnings compared to the prior few prints...Valuations have rebounded a bit but remain well off the previous peak."
To Sandler's point, Facebook, which has a huge opportunity with Instagram, trades at a one-year forward price-to-earnings ratio of 21.2, not lofty compared to its history. Meanwhile, Amazon trades at 51.8 times next year's earnings, below where it has been at times, and Apple (AAPL) is valued at 15.9 times next year's earnings, which many analysts say is too low given its services business. Netflix's forward multiple is 65, below where it has reached, and Alphabet is at 20.9. 
And it's not all about FAANG when it comes to internet stocks. Here's what Sandler likes:
Amazon
"Regulatory seems like more of a distraction than a risk, and based on our conversations we would find it highly unlikely any court in the US would rule against AMZN around anti-trust," Sandler said, although BMO Capital Markets analyst Dan Salmon moved Amazon down to number two, below Netflix, on his tech stock picks list in March due to regulatory risk.
Regardless Sandler said "we like the current setup -- at 22x 2020E EBITDA, valuation isn't as compelling as earlier this year, but fundamentals are strong and the move to next-day across 100m+ SKUs is a game-changer," Sandler said. Amazon and Walmart (WMT) have been locked in a one-day delivery race in e-commerce, and Amazon is rushing to increase fulfillment capacity. 
Facebook
"Shares have recovered some of the oversold dynamic from earlier this year, but still remain below the large cap peers," Sandler said. "Looking at 2020, if and when EPS can grow more in line with revenue, in contrast to the past few years, we see the multiple expanding further. New initiatives like Calibra, e-commerce and monetizing messaging should become more important for investors than the major attention on privacy issues."
Google 
"One only has to watch the I/O keynote to see that the pace of innovation is thriving at Google, yet shares have underperformed peers since 1Q and basically been flat for 18 months." Sandler wrote. "With sentiment in a major trough and a decent 2Q, we would selectively add into the print."
Uber
"Based on our conversations with investors, ride-hailing is going through the normal steep learning curve when a new segment becomes public, and on the back side of that investor education should be opportunity. We think that this will become better realized before 4Q19 when most of UBER's key metrics are likely to start to inflect to the positive, and hence we would want to accumulate shares ahead of that catalyst."
While Uber (UBER)  likely has very significant growth ahead of it, Susquehanna Financial analyst Sayim Patil noted in late May revenue growth has actually decelerated of late. "Slowing growth, however, creates uncertainty around future trajectory," Patil said. Bookings growth is now hovering around 30% year-over-year in the first quarter of 2019, markedly slower than the 50% growth range seen in the first quarter of 2018. 
While Uber and Lyft (LYFT) duke it out, Stifel analyst Scott Devitt said ride-hailing executives are looking to reduce rider incentives, a move that would push the industry closer to profitability. 
Facebook, Amazon, Apple and Google are holdings in Jim Cramer's Action Alerts PLUS member club. Want to be alerted before Jim Cramer buys or sells those? Learn more now.