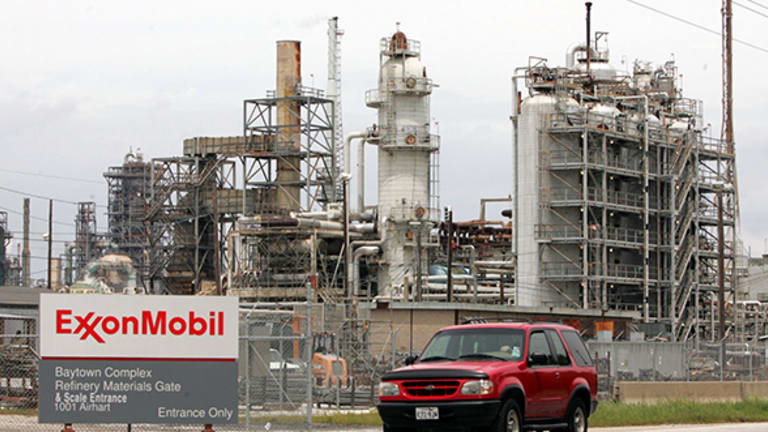 This Is Where Goldman Sachs' Head Is At on Exxon After Massive Write-Down
The integrated oil major's big impairment charge weighed on fourth-quarter earnings.
Shares of ExxonMobil (XOM) - Get Free Report were down more than 1% during the trading session Tuesday after company's fourth-quarter profit took a hit.
Earnings, assuming dilution, were 41 cents a share. Excluding one-time charges, earnings came in at $0.89 a share, beating analysts' expectations of 70 cents a share. Revenue of $61.02 billion for the period was slightly below forecasts calling for $61.5 billion.
"Exxon was good," said TheStreet's Jim Cramer on CNBC's "Squawk on the Street." "The fact is they preserved the balance sheet, they did a lot of things right."
This quarter, however, Exxon's upstream segment weighed heavily on earnings. The Irving, Texas-based company booked a $2 billion impairment charge related to dry gas operations in the Rocky Mountains region.
"Financial results for the year were negatively impacted by the prolonged downturn in commodity prices and the impairment charge," CEO Darren Woods said in a statement. This is Woods' first quarter at the helm of the integrated oil major after Rex Tillerson retired to pursue his nomination for secretary of state. A final vote to confirm Tillerson could happen on Wednesday. 
"Given a $2 billion asset impairment and a tax benefit in the quarter, we believe investors should focus more on cash flow from operations before asset sales, which was broadly in line at $7.4 billion," Goldman Sachs Analyst Neil Mehta wrote in a note Tuesday.
For the fourth quarter, upstream earnings were a loss of $642 million, including the impairment charge. Barclays' Paul Cheng was looking for this segment to be most improved, calling for income of $1.44 billion. Excluding the impairment charge, upstream earnings were in-line with Cheng's estimate, coming in at $1.4 billion, up $528 million from the same period last year.
"Excluding the impairment charge, both U.S. and international upstream fell short of expectations," Wells Fargo Senior Analyst Roger Read said in a research note. "U.S. earnings missed on higher costs, while the miss within international upstream was driven by both weaker realizations and higher costs."
Oil-equivalent production fell slightly to 4.1 million oil-equivalent barrels per day. Barclays' Cheng had been looking for total production of 4.3 million barrels of oil equivalent per day, which would have been a 12% increase sequentially.
The company's downstream unit was expected to shine the brightest, but also missed expectations. Exxon reported earnings of $1.2 billion, down $110 million from the fourth quarter of 2015. Barclays had been looking for earnings of $1.5 billion.
"Weaker refining and marketing margins decreased earnings by $570 million, while favorable volume and mix effects increased earnings by $200 million," the company stated.
Earnings for the integrated oil major's chemical segment continued to decline driven by unfavorable inventory effects, margins, and volume and mix effects. Exxon posted earnings of $872 million, down $91 million from the same period last year.
For the full year, ExxonMobil reported earnings of $7.8 billion, including the impairment charge. Assuming dilution, earnings came in at $1.88 a share. Earlier this month, the company declared a cash dividend of $0.75 a share, payable March 10.
Looking at 2017, ExxonMobil Vice President Jeff Woodbury says the capital budget will be about $22 billion, roughly a 14% increase from 2016, which came in at $19.3 billion for the year.
Woodbury also provided additional commentary on some of Exxon's new projects during a conference call with analysts. Internationally, the company is making continued progress in Guyana. Exxon submitted a development plan for the initial phase of the Liza field. Furthermore, the Liza-3 appraisal "successfully encountered additional deeper reservoir," noted Woodbury.
"This reservoir is now estimated to contain 100 million to 150 million oil-equivalent barrels beneath the Liza field," Woodbury said during the conference call.
As for the company's recently acquired Permian assets, Exxon is planning on adding more rigs in the prolific, oil-rich basin.
"We plan to drill the longest laterals within the play, which will maximize per-well recoveries and help generate market-leading development costs," Woodbury stated, adding that more than 85% of the wells are expected to have lateral lengths two miles or longer.
"This transaction increases ExxonMobil's inventory of Permian-drilled wells that yield at least a 10% rate of return at $40 per barrel to more than 4,500 wells," said Woodbury.
The company also has five major project start-ups planned for 2017-2018. Together these projects will contribute an additional 340,000 oil-equivalent barrels per day of working interest production capacity.
"The company's continued focus on fundamentals and our ability to leverage an attractive global portfolio through our integrated business ensures we are well positioned to generate long-term shareholder value," CEO Darren Woods said. 
Employees of TheStreet are restricted from trading individual securities.