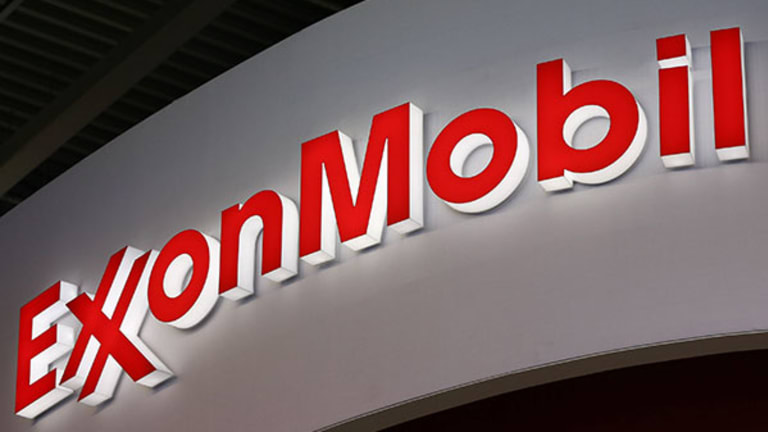 Exxon Discovers More Oil, but Don't Get Too Excited -- This Is Offshore Nigeria
The integrated oil major said it has discovered between 500 million and 1 billion barrels in one of the most expensive production regions in the world -- and it's offshore.
A day before ExxonMobil (XOM) - Get Exxon Mobil Corporation Report  is set to report earnings, the oil giant announced Thursday, Oct. 27, that it has discovered between 500 million and 1 billion barrels of oil in the Owowo field in offshore Nigeria.
The company described the find as a "significant discovery" but Raymond James analyst Pavel Molchanov tells TheStreet that 500 million to 1 billion barrels is a "fairly normal" discovery for offshore. 
Also, investors should be warned that it will be three years before these oil discoveries will be developed, according to Molchanov, and because this is Nigeria, where militant groups have undertaken violent sabotage campaigns on oil and gas operations this year, that development timetable might be stretched even more. 
Moreover, Nigeria continues to be one of the most expensive place to produce oil. The Wall Street Journal reported earlier this year that at $28.99 per barrel, Nigeria had the third highest cost of oil production behind only Brazil ($34.99) and the United Kingdom ($44.33). 
Developing these reserves could be even less enticing from an economic standpoint if political unrest continues in the country, Molchanov said.
Not to mention this is an offshore discovery, where costs to drill and produce are significantly higher than in onshore oilfields, as are the breakeven prices. 
Exxon holds a 27% interest in, and is the operator of, the discovery, with stakes also held by affiliates of Chevron (CVX) - Get Chevron Corporation Report (27%) and France's Total (TOT) - Get Total SA Report (18%), along with a Nigerian affiliate of Canada's Nexen Energy (18%) and state-owned Nigeria Petroleum (10%). 
"We are encouraged by the results and will work with our partners and the government on future development plans," ExxonMobil Exploration president Stephen M. Greenlee said in the statement.
The Owowo-3 well, which was spud on Sept. 23, according to Exxon, encountered about 460 feet of oil-bearing sandstone reservoir.
Owowo-3 extends the resource discovered by the Owowo-2 well, which encountered about 515 feet of oil-bearing sandstone reservoir.
Owowo-3 was drilled to 10,410 feet in 1,890 feet of water, according to Exxon, which said the Owowo field spans portions of the contract areas of Oil Prospecting License 223 (OPL 223) and Oil Mining License 139 (OML 139).
The well was drilled by ExxonMobil affiliate Esso Exploration and Production Nigeria and proved additional resource in deeper reservoirs, the company said.
ExxonMobil's shares were up slightly on the news midday Thursday, while Chevron's shares were down a fraction of a percent from their position prior to the announcement.