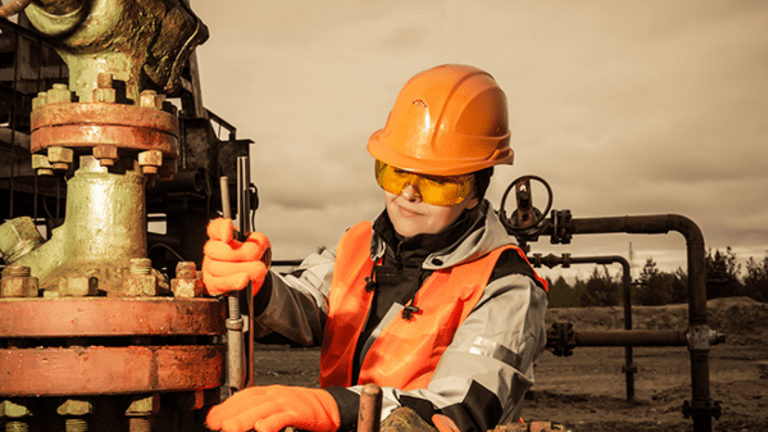 Exxon, Chevron Shares Climb Late as Oil Rebounds Off 2017 Low
An oil inventory glut that has persisted since OPEC decided to cut production pulled oil prices down temporarily Thursday, but the commodity rebounded in the late afternoon.
Plummeting oil prices took a toll on energy companies in early trading hours Thursday, but as the commodity inched back up to near $50 a barrel, the S&P 500's leading energy companies rebounded as well.
Oil producers were led by Marathon Oil (MRO)  Thursday, which gained 8.07% to $16.07 per share as the company swapped out non-operated assets in Canada's landlocked oil sands for favorable assets in west Texas' lucrative Permian Basin, netting over $1 billion of proceeds in the process.
Meanwhile, other large-cap energy stocks that withstood the false storm included Exxon Mobil (XOM) , Chevron (CVX) , and Schlumberger (SLB) , which respectively gained 0.79%, 0.39% and 0.77% to $81.67, $110.04 and $78.70 per share.
Among the day's biggest losers were oil refiners Tesoro (TSO) and Marathon Petroleum (MPC) , which fell 2.4% and 1.9%, respectively. Also slumping Thursday was oilfield services giant Halliburton (HAL) , which saw its share price decrease 0.78% to $50.89. 
Positive sentiment over OPEC's production cut of 1.2 million barrels of oil equivalent per day in the first half of 2017 has been met week-after-week with bearish data from the U.S. Department of Energy as a glut of petroleum products persists in the United States. 
Moreover, U.S. production has ramped since OPEC and non-OPEC producers agreed to limit production on Nov. 30. Baker Hughes' rig count data has rebounded exponentially from lows hit in early 2016, largely in the past few months.
And now it seems the fundamentals have finally given bulls reason to pause as the U.S. Energy Information Administration on Wednesday reported a build of 8.21 million barrels of crude during the week ended March 3.
As investors and industry watchers worry about global supply and demand balance, a number of energy trusts, including SandRidge Permian Trust (PER) , Enduro Royalty Trust (NDRO)  and BP Prudhoe Bay Royalty Trust (BPT) , took a beating Thursday.
Austin, Texas-based SandRidge Permian Trust is a statutory trust that holds royalty interests in specified oil and natural gas properties in the Permian Basin located in Andrews County, Texas. Shares of SandRidge Permian went down 6.56% to $2.85 per share by market's close. 
Enduro Royalty Trust, also of Austin, Texas, is a statutory trust formed by privately held Enduro Resource Partners to acquire and receive approximately 80% of the net profits from the sale of oil and natural gas production from certain properties in the states of Texas, Louisiana and New Mexico held by Enduro Resource Partners. Shares of Enduro dipped 5.71% to $3.30 per share at the market's close. 
Houston-headquartered BP Prudhoe Bay Royalty Trust, meanwhile, saw shares decrease more than 5% to $15.70 per share at Thursday's close. BP Prudhoe Bay Royalty Trust is a grantor trust. BP Prudhoe Bay Royalty Trust pays out royalties based on production in Alaska's North Slope, which is the state's biggest oil field operated by BP Alaska. Weak revenue from the company has caused BP Prudhoe shares to fall more than 67% over the past two years.