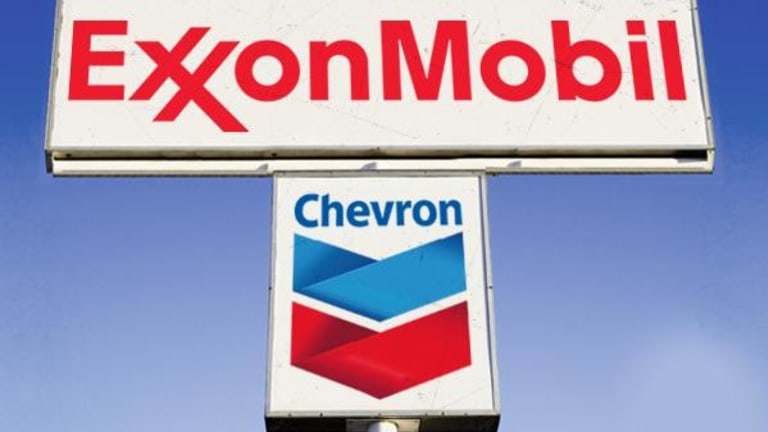 Publish date:
Exxon, Chevron Earnings: Expect a Mixed Bag in Third Quarter
The integrated oil majors should see some upstream segment improvement despite sequentially flat oil prices, as they put negative one-time factors from the second quarter behind them.
The integrated oil majors should see some upstream segment improvement despite sequentially flat oil prices, as they put negative one-time factors from the second quarter behind them.
ExxonMobil (XOM) - Get Reportand Chevron (CVX) - Get Report -- the Coca-Cola (KO) - Get Reportand PepsiCo (PEP) - Get Reportof the energy world -- are gearing up to report third-quarter earnings Friday, Oct. 28, before the markets open, and the results may be a mixed bag.
Analysts' consensus Exxon estimate is for a 58 cents per share profit on $60.4 billion in revenues, up from its second-quarter earnings of 41 cents per share on $57.7 billion in sales. Notably, Exxon's second-quarter earnings came in well below analysts' expectations of 64 cents per share.
Company followers expect Chevron to report adjusted earnings of 40 cents per share on $29.1 billion in sales, vs. the company's second-quarter adjusted earnings of 34 cents per share on $29.3 billion. Before adjusting for one-time factors, Chevron reported a 78 cents per share loss in the second quarter.
If these were any old oil and natural gas producers, the most important thing to consider when predicting quarterly earnings this season would be the change in the average oil price between periods, Raymond James analyst Pavel Molchanov tells TheStreet.
The average price of West Texas Intermediate crude oil contracts in the third quarter was about $45 per barrel, just shy of the $45.73 per barrel average in the second quarter, according to data compiled from FactSet.
Therefore, all other things equal, commodity prices alone would not support much of an improvement quarter-over-quarter for oil and gas companies.
But all things are rarely equal when you are a vertically integrated oil major like Exxon, Chevron, BP (BP) - Get Reportand Royal Dutch Shell (RDS.A) , with upstream, refining and chemicals assets in your portfolio and a wide geographical presence.
In the case of Exxon, JPMorgan analysts see a better result from the company's upstream unit this quarter after one-time impairments in the segment weighed on the company's earnings in the second quarter.
The firm anticipates $1.18 billion Exxon upstream segment net income for the third quarter, vs. $294 million in the second period.
International earnings should support Exxon's third quarter upstream numbers, JPMorgan's Phil Gresh and John Royall wrote in a recent note, with $1.65 billion in net income outside the U.S. vs. a loss of $472 million domestically.
The substantial increase contrasts international production activity, which saw the third-quarter rig count trimmed.
But Gresh and Royall note that forest fires in the Canadian oil sands and lagging liquefied natural gas, or LNG, pricing, which both dented second-quarter results, should have less of a third-quarter impact.
Still, Deutsche Bank analysts warned this week that while the LNG spot market has implied as much as a 20% sequential pricing improvement, quarterly results from Australian oil and gas companies like Statoil (STO) and Oil Search underscore how difficult it is accurately to predict pricing improvement's effect on quarterly performance.
And, JPMorgan notes political unrest that caused violent attacks on Nigerian oil and gas operations remain a concern.
The companies should report strong chemical unit earnings, Gresh and Royall said. Specifically, Exxon's chemical earnings should show an uptick to $1.3 billion in the third quarter vs. $1.2 billion in the previous frame.
But Exxon's downstream segment, which includes both chemicals and refining operations, may still suffer due to weaker margins from the latter, the analysts opined.
Exxon's downstream segment should come in with $790 million in net income, down slightly from $825 million in the second quarter, by JPMorgan's calculations.
Chevron, on the other hand, is expected to have the steepest earnings decline year-over-year among integrated oil majors, Oppenheimer energy strategist Fadel Gheit wrote this week. BP and Exxon will come in on its heels, Gheit said, while Shell and France's Total (TOT) - Get Reportare expected to have lower declines.
The group on a whole is expected to report third-quarter earnings that are 26% below results from the third quarter in 2015.
Nevertheless, a consensus of analysts expect integrated oil majors to be up 29% on average quarter-over-quarter, with Shell and Exxon showing the highest earnings increase, followed by Chevron and BP, Gheit wrote.