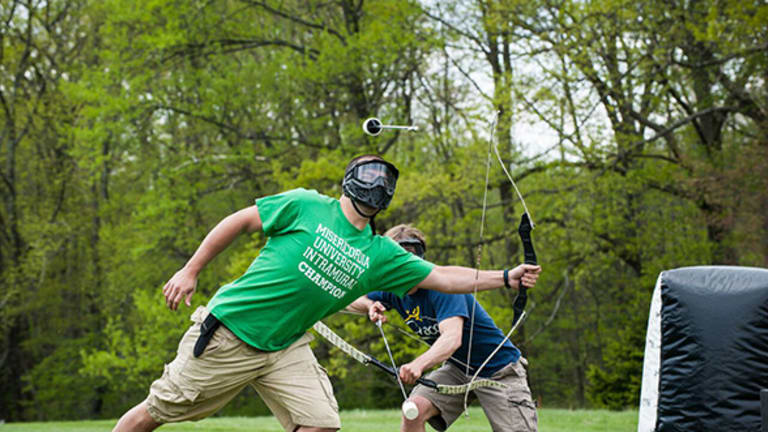 Extreme Team-Building: This Company Outing Is Not for Couch Potatoes
This mountain resort is offering a more challenging retreat to build competitive spirit among employees.
NEW YORK ( TheStreet) — A summer picnic might be a fun company outing, but it's not the most creative way of boosting camaraderie. Skytop Lodgein the heart of the Pocono Mountains in Pennsylvania is offering a more challenging retreat to build competitive spirit among employees — using bows, arrows and more.
It's The Hunger Games of the corporate world. Employees will move between inflatable bunkers on both sides of the field, while trying to hit opponents and targets with foam-tipped arrows. The game is known as Archery Tag and it's one of several team-building activities offered at the mountain resort.
If channeling Katniss Everdeen (played by Jennifer Lawrence in The Hunger Games) is not enough to build rapport, Skytop offers the next best thing in team-building — wilderness survival.
The group will be led into the woods by an expert survivalist who will teach everyone to navigate, start friction fires, build survival shelters and spot edible plants. Building a boat from scratch — similar to what Tom Hanks did in Cast Away — is also an option.


At this company retreat, guests will be subjected to a three-hour treetop adventure course with such obstacles as elevated bridgeways from one tree platform to the next, logs hanging from ropes to walk across and seven ziplines.
Smaller groups will compete against each other in clay shooting or go off-road trail driving on utility vehicles. UTV trips will cover seven to eight miles, with the possibility of seeing bears, bobcats and coyotes along the way.
"When it comes to team-building, some companies prefer to physically get outside of the box," says Diane Domeyer, executive director of The Creative Group, a specialized staffing service for interactive, design and marketing professionals.
The Creative Group recently surveyed 400 U.S. advertising and marketing executives to determine the most unusual team-building activities they've participated in. The list includes strenuous activities such as river rafting and mountain-climbing.
At Skytop's Adventure Center, scheduled events are not for the unfit; all guests are required to sign a waiver at the beginning of each activity.
Jeff Rudder, Skytop Lodge's director of sales and marketing, says regardless of the activity's level of difficulty, organizations visiting the resort are looking for team-building events that are innovative and collaborative.
"Team-building activities don't have to be elaborate to be effective," Domeyer says. "When choosing events, employers should pick activities that support their business objectives, whether it's rewarding hard work, building rapport, improving communication or sparking creativity."