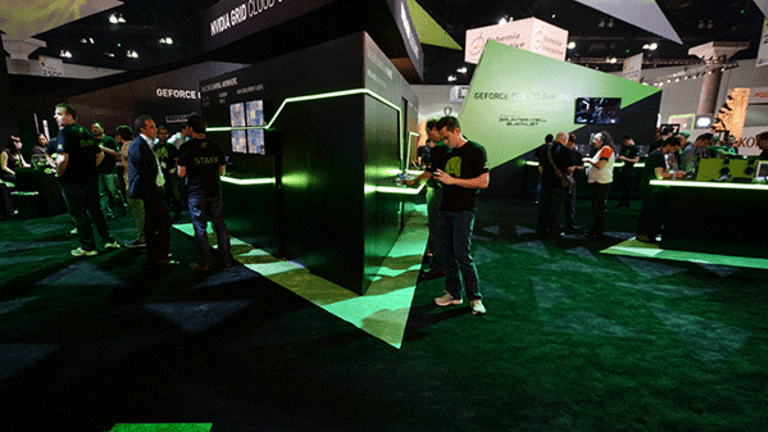 Extreme Nvidia, Tesla Price Targets Are Reminiscent of the Dot-Com Bubble
Analysts are using creative math and high multiples to argue stocks that have already soared will continue doing so. It's not the first time this has happened.
As I see Citigroup make a $300 per share bull case for Nvidia  (NVDA) - Get NVIDIA Corporation Report and Baird make a case for Tesla Motors (TSLA) - Get Tesla Inc Reportdeserving to trade at $566 in a "blue-sky" scenario, I can't help but think about a famous Qualcomm (QCOM) - Get Qualcomm Inc Report call made by an analyst towards the end of 1999, as the euphoria of the Dot-com bubble hit a fever pitch.
Back then, PaineWebber set a $1,000 target ($125 split-adjusted) on the mobile chip and licensing giant, which had already been on an epic run in 1999 after a March settlement with Ericsson (ERIC) - Get Telefonaktiebolaget LM Ericsson Report positioned the company to reap billions in royalties and significantly grow its chip sales as 3G deployments took off. That made the firm comfortable valuing Qualcomm at a whopping 175 times its expected 2001 profits, and 55 times its expected 2001 sales.
Fast-forward to today, and Qualcomm is a much larger and profitable company than it was in 1999. Global mobile phone shipments have soared -- even ardent Dot.com-era bulls couldn't have envisioned the scope of the smartphone boom that followed the iPhone's 2007 launch. Qualcomm collects substantial royalties on the lion's share of those shipments, while also supplying app processors and/or modems for a decent percentage of them.
And yet, due to significant multiple compression, some royalty rate pressure and more recently legal and regulatory disputes, Qualcomm currently trades at $58. That's less than half of PaineWebber's split-adjusted target, and also about 30% below where shares closed the day the call was made, following a stunning 31% gain.
Much is certainly different about the present day relative to late 1999 and early 2000. For starters, tech stocks are generally posting single-digit gains, rather than large double-digit ones, in response to uber-bullish analyst calls. Investors are also showing a lot more scrutiny to tech IPOs, and are more willing to punish shares of companies in "hot" industries if they post disappointing earnings or guidance. And most importantly, while large-cap and mid-cap tech multiples have risen substantially, overall they're still well below where they stood near the bubble's peak.
But there are a few worrying parallels between some of the recent calls made featuring giant price targets, and the ones made during the bubble. The main ones:
1. The targets arrive after the stocks in question have already seen big run-ups.
Citi's $300 Nvidia bull case, which implies a 101% gain from where shares closed on Wednesday, came after Nvidia had already risen nearly 500% from its early-2016 lows. Likewise, Baird's "blue-sky" Tesla target came after the stock had risen over 60% since December to $301. And Maxim Group's recent $1,300 12-month target for Amazon.com (AMZN) - Get Amazon.com, Inc. Report came with the stock having gained about 250% from early 2015, leaving Jeff Bezos' company with a market cap more than twice that of Walmart (WMT) - Get Walmart Inc. Report .
A sell-side analyst version of victory disease could be at work here: After seeing a well-run, fast-growing company blow past more conservative price targets one month after the next, some analysts become more confident issuing pie-in-the-sky targets, believing the company can do no wrong and ignoring how a higher valuation brings with it higher risk.
2. Analysts talk up a company's exposure to hot trends, liberally using popular buzzwords along the way.
Citi's Nvidia note makes sure to emphasize the company's strong exposure to autonomous driving and data center AI projects. Maxim's Amazon note proclaims the company has 10 trillion-dollar opportunities in front of it, including groceries, consumer IoT solutions, B2B e-commerce, gas stations and travel.
On a narrow level, it's hard to argue with some of these claims: Nvidia is well-exposed to big data center and automotive opportunities, and Amazon is extending its tentacles into adjacent retail and e-commerce markets where it could make an impact. The trouble lies in not providing adequate context. For example, not providing a realistic estimate for what kind of market share the company could achieve in a targeted industry over the next few years, or the threats posed by deep-pocketed rivals.
3. Analysts get creative with the math they use to justify their valuations.
Citi's $300 Nvidia bull case assumes the company, currently expected on average by analysts to deliver $8.25 billion in revenue (up 19% annually) and $3.08 in EPS this fiscal year, will eventually post $24 billion in sales and $8.50 in EPS, all while trading at 35 times EPS.
Baird's blue-sky Tesla scenario not only envisions the company selling 1 million cars in 2020 -- Elon Musk has talked about getting production to a 1 million-unit run rate by 2020 -- but also doing so at a $52,000 average price, all while producing $7.5 billion in battery revenue and $2.8 billion in solar revenue. The firm sees all this revenue yielding $30 in EPS, nearly 3 times Tesla's consensus 2020 analyst estimate, and Tesla shares trading at 32 times EPS.
To be fair to the analysts, these are just their best-case scenarios: Their official estimates, while still bullish, are more restrained; Citi has a $180 official target for Nvidia, and Baird a $368 target for Tesla. But the bull-case scenarios are clearly making headlines, and helping propel shares of the companies they touch on to new highs. As such, they're worthy of close scrutiny.
Again, we're still a ways removed from seeing the kind of market frothiness witnessed in 1999 and 2000, and many of the growth trends discussed in more bullish analyst notes are very real and significant. It's just best not to complacently accept the targets, multiples and sales and earnings estimates thrown around in them on account of what a company and its stock have achieved to date.
Tesla's stocks were down 2.9% to $359.26 on Friday at noon, and Nvidia was down 3.7% to $153.99.
Click here for the latest business headlines.
Read More Trending Articles:
Amazon Has Secretly Become a Giant Bank
Stay Focused, People!: Cramer's 'Mad Money' Recap (Thursday, 6/8/17)
Citi Says Nvidia Could Explode 100% to $300 a Share -- Here's Why