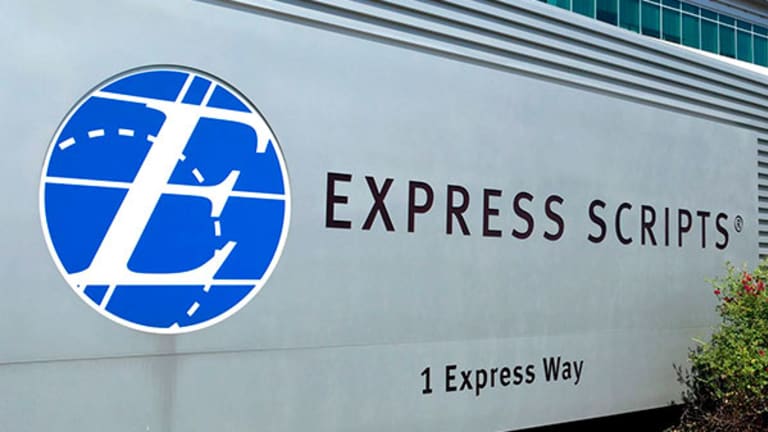 Express Scripts Falls on Attack From Andrew Left
The comparison to the New York mob boss was only the beginning of Citron Research's inflammatory comments
Short seller Andrew Left, head of Citron Research, sent shares of Express Scripts (ESRX) falling Friday after he called the company the "John Gotti of the pharmaceutical industry."
The comparison to the New York mob boss was only the beginning of Left's inflammatory comments about the pharmacy benefit manager, or "PBM." Left also wrote that the company could stand to lose 30% of earnings per share if it lost half of its drug rebates, which could happen if a federal agency idea is implemented. According to the Centers for Medicare and Medicaid Services, cutting PBM rebates could be a swift way for President Donald Trump to slash drug prices as he has vowed.
Express Scripts saw shares fall 2.35% on the report, hitting $67.59 apiece before markets closed Friday. 
Express Scripts is a pharmacy benefit manager that negotiates drug prices with pharmaceutical companies on behalf of insurers. The company also has its own specialty pharmacy called Accredo that helps patients manager their PCSK9 therapy -- which often includes injection drugs -- for high cholesterol.
Left explained the pricing program: insurers pay pharmacy benefit managers a fee to negotiate drug prices. If the PBM does a good job on negotiation, it receives a rebate on top of that fee, he said. 
"Are [patients] saving money?" Left said when reached by phone Friday. "Yeah, but not as much as they should save. They're shaking down the drug companies." 
He also took issue with Express Scripts' specialty pharma company. He compared that ownership to owning a home security company that turns around and sells information on homeowners to burglars.
So why did Left go after Express Scripts specifically? 
He noted that the company, as compared to CVS Caremark (CVS) - Get Free Report and UnitedHealth Group (UNH) - Get Free Report , sees far greater returns from rebates than the others. It's important to note, too, that UnitedHealth and CVS have far more diversified businesses -- with UnitedHealth operating a full-fledged insurer and CVS continuing to own a retail pharmacy. 
As for Express Scripts? In response to the CMS report and Left's comments, the company posted to its blog on the topic. 
"A different headline for the same fact sheet could be, 'Part D is Working as Designed,'" company officials wrote. "Plans and PBMs are negotiating discounts from drug makers and pharmacies to get the best deals for the plans they offer. The report finds that as drug prices went up, member premiums went down."
Spokesman Brian Henry reiterated that the company works to keep down the cost of prescription drugs. 
"Rebates do not raise drug prices, drug companies raise drug prices," he said when reached by phone Friday. He also noted that insurers get to determine how much of the rebate they see. 
As of Friday, Express Scripts had a $41.68 billion market cap.