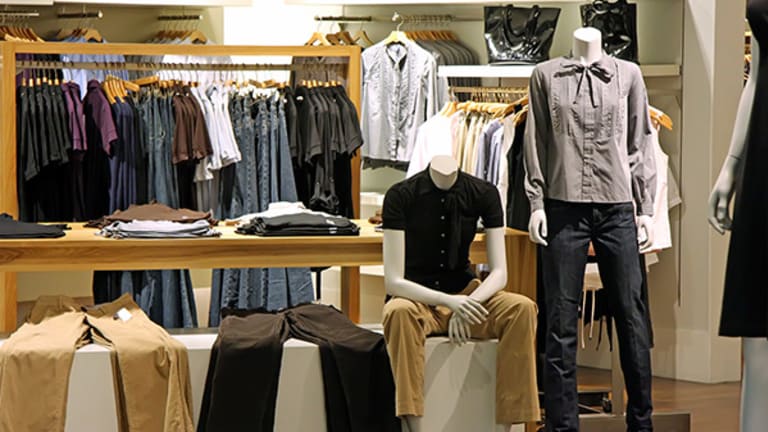 Express' Earnings Meltdown Shows Why Investing in Retail Stocks Is So Difficult
Express (EXPR) is just the latest fashion retailer being hurt by surprisingly bad same-store sales.
Wednesday provided yet another example of why investing in stocks of apparel retailers is so difficult. Shares of Express (EXPR) - Get Free Report , a company that just last year appeared to be heading in the right direction, lost 26% of their value in a single trading ay. The massive selloff came after the company missed analysts' estimates for quarterly revenue and earnings. Worse still, Express lowered its guidance for the full year.
Express said revenue for its fiscal second quarter decreased 6% to $504.8 million from $535.6 million in the second quarter of 2015. On average, Wall Street analysts were expecting $520.9 million. The company earned 13 cents per share, falling well short of the analyst consensus for 17 cents. Also worrisome: Same-store sales fell 8%.
Looking ahead, management said Express will post diluted EPS for the fiscal third quarter within a range of 9 cents to 15 cents. Wall Street had forecast 32 cents. For the full year, management said adjusted earnings per share will be $1.00 to $1.14 per share, well off the $1.46 analysts were expecting. Just three months ago management guided for EPS of $1.41 to $1.54 for the full year, which had been lowered from the previous full year range of $1.56 to $1.71. Comparable same-store-sales are expected to decline in the mid to low single digits.
Express' results illustrate why the fashion retail industry is so difficult to invest in. Every earnings season is the same in this industry: Those who were doing well begin to decline while those who had performed poorly begin to get better.
Just this earnings season alone we have seen a number of fashion retailers improve their results when compared to last year while others have headed the other direction. Urban Outfitters was a big winner this quarter while its closest competitor, American Eagle Outfitters, was a big loser. The Gap, a company many consider Express's closest competitor, posted rising same-store-sales and better-than-expected quarterly results.
To focus in more on Express, this time last year the company was heading in the right direction. Comparable sales were up 7%, diluted EPS was at 25 cents, and margins were growing, all while sales rose 11%.
But, one year later, the stock is falling 25% in one day after a bad earnings report in which nearly every figure was lower on a year-over-year basis. Whether the poor results are because more people are shopping online or just because Express's fashion designers and purchasers missed the change in clothing trends, the issue with the industry remains that investors need to look at fashion retailers one quarter at a time. And that sort of investing doesn't work for long-term buy-and-hold strategies.
If your investment goes up 25% one year, but falls by that much the next and this happens each and every year, you aren't making much progress. Plus, you'll have suffered lots of stress and anxiety.
Anyone investing for the long term and practicing buy-and-hold strategies should just avoid fashion retail all together.
---
Fashion retail may not be the only thing you want to avoid. Many are saying another crisis is coming. And when it hits, weak companies and their investors will be washed away. Don't let that happen to you! I've found seven companies you should own no matter what the economy is doing. Each one of these powerful, yet overlooked companies barely notices when the market tumbles. And they'll skyrocket when it rebounds. You can pick all seven up for pennies on the dollar right now. But that'll change the instant average investors catch wind of just how bad things really are. Get their names here before it's too late.
This article is commentary by an independent contributor. At the time of publication, the author held no positions in the stocks mentioned.