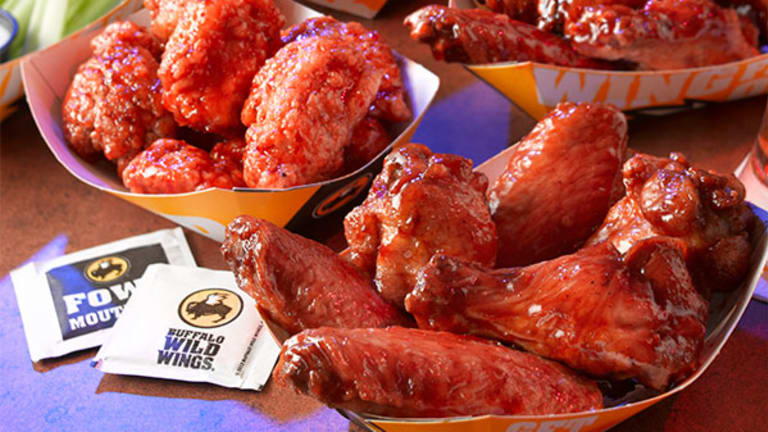 These 5 Major Fast Food Restaurants Are About to Be Whacked by Soaring Chicken Prices
As chicken prices rise, so do wing prices.
As if Buffalo Wild Wings (BWLD)  needed another headache to add to its growing list of woes.
In a research note released Monday, BMO Capital Markets analysts Andrew Strelzik and Ryan Royce said they found that the price of chicken wings increased nearly 11 percent last week to $1.91 each, compared to the same time a year ago.
"The level of wing price inflation accelerated sequentially and marks the largest magnitude of inflation in nearly four months," Strelzik and Royce wrote.
Over the past few weeks, the price of wings have ticked up three cents, compared to the typical seasonal declines of 10 cents to 15 cents seen at the end of March through the beginning of May due to the end of March Madness, according to BMO.
"In fact, wing prices this week reached the highest level since early-to-mid February around the Superbowl and marks the highest April wing prices in at least the past 15 [to] 20 years, based on our data," Strelzik and Royce said.
READ MORE: Top 3 Reasons Why This Vocal Activist Investor Wants to Push Buffalo Wild Wings CEO Out the Door
The analysts said that if wing prices continue to rise -- which BMO predicts they will over the next several weeks -- "the magnitude of inflation" will likely expand by 400 to 500 basis points.
"The recently stronger wing price trends coupled with a more challenging [second quarter] set up likely drove the increase in [Buffalo Wild Wings' full year] wing price guidance to 8%-10% inflation relative to its previous guidance of 3.5%-4.5% inflation," Strelzik and Royce said in the note.
The spike in wing prices can be attributed to the increase in the cost of poultry in the U.S. due mostly to rising numbers of consumers shifting to healthier diets. Further, more fast food restaurants have introduced new chicken sandwiches to their menus to capitalize on the trend.
In March, the price of chicken soared 8.39 percent from February, and is up 12.53 percent since October, according to IndexMundi stats.
It's crucial for Buffalo Wild Wings to have a strong second quarter, as it continues to fight activist investor Marcato Capital Management's push to have CEO Sally Smith and certain board members ousted. Marcato, led by Mick McGuire, has provided some damning evidence that shows a deterioration in same-store sales, foot traffic and margins at the restaurant chain, while comparable store sales growth is, according to the firm, at its "lowest levels in over a decade."
Buffalo Wild Wings only fueled the fire by reporting tepid first-quarter results last week. The company reported that earnings plunged 19.1 percent to $1.44 a share, far off from analysts' estimations for $1.69 a share, and meager same-store sales growth of 0.5 percent.
While surging wing prices may have the most adverse effect on Buffalo Wild Wings due to its wing-focused menu, some of its competitors could be challenged, too. Here's a look at just a few.