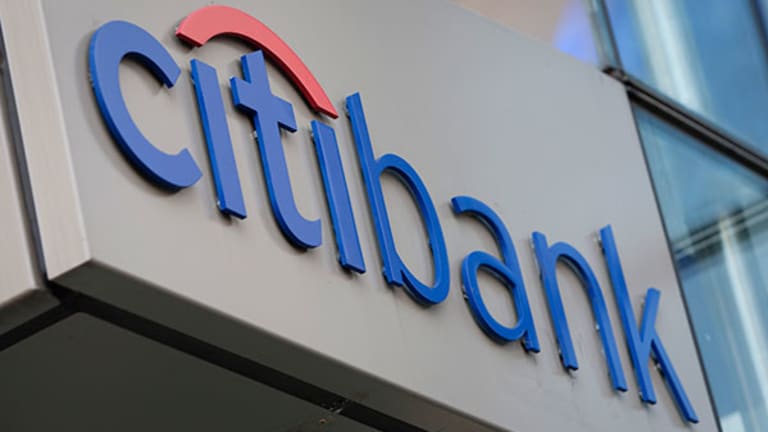 Publish date:
Experts Take Solace in Citigroup's Capital Structure
Analysts are feeling optimistic about the New York mega-bank.
Analysts are feeling optimistic about the New York mega-bank.
Citigroup (C) - Get Report is shining among its big bank brethren.
So much so that BMO Capital Markets analysts James Fotheringham and Joe Recendez raised their forecasts for the New York-based mega-bank with a $130 billion market cap, following its first quarter earnings last week.
Fotheringham said in a note that Citigroup's first quarter core EPS of $1.30 beat BMO's $1.20 estimate by 8%, attributing the beat to "lower-than-expecting (recurring) operating expenses and, to a lesser extent, lower credit costs."
The analysts have raised their forecasts of core EPS up 6% in 2016E, from $4.90 to $5.17 as well as up 1% in 2017E, from $5.88 to $5.92, as "lower expected credit costs and operating expenses more than offset lower expected revenues." In addition, the analysts have raised their target price from $61 to $63, "predicated on two-year-forward core EPS, capital-adjusted growth over the next two years, dividends, and excess capital." The bank had "superior growth in regulatory capital," the note said.
Nomura Group also raised its price target for the bank, from $62 to $65, although it maintained its "Buy" rating on the bank.
Citigroup shares surged over 10% last week, from Monday's start at $41.12, to close at $44.92 on Friday.
Although shares are still trading at a 7% discount year-to-date, Citigroup could be on its way to greener pastures. Rafferty Capital Markets analyst Richard Bove said the bank shares' 35% discount to a $71.70 tangible book value is not deserved.
Citigroup shares should increase to trade near its tangible book value in the 18 to 24 month time frame, he said.
Although the bank's first quarter was not very exciting, and is likely to see equally tepid second quarter results, the results are positive, Bove said, and Citigroup's results for the second half of the year should pick up meaningfully. Bove's reason for optimism on Citigroup stock, which he has a recommendation of "Buy" on, is related to the capital structure of the company, which he finds very safe.
Regulators are clearly a fan of Citigroup, as indicated by the fact that the Federal Reserve and the Federal Deposit Insurance did not find the bank's living will to be non-credible, despite some shortcomings that will still need to be addressed.
Other large banks did not fare nearly as well, as regulators called living wills submitted by Bank of America (BAC) - Get Report , Bank of New York Mellon (BK) - Get Report , JPMorgan Chase (JPM) - Get Report , State Street (STT) - Get Report and Wells Fargo (WFC) - Get Report non-credible.
Bank of America and Wells Fargo are holdings in Jim Cramer's Action Alerts PLUS Charitable Trust Portfolio. Want to be alerted before Cramer buys or sells WFC or BAC? Learn more now.
Citigroup shares are up 1.2% in afternoon trading from an open of $44.42 to $44.97.