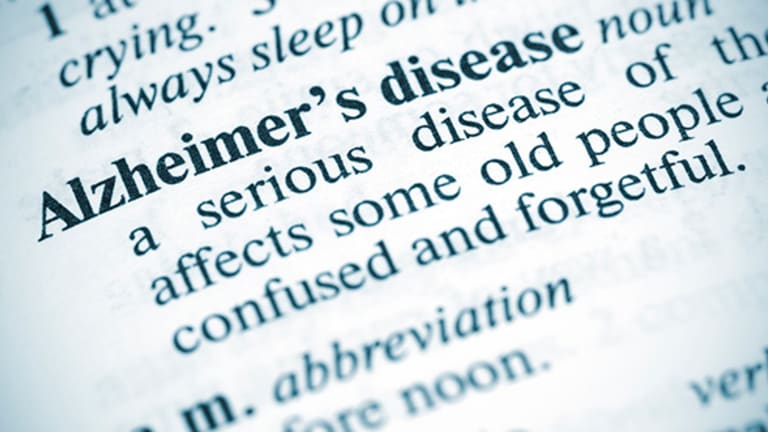 Experimental Tau Protein Drug Tangled Up in Late-Stage Alzheimer's Study Failure
A TauRx Therapeutics drug designed to dissolve tangles of a protein called tau in the brain failed to slow cognitive and functional declines of Alzheimer's patients compared with a control.
A TauRx Therapeutics drug designed to dissolve tangles of a protein called tau in the brain failed to slow the cognitive and functional decline of Alzheimer's patients compared with a control, according to results of a large clinical trial disclosed Wednesday.
Despite the negative overall outcome of the study, TauRx, a privately held company based in Singapore, believes 15% of the 890 enrolled patients not taking other Alzheimer's medications benefited from treatment with its drug, known as LMTX.
The observation from a subgroup analysis that LMTX might be effective on its own but not in combination with established Alzheimer's drugs cannot be explained, said TauRx co-founder and LMTX inventor Claude Wischik in a phone interview Tuesday.
Wischik is in Toronto where the TauRx LMTX study results are being presented Wednesday afternoon at the Alzheimer's Association International Conference.
"This is completely unexpected and surprising. We expected LMTX would work in combination like basically all the rest of the field," he said.
Wischik believes the subgroup findings are likely real and support regulatory filings for LMTX in Europe and the U.S.
The Alzheimer's Association disagrees.
"Our overall opinion is that this was a negative study," said Dean Hartley, director of science initiatives at the Alzheimer's Association. No difference between LMTX and control on cognitive and behavioral changes falls below FDA's regulatory requirements for approval of an Alzheimer's drug, Hartley added.
Through his work at TauRx, Wischik has pursued an alternative theory about Alzheimer's which blames tangles of the tau protein in the brain for the loss of memory, cognition and function that are the hallmarks of the dreaded neurodegenerative disease.
Most Alzheimer's research is based on the theory that clumps of a different protein known as beta amyloid cause the disease, although no one has yet developed a drug effective enough to validate this hypothesis. Pfizer (PFE) , Johnson & Johnson (JNJ) , Elan (ELN) and other drug companies have tried.
Biogen (BIIB) and Eli Lilly (LLY) are still trying. The companies are conducting separate phase III studies of competing drugs which target the elimination of beta amyloid from the brains of Alzheimer's patients.
Current Alzheimer's drugs only treat symptoms temporarily. There are no approved medicines capable of slowing or reversing the progression of the disease.
The TauRx trial results being reported Wednesday aren't likely to convert many Alzheimer's researchers into tau tangle believers.
The phase III study enrolled 891 patients with mild or moderate Alzheimer's disease and randomized them to treatment with one of two therapeutic doses of TauRx's LMTX. A very low, sub-therapeutic dose of LMTX served as the control for the study. Both doctors and patients were blinded to their respective treatments.
After 15 months, there was no difference between LMTX and placebo on two important determinants of efficacy in Alzheimer's studies. The ADAS-cog measures change in cognition while the ADCS-ADL measures a patient's ability to function. On neither efficacy scale did LMTX show any improvement over placebo at all, Wischik says.
LMTX also showed no ability to slow the rate of brain atrophy compared with placebo. The safety of the drug was "acceptable" and comparable to the safety profile of other Alzheimer's disease drugs in clinical trials.
Of course, there's always a more optimistic subgroup analysis to soothe the burn of a failed clinical trial, particularly in Alzheimer's disease where so many large studies have failed. TauRx is no exception.
The company is touting results from an analysis conducted on enrolled patients not taking any other currently approved Alzheimer's drugs during the course of the study. There were 136 such patients out of the 891 enrolled in the phase III study.
Here, TauRx says treatment with LMTX alone, as a monotherapy, demonstrated a significant improvement over placebo on cognition and function, as measured by the ADAS-cog and ADCS-ADL scales.
The same, positive efficacy findings were not seen in 85% of enrolled patients who took LMTX in combination with standard Alzheimer's drugs.
"Since these patients formed the substantial majority of those recruited to the trial, the treatment benefits seen in those taking LMTX as monotherapy could not be seen when all patients taking LMTX were pooled in the primary analysis model," TauRx claims.
There are holes in the company's argument which raise questions about its nuanced conclusions from the phase III study. The reason that a "substantial majority" of enrolled patients were taking standard Alzheimer's drugs is because that's how doctors treat patients in the real world.
TauRx has no explanation for why LMTX would be effective alone but ineffective when used with standard Alzheimer's drugs. This has not been a trend observed in clinical trials of other experimental Alzheimer's drugs, Wischik admits.
It's become routine to parse patients by the severity of their Alzheimer's disease. Patients with early-stage, or mild disease, are believed to have a better chance at responding to therapy while patients with moderate, or more advanced, disease are harder to treat effectively. Biogen and Eli Lilly are both studying their respective beta-amyloid drugs on mild Alzheimer's patients.
When the TauRx study was analyzed to look at mild and moderate Alzheimer's patients separately, there was still no cognitive or behavioral benefit attributed to LMTX compared with the control, Wischik says. Likewise, there was no difference when the study was parsed by geographic region.
Still, Wischik believes the positive LMTX monotherapy effect is real and the findings from the phase III study presented Wednesday are supported by a second phase III study which is just now being analyzed. [Although the primary endpoints and statistical plan for that second phase III study were changed right before the database was locked.]
When all the data from the two phase III studies are analyzed, TauRx plans to file for approval with European and U.S. regulators.
Hartley from the Alzheimer's Association believes researchers can learn something from negative clinical trials, so the findings observed in the TauRx study should be investigated further.
"It's important for the Alzheimer's field that tau therapies continue to be developed," he said.
J&J and
AbbVie
(ABBV)
also have tau drugs in their Alzheimer's research pipelines.
Adam Feuerstein writes regularly for TheStreet. In keeping with company editorial policy, he doesn't own or short individual stocks, although he owns stock in TheStreet. He also doesn't invest in hedge funds or other private investment partnerships. Feuerstein appreciates your feedback; click here to send him an email.