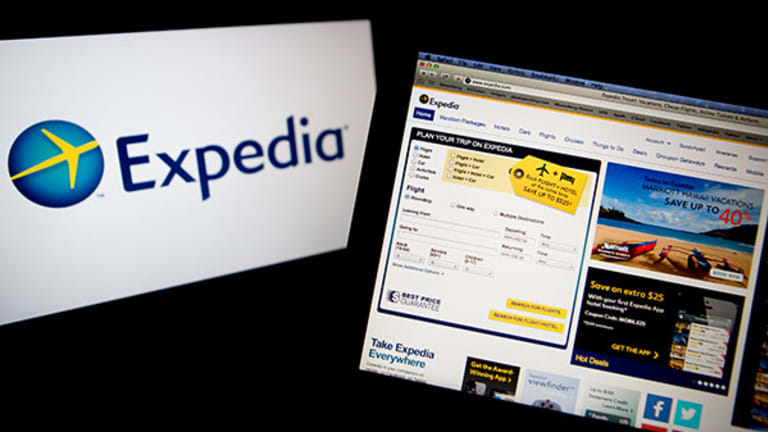 Expedia Stock Falls After CEO Heads to Uber; Is It Time to Flee?
With the departure of CEO Dara Khosrowshahi, the online travel giant now needs to find a new chief executive.
As Uber Technologies Inc. has found itself a new CEO, Expedia Inc. (EXPE) - Get Expedia Group, Inc. Report is now grappling without a chief executive. 
On Monday, the ride-hailing startup selected Expedia CEO Dara Khosrowshahi to take over for former CEO Travis Kalanick, who exited the company in June. Uber investors forced Kalanick to resign from the company after former attorney general Eric Holder released the findings of an investigation into the company's toxic workplace culture.  
The move comes at a cost for Expedia, which experienced rapid growth under Khosrowshahi's 12-year leadership. He oversaw two major acquisitions that helped the company crack open an even bigger global market and, as a result, Expedia's stock has been on a tear, climbing more than 26% so far this year. The news of Khosrowshahi's exit sent Expedia's stock lower by 4.5% to $142.53 on Monday. 
Expedia chairman Barry Diller confirmed the move in a letter to employees on Monday, saying nothing has been finalized yet, but that he believes Khosrowshahi intends to accept the position at Uber.
"As you probably know by now, Dara Khosrowshahi has been asked to lead Uber," Diller wrote. "...If Dara does leave us, it will be to my great regret but also my blessing - he's devoted 12 great years to building this Company and if this is what he wants for his next adventure it will be with my best wishes."
Diller added that Khosrowshahi leaves behind a "tremendously talented corps of executives" at Expedia. 
It's unclear when Khosrowshahi will begin his job at Uber, but Expedia is likely forming its next steps to name a new CEO. Morningstar analyst Dan Wasiolek said Expedia has several people in place that could step in, such as CFO Mark Okerstrom or Aman Bhutani, president of Brand Expedia Group, which includes Expedia.com, Travelocity and Wotif. The company will most likely conduct an external search as well.
Whoever takes over for Khosrowshahi will have big shoes to fill, Wasiolek said.
"Any time you lose someone who's been at the company since it's been public, it's got to be a loss," Wasiolek explained. "Dara has been at the helm while Expedia has become a global company and he evolved its technology platforms. But with the deep bench that Expedia has, I think it's a manageable loss."
More of What's Trending on TheStreet:
Wasiolek has met Okerstrom before and said he came across more like a CEO than a CFO, having great communications skills, as well as a deep understanding of the online travel industry. Okerstrom joined Expedia in 2006 -- one year after Khosrowshahi did -- and has had a number of responsibilities dealing with Expedia's strategic positioning. He's not "just the guy who's crunching the numbers," Wasiolek said, adding that Okerstrom is at the top of his list for someone who's capable of running Expedia. 

One of Expedia's biggest challenges is the ongoing integration of HomeAway, the AirBnB competitor it purchased for $3.9 billion in 2015 in its largest-ever deal. Wasiolek said he doesn't expect Expedia will encounter any hiccups as it folds in the HomeAway business, but that any missteps could serve as an opportunity for TripAdvisor (TRIP) - Get TripAdvisor, Inc. Report to gain some ground. TripAdvisor's 800,000 vacation rental properties are quickly catching up to HomeAway's estimated 1.5 million listings, he noted. 
Uber is also gaining a lot of notoriety and experience by snagging Khosrowshahi from Expedia. Prior to Expedia, Khosrowshahi led IAC/InterActiveCorp's (IAC) travel unit for seven years, giving him 19 years of executive experience. At Expedia, he fostered a healthy corporate culture -- about 90% of Expedia's employees see management as honest and ethical, according to a 2017 survey conducted by Great Place to Work. That could be of value for Uber, which has been reeling from a toxic corporate culture. 
Perhaps most importantly, Khosrowshahi steered Expedia through its spin off from IAC subsidiary into a publicly-listed company in 2005, which bodes well for Uber, should it decide to go public at some point. 
"Dara went through the evolution of being a privately held company into a publicly held company," Wasiolek noted. "Uber has aspirations to do the same, so having someone at the helm who knows what's entailed and how to run a publicly traded business, is I think also of huge value."