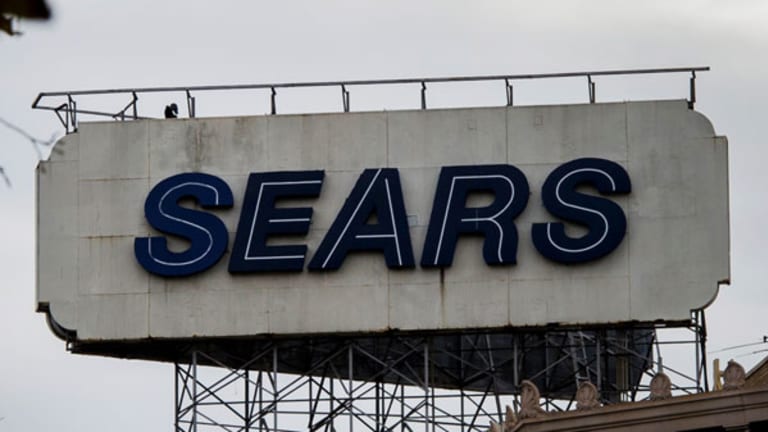 Expect the Absolute Worst From Sears' Results
Sears will be making some headlines later this week.
(This article originally appeared at 9:00 a.m. ET on Real Money, our premium site for active traders. Clickhereto get great columns like this from Jim Cramer and other writers earlier in the trading day.)
Unfortunately for struggling Sears Holding (SHLD) , it has to report earnings on Thursday.
Anyone that has closely watched the faster pace of Sears' death spiral this year should expect the absolute worst from third-quarter results. For example:
Stunning sales declines at both Sears and Kmart.
No mention on how the holiday season has gone so far (the company is losing another holiday season based on my store checks and commentary from rivals Target (TGT) - Get Target Corporation Report , Walmart (WMT) - Get Walmart Inc. Report and Amazon (AMZN) - Get Amazon.com, Inc. Report .
A worryingly low level of cash.
A possible deal to secure even more outside financing so that goods could continue to flow this holiday season.
There are at least three reasons to expect these things.
First, Sears stock has gone down the toilet since August, as the market braces for a mind-bogglingly bad holiday season. Secondarily, Sears recently announced that two key executives of its namesake division have recently departed. That shouldn't happen smack in the middle of any retailer's critical holiday season. It signals that execs no longer want to be associated with a ship that could sink much quicker in 2017.
And finally, Sears is currently in the process of shutting dozens of stores (mostly Kmart) this month (during the holidays, no less). In large part, this is likely in an effort to preserve dwindling cash by not having to pay employees and order inventory for 2017. There are probably tax considerations here as well.
By my count, the company will close eight Kmart (including seven in Michigan on Dec. 11) stores and five Sears stores this month as part of a new closure campaign detailed a couple months ago.
Sears spokesman Howard Riefs declined to say via email how many stores will be closing in December and January.
In short, Sears will be making some headlines later this week. Not the kind it would like to make, but nonetheless the inevitable ones from a retail operation that is nothing more than a walking corpse.
Ultimately, this brings us to the what's next on Sears. A bankruptcy filing (Chapter 7, the company goes out of business) or Chapter 11 (reorganizes) could be likely in early 2017. What this means is binary: Sears will either have to liquidate -- close all its stores like Sports Authority -- to pay back its creditors, or to reorganize in bankruptcy court and hope to stay alive by emerging as a smaller entity.
At issue for Sears, which is battling declining cash flow amid a prolonged stretch of losses, are two things. The first is finding a way to repay some $2.8 billion in high-yield bonds and institutional term loans coming due in the next few years.
Another aspect is getting some balance sheet relief (debt relief; drastically reduce the number of stores to reduce working capital requirements) so that suppliers will ship inventory to Sears next year. The company has to take drastic actions to navigate these factors, which will likely come at the expense of what shareholders are still sticking with: largest shareholder Eddie Lampert.
It's about to hit the fan at Sears. I don't think a bankruptcy filing or reorganization is announced this week, as that would severely spook suppliers and make the holiday season much worse for the company (which would quicken the death spiral). But make no mistake, the writing is on the wall.
The best way to play Sears' horrible news this week is to go long J.C. Penney (JCP) - Get J. C. Penney Company, Inc. Report and short Simon Property Group (SPG) - Get Simon Property Group, Inc. Report . J.C. Penney will be perceived as a huge winner from any major Sears restructuring, as it's now selling major appliances in the mall.
As for Simon Property, it could be on the verge of having many dark Sears stores that could impact its relationships with non-anchor tenants. Further, Simon may have no other choice but to buy some of Sears locations, which is a cost, and then try and re-develop them, also at a cost.
Employees of TheStreet are restricted from trading individual securities.