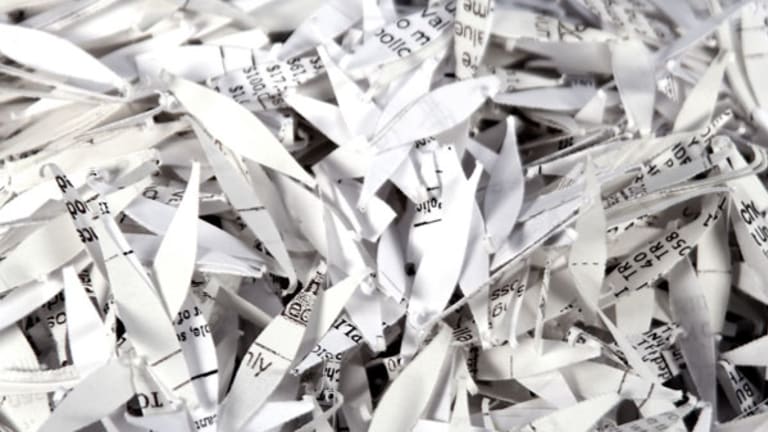 Executives Send Buy Signals on These 4 Stocks
Insider buying by CEOs and other officers indicates this might be a good time to get in.
NEW YORK (TheStreet) -- The stock market and commodities seem to be in a state of confusion right now. There's a distinctive feeling of impending doom in the air, which is just what we need to find a bottom.
That bottom may not be far away. The daily trading volume of the stocks I follow and the companies that comprise the major stock indices are lackluster enough to conclude that there's still plenty of money is on the sidelines right now.
One of the volume leaders midweek was none other than
Bank of America
(BAC) - Get Bank of America Corp Report
. This is a stock that's experienced a fair amount of insider trading over the past 10 days.
Some of the insider action involved officers who cashed out of new shares on the same day they received them. Apparently that's what happened on May 14, when CEO Brian Moynihan, CFO Bruce Thompson and Co-COO Thomas Montag all exercised options and then sold the exact amount of shares they received, according to
EDGAR Online data available on Yahoo! Finance.
Now iff you want to see a company with at least one insider who has his money where his heart is, take a look at
Devon Energy
(DVN) - Get Devon Energy Corporation Report
The co-founder and Executive Chairman of Oklahoma City-based Devon, J. Larry Nichols, is reported to own 1,859,221 shares of the company as of Dec.11 and as far as I can see he hasn't sold any of those shares in 2012, which may be a positive sign.
Devon is a well-run company that explores for and produces oil, natural gas and natural gas liquids. Of this year's Fortune 500 companies, Devon ranked No. 1 in the Return on Revenue category, which is calculated by dividing net income by revenue.
Devon is the only U.S. energy company on the Fortune 500, World's Most Admired and 100 Best Companies to Work For lists.
Devon's current price of around $61-a-share is well below the target range set by analysts at Wells Fargo (even after a recent downgrade), and the median target price by other analysts is an even more robust $86.
Yesterday Wells Fargo downgraded Devon to Market Perform, claiming the company is likely to underperform its peers over the next few quarters. The bank lowered its target share price range to $65-$71, from $74-$80.
Devon presented at a Global Oil & Gas Conference sponsored by
UBS
on May23. You can hear and read about their outlook what was discussed by clicking on this link to the
There are a number of other companies whose insiders have been actively buying of late.
Windstream
(WIN) - Get Windstream Holdings, Inc. Report
, the telecom and technology solutions company that's trading close to its 52-week low of $9.31, is one of them. CEO Jeff Gardner and CFO Tony Thomas, along with several directors, have all purchased shares in May, according to data on Yahoo! Finance.With its current $1-per-share dividend, Windstream shares are yielding 10.5%
Insiders and investors with deep pockets lalso ike to accumulate shares of
Coca-Cola
(KO) - Get Coca-Cola Company Report
. One insider that's a big buyer of shares is Board Director Barry Diller, who on April 27th purchased more than $20 million worth of Coca-Cola stock (264,000 shares at $76.98 through an indirect purchase).
Diller is now the owner (directly or indirectly) of 3,736,000 shares, an "oh my gosh" big dollar amount (over $276,464,000). Now that's what I call a concentrated position!
Here's a 1-year chart of KO, and pay special attention to its 200-day moving average.
Investors like Warren Buffett and Diller obviously love this company and its 2.7% dividend. Yet at almost 20 times current earnings, I'd be inclined to wait and see if it doesn't go on sale in the months ahead.
OK, one more. If you're looking for a precious metals company with an insider who holds a generous amount of the company's stock, look no further than
Hecla Mining
(HL) - Get Hecla Mining Company Report
.
CEO Phillip Baker Jr. was last reported owing over 891,000 shares of his company. There's no evidence he has sold any of the shares, which are currently paying a dividend yield of 2.2%
Insiders are generally in a buying and holding mood at a number of other companies as well. With the 10-year treasury bond only yielding 1.72% and a lot of bad news already baked into the stock market, we may learn sooner than later that their patience is suddenly rewarded.
Disclosure: At the time of publication, Marc Courtenay was long shares of DVN and HL.