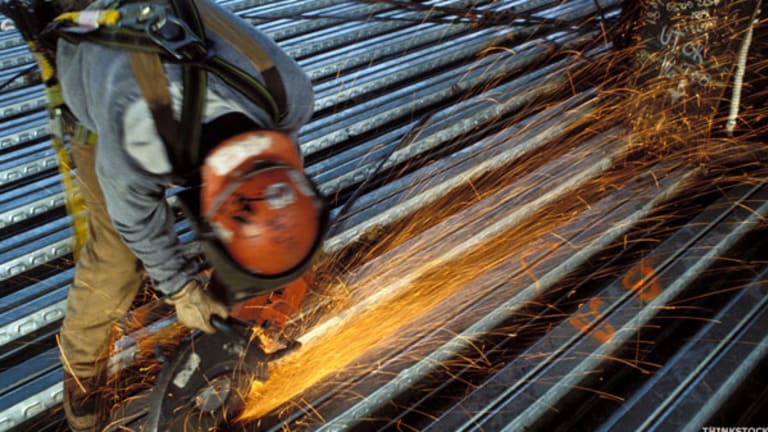 Exclusive: US Airways Pilots Mull Merger Contract With $10,000 Bonuses
US Airways pilot union leaders are reviewing contract terms approved by their negotiating committee
CHARLOTTE, N.C. -- (
) -- In a crucial step on the road to a potential merger between
US Airways
(LCC)
and bankrupt
American
undefined
, US Airways pilot leaders are reviewing proposed contract terms agreed to by negotiators for the union and the airline.
The terms, contained in a memorandum of understanding that negotiators approved late Monday, involve a series of sensitive tradeoffs for both sides and face a difficult path before they could take effect.
That path would include backing from the executive board of the U.S. Airline Pilots Association, which is meeting Wednesday in Charlotte to review them; approval by the Allied Pilots Association board, which represents American pilots: a vote by US Airways pilots, inclusion in a final tentative contract and then approval by pilots from both US Airways and American if a merger were to occur.
Negotiating committees for the two pilot unions are scheduled to meet next week to discuss the memorandum.
Among its most important components are signing bonuses approaching $10,000 for each US Airways pilot, furlough protection for all US Airways pilots and abandonment of a "change of control" provision in the existing contract, pilots said in interviews with
TheStreet
. Also, the amount of flying by both pilot groups could be reduced. The pilots were not authorized to speak publicly on contract maters.
Under the negotiated terms, US Airways pilots would give up the right to "snap back" to sharply higher salaries in the event of a change of control, the pilots said. This item would provide US Airways executives with more flexibility as they seek to craft a merger with American.
The $10,000 bonuses would be based on the airline's award of $40 million to USAPA to split up among members. On Thursday, some pilots said in interviews that the amount is insufficient as a return on billions of dollars of wage and pension concessions made by US Airways pilots since a 2004 bankruptcy that enabled a 2005 merger with America West, particularly since US Airways would allocate $100 million to support pension funding for American pilots.
Other pilots would welcome the money in addition to the sharply higher pay rates a merger would bring. No one disputes that a merger would provide double-digit pay increases for most US Airways pilots, who are currently paid at a discount to pilots at the big three carriers - American,
Delta
(DAL)
and
United
(UAL)
.
The memorandum would prohibit furloughs of US Airways pilots, except in extreme "force majeure" conditions, and provides for a pay parity review with Delta and United after three years.
The memorandum would potentially enable downsizing. But it requires that each pilot group retain a domestic block hour rate within 5% of the annual baseline rate and a widebody international rate within 10% of the annual baseline rate. The domestic rates could not be reduced by more than 15% from the same month a year earlier, while the widebody rate cannot be reduced by more than 20% from the same month a year earlier.
"We need assurances we will keep flying the airplanes we bring to the party," said USAPA spokesman James Ray. "We are concerned that historically, in mergers after consolidation, there has been downsizing, and we anticipate this could be the case with this merger as well. If there is a reduction in total flying we want to make sure those reductions are shared with both pilot groups and not disproportionally on our side."
The memorandum contemplates that additional E190 aircraft will be introduced into the fleet and flown by pilots for both airlines. US Airways pilots had worried that all new Embraer 190 jets would be theirs. Instead, E190 flying would be distributed proportionately among the two pilot groups.US Airways pilots would retain Shuttle flying and Phoenix-Hawaii flying. Also, USAPA and APA would provide an integrated seniority list, reached in accordance with the McCaskill-Bond process, within 24 months of signing.
Member approval would mean that the terms of the memorandum would become part of a tentative contract agreement between a new American Airlines and pilots for American and US Airways.
One pilot, who asked not to be named, told
The Street
that he approves the tradeoffs in the deal. "I'd rather have better pay and furlough protection than to be walking around pounding my chest over having a change of control provision," he said. "People are saying there's going to be stuff we find out later that we wish we didn't know. But some people aren't willing to move forward. There's no perfect contract."
On Wednesday, leaders of the Allied Pilots Association met in Dallas with US Airways executives including CEO Doug Parker, President Scott Kirby and Executive Vice President Elise Eberwein.
"Along with providing an opportunity for the US Airways executives and (newly elected) APA President Keith Wilson to meet one another, this meeting also enabled the APA leadership to engage in a wide-ranging discussion with the US Airways executives about the potential for further industry consolidation," APA said in a message to pilots.
--
Written by Ted Reed
.
>To contact the writer of this article, click here:
Ted Reed