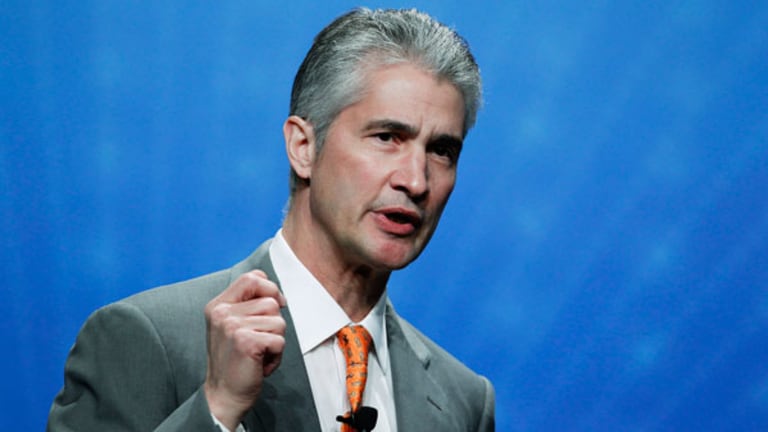 Exclusive: United Pilots to CEO - 'Lead or Get Out of the Way'
Leaders of the United Airlines chapter of the Air Line Pilots Association say they have developed a plan to encourage CEO Jeff Smisek to manage better or depart.
WASHINGTON (TheStreet) -- United (UAL) - Get Free Report pilots have developed a plan that will, they say, encourage CEO Jeff Smisek to "lead or get out of the way."
"The leadership team at United Airlines is failing at our great company," said the three leaders of the Washington domicile of the United chapter of the Air Line Pilots Association, in a letter sent to domicile members on Tuesday. A copy of the letter was obtained by TheStreet.
Early this month, at the quarterly meeting of the United ALPA chapter master executive council, which includes local and national leaders, "the big-ticket item on everyone's mind was the poor performance of our company and the lack of leadership demonstrated at the senior and executive level of our company," wrote the three Washington local leaders.
The chapter had developed "a strategic plan to force our leadership team to lead," the letter said. Details of the plan haven't been disclosed.
Ironically, on Wednesday, American Airlines (AAL) - Get Free Report President Scott Kirby declared at an investor conference that the biggest recent change in the airline industry has been an improved relationship between management and labor.
"Delta (DAL) - Get Free Report has done a really good job of creating more of a partnership," Kirby said. "We've created that at American.
"Rather than having the divisive relationships where the two sides were at war with each other, (we have) an industry where we don't always agree on everything but are partners."
Although Kirby spoke in a joint presentation with United Chief Financial Officer John Rainey, it is clear that so far United hasn't been able to implement the new airline partnership model.
Rather, "the gap between Delta and United is widening," the Washington pilot leaders said in their letter. "Without a plan to force leadership here, we will end up in a distant third and not even be in the same playing field as our two major competitors.
"Many people outside of our company had high hopes for Mr. Smisek as our post-merger CEO," the leaders wrote. "He had made rumblings of being the best and beating our competition handily. Unfortunately, these were just rumblings that had no basis in fact." Leaders of the United Washington ALPA domicile are Rick Cameron, chairman; Mike Harrison, vice chairman; and Ben Jennings, secretary-treasurer.
At the quarterly meeting, ALPA leaders heard briefings by investment bankers, attorneys, financial analysts and Lee Moak, president of ALPA national, the letters said.
Last month, leaders of the Newark United ALPA chapter called for Smisek's ouster. "It's time to find a new CEO who understands how to run an airline, not just make excuses for his failures," said the local's top three officers, in a strongly worded letter. The letter was sent April 25, the day after United reported that it lost $489 million excluding items in the first quarter, which produced record profits for both American and Delta.
United's ALPA chapter has long been a powerful group that has not been afraid to exercise its power. In 1994, it forced the ouster of Stephen Wolf as CEO. Wolf had participated in negotiations that led to a deal in which employees became 55% owners of United. Once the deal was made, pilots no longer wanted Wolf to stay.
In 1997, Wolf told The Charlotte Observer: "When I left, United was the best-positioned airline in the world by a wide margin. Under different conditions, I would very much have liked to stay and run the company." Years later, during a 2010 press conference, Wendy Morse, the newly elected chairman of the United ALPA chapter, praised Wolf. She noted that United had had seven CEOs during the preceding 25 years and that "only one left the company better than he found it."
That one, she acknowledged, was Wolf.
-- Written by Ted Reed in Charlotte, N.C.
To contact this writer, click here.
Disclosure: TheStreet's editorial policy prohibits staff editors, reporters and analysts from holding positions in any individual stocks.
>>Read More: American Airlines Merger, Passport Kiosks Boost Charlotte Airport
>>Read More: American Airlines Merger Leads to On-time Gains, said President Scott Kirby
>>Read More: American Airlines Merger Pleases One Union Group: The Flight Attendants