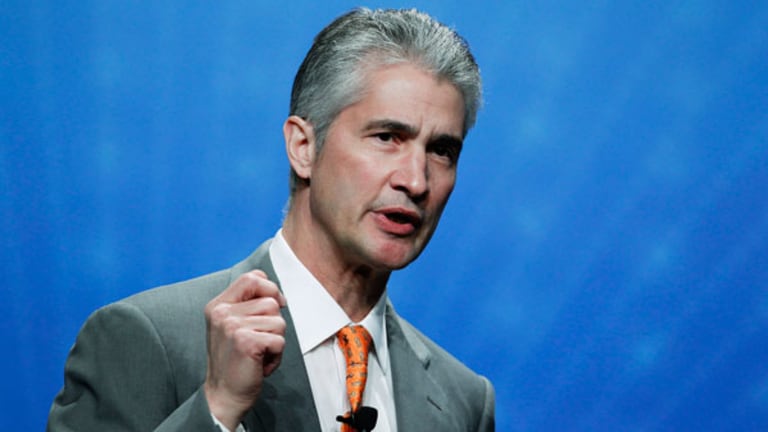 Exclusive: United Airlines Newark-Based Pilot Leaders Call for CEO's Ouster
United's consistent underperformance, capped by a disappointing first quarter, prompts pilot leaders to call for the ouster of CEO Jeff Smisek.
NEWARK, N.J. (TheStreet) -- Leaders of the largest local chapter of the United (UAL) - Get Free Report pilots union are calling for the ouster of the airline's CEO Jeff Smisek.
"It's time to find a new CEO who understands how to run an airline, not just make excuses for his failures," said the top three officers of Local Executive Council 5, the Air Line Pilots Association chapter that represents New York and Newark-based United pilots, in a strongly worded letter to the local's 2,300 members.
The letter was sent April 25, the day after United reported that it lost $489 million excluding items in the first quarter, which produced record profits for both American (AAL) - Get Free Report and Delta (DAL) - Get Free Report , its two key rivals. A copy of the letter was provided to TheStreet.
"No one else has a greater financial stake in United Airlines than the collective stake of our pilots," the letter said. "Our careers should not be jeopardized by the worst senior management in the airline industry.
"We have absolutely zero confidence in the ability of present management to lead a turnaround," wrote LEC Chairman Glenn Johnson, Vice Chairman Mark Leneski and Secretary-Treasurer Tim Boyens.
The three listed United's faults, including these: It has "a disengaged and incompetent CEO is leading a terrible management team." Also, "a merger that should have been completed in three years or less remains incomplete after nearly four years (and) interdepartmental communication and cooperation are nearly nonexistent."
Also, "terrible employee morale and excessive outsourcing have combined with chronic operational and IT issues to drive away our elite frequent fliers in droves, driving our revenue and (passenger revenue per available seat mile) downward," the letter said.
While PRASM has declined at United, it has increased at Delta and American. "Delta and American get the suits, we get the flip-flops and backpacks," the letter said.
"It is time to demand leadership that is actively engaged in employee morale, operational excellence, and service quality, which will always drive revenue far higher," the letter said. "United should be the industry leading airline. That will never happen under present management.
The three local leaders said they are "developing sound strategies that use all available resources to combat the feckless and ineffective managers" who lead the company.
Commenting on the first-quarter performance, the three noted that "by now, those of us paying attention have grown accustomed to UAL underperforming the rest of the industry.
"United should be the industry leader, with the largest population and origin/destination traffic demand in our hubs and as the largest airline across both the Atlantic and the Pacific," they wrote. "Instead, we are always the laggard. As in past quarterly updates, we once again hear excuses as to why United is unable to perform while we watch all of our competitors earn high and record profits."
United shares fell 10% on the day the carrier reported earnings, the letter said, reducing market cap to about $15 billion, about half of Delta's market cap. The letter also quoted four Wall Street airline analysts who expressed disappointment in United's results.
United shares closed Monday at $41.56, up 10% year to date.
Leaders from all of United's local ALPA chapters are scheduled to gather next week in Chicago for a quarterly meeting, where the topics raised in the letter are likely to be discussed.
Written by Ted Reed in Charlotte, N.C.
To contact this writer, click here.