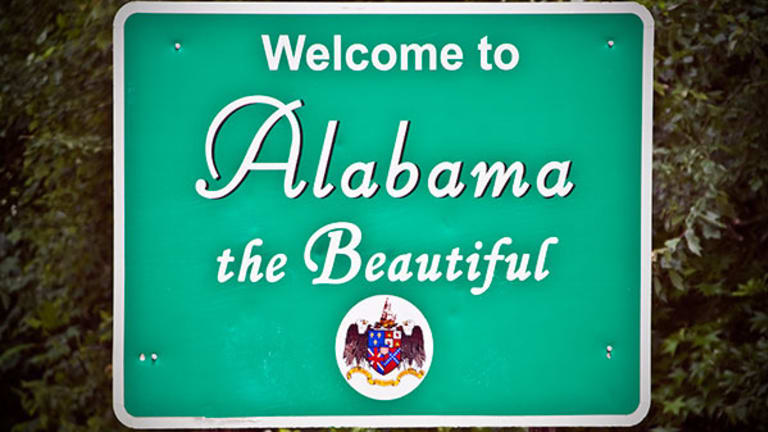 Updated from 6:45 a.m. EST with comments on IAM relationship with Boeing following two contract votes tied to ensuring 777X work for Everett, Wash.
MOBILE, Ala. (TheStreet) -- The nation's top aerospace union said it isn't put off by the UAW's failure to organize Volkswagen in Chattanooga, Tenn. It will seek to organize the planned Airbus plant in Alabama and it will also try again at the Boeing (BA) - Get Boeing Company Report plant in Charleston, S.C.
"I really believe we have a fair chance of pulling this off," said Tom Buffenbarger, president of the International Association of Machinists, in an interview. "Our union was founded in the South (and) we already have thousands of members in Alabama." The IAM was formed in Atlanta in 1888, so the "outsider" charged leveled at the UAW in Chattanooga might not stick.
An effort to unionize Airbus, if it occurs, would very likely be the next closely watched indicator of the labor movement's standing in the South. Like VW, Airbus would be expected to refrain from opposing the union, while anti-union interest groups and Alabama Republican politicians -- like Tennessee Republican politicians -- would be expected to campaign stridently against it.
This time, the union would know what was coming. Also, the IAM has some unique advantages. It has regularly lobbied aggressively to help Boeing get defense contracts, so its involvement could be said to benefit Airbus, which has suffered in seeking defense contracts because it is a European company.-
Additionally, the IAM offers members an opportunity to participate in a highly successful, union-administered defined benefit pension plan at a time when most employers are moving or have moved to 401K plans.
The IAM has not set a timetable to organize in Mobile, although Airbus has started to hire there, or to try again in Charleston, where it has a record of 1-1 in union elections. The union lost a 2009 Boeing unionization vote 199-68, losing its certification at the plant after a smaller group of Boeing Charleston workers voted to join the IAM in 2007.
The IAM has been talking with and seeking support from Airbus executives in Europe for several years, and has also begun to work with Airbus unions in France and German.
"We tell (Airbus) that we are the leading aerospace union in the North America and we would like to get off on the right foot and organize their workers," Buffenbarger said. "We can bring order in the work place: We are a union with a demonstrated history of trying to work out problems and to create an efficient operation, just as Boeing became more proficient because of its skilled work force.
"We can help make them successful, or we can have a knock-down, drag-out fight." he said.
Airbus spokeswoman Maryann Greczyn said, "Airbus continues to stand by the philosophy that our current and future employees have and will have the right to choose representation if they desire to do so -- the decision is completely up to them."
Airbus' Mobile plant will eventually employ 1,000 people. Aircraft assembly is scheduled to begin in 2015, with the first delivery scheduled for 2016 to JetBlue (JBLU) - Get JetBlue Airways Corporation Report. The plant will build narrowbody aircraft in the A320 family.
Buffenbarger said that while he was saddened by the UAW loss in Chattanooga, it is not necessarily an indicator of what might happen in an Airbus election.
"I felt bad for the UAW," Buffenbarger said. "We saw (Tennessee) Gov. (Bill) Haslam and Sen. (Bob) Corker come out and viciously attack a union that has done good things for its members, just as (South Carolina Gov.) Nikki Haley has slammed Machinists."
At the same time, of the 11 Confederate states, Alabama is by far the most highly unionized, with 11.7% of employed workers represented by unions. IAM Local 2003 represents about 5,000 workers at Fort Rucker; some members maintain the Army's helicopter fleet. "Throughout the state, the reputation of the Machinists is stellar," Buffenbarger said.
IAM spokesman Frank Larkin noted that IAM Local 2003 in Daleville "has a big facility that serves as a community disaster relief center where residents go to withstand tornadoes and hurricanes. It's integrated into the community in a way people from outside Alabama don't understand." When the union hall opened in 2012, Daleville Mayor Wes Etheredge helped cut the ribbon.
"We have a good relationship with many mayors in Alabama," Buffenbarger said, adding that before he became a Republican, Alabama Sen. Richard Shelby was a Democrat who courted IAM support.
As for the IAM's relationship with Boeing, Buffenbarger said, "I would rate it as pretty much the same as always. We have disagreements. At times we are in like, at times we are in hate. Right now, it's fair."
Boeing said Tuesday it will build new composite wings for the 777X in Everett, Wash., next to its widebody Jet final assembly plant.  The wing is expected to employ 2,700 people, while assembly work on the 777X is expected to bring 7,000 additional 777X jobs to Everett. Last month, Boeing machinists approved a new 10-year contract with Boeing in a second vote, which was backed by Buffenbarger but opposed by Seattle IAM leaders.
Speaking at a Feb. 5 investor conference, Boeing CEO Jim McNerney said, "We now have this unbelievable 10-year opportunity. When we have a strike for six weeks, it costs us a couple of billion dollars."
"We've had some tensions with our work force," McNerney acknowledged. "There are still some hard feelings ... But I think like we always have before, we're going to get through this. The teams will come together. And I think it's going to be more characterized by a cooperative environment between the union and management as opposed to a not cooperative environment." 
Written by Ted Reed in Charlotte, N.C.
To contact this writer, click here.