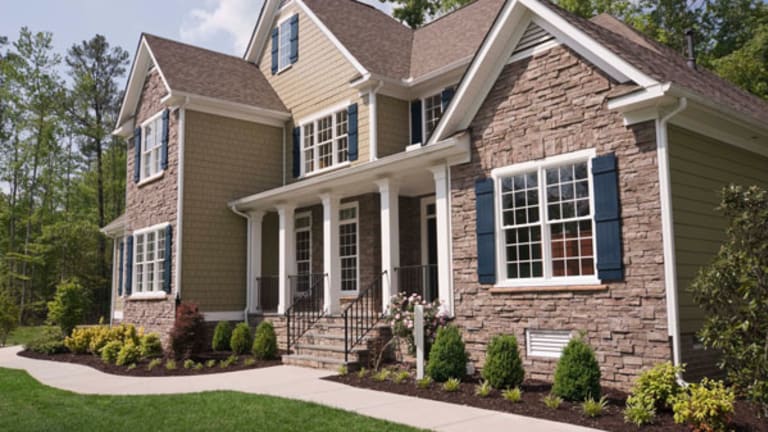 EXCLUSIVE: Apollo Global Targets Real Estate
The giant private equity firm, which aims to go public, is quietly forming a large fund to invest in real estate.
What's missing from private equity giant
Apollo Global Management's
IPO prospectus? Chairman Leon Black, a veteran leveraged buyout master, is quietly launching a real estate fund that he hopes will compete with those raised by top dogs
Morgan Stanley
(MS)
and
Blackstone Group
(BX)
.
Apollo Global filed in April to raise public funds and sell a stake in the company, which has $40.7 billion in assets under management.
Black's firm was an investor in several major public company leveraged buyouts in recent years, including casino owner Harrah's Entertainment and residential real estate broker Realogy.
Now billionaire Black has begun building out a commercial real estate investment platform that will be similar in focus to Apollo Global's strengths in corporate distressed debt and leveraged buyouts, says a person close to Apollo Global with direct knowledge of the plans.
Along with the new launch, Apollo Global is expected to sever its ties with Apollo Real Estate Advisors, a private equity run by veteran commercial real estate investor William Mack.
The new Apollo Global fund will focus on recapitalizations of public and private real estate companies, privatizations of REITs and other public real estate stocks and will invest in discounted and distressed commercial real estate debt, the person familiar with the plans says. The new fund may also look at homebuilder recapitalizations.
To launch its new platform, Apollo Global recently hired Joseph Azrack, former president of Citi Property Investors, the real estate investing wing of
Citigroup
(C)
, the source says.
An Apollo Global spokesperson did not return a call seeking comment. Azrack could not be reached for comment.
A new
Securities and Exchange Commission
filing this week by Apollo Global shows Azrack is now a partner of the firm. The filing also states: "We are also in the process of forming a team of investment professionals to explore opportunities in real estate."
It is not clear the amount of funds that Apollo plans to raise, but Black is likely focusing on raising funds similar in size to those at Blackstone and Morgan Stanley, which both completed deals in the $10 billion range over the past year, industry sources say.
"It is a tough money-raising environment out there today," says one veteran real estate fund-of-funds investor. "But for those with a long-term view, there are a lot of opportunities. But there is no hurry to put out capital."
Black founded Apollo Global in 1990 after spending 13 years with junk-bond kings, Drexel Burnham Lambert.
In 1993, Apollo Global and Black helped fund the creation of Apollo Real Estate Advisors, which is still run by founder William Mack, who is considered a commercial real estate legend, on par with Sam Zell and
Vornado's
(VNO)
Steven Roth.
Mack's firm capitalized on distressed commercial real estate opportunities that opened up in the 1990s after the saving and loan industry blew up.
Apollo Global is no longer active in the investment decisions of Mack's firm, but it still holds a minority interest in Mack's firm, according to an SEC filing.
However, later this month, Apollo Real Estate Advisors is set to announce that it is amicably parting ways with Black's firm, a source familiar with the plans says.
Already, Apollo Real Estate Advisors told investors and friends of the firm in a late July letter that it will likely change its name soon, given that Apollo Global is going public.
"To avoid confusion going forward, we will likely adopt a new name in the future," said the letter, which was read to
TheStreet.com
by a source who had received it.
An Apollo Real Estate Advisors spokesperson declined to comment.
The separation will mark the break of a long-time partnership, but it also highlights Black's ambition to become one of most the dominant players in the commercial real estate market.
Get your daily dose of Jim Cramer and all the stocks in his head. Sign up for the free Daily Booyah! newsletter by clicking here.