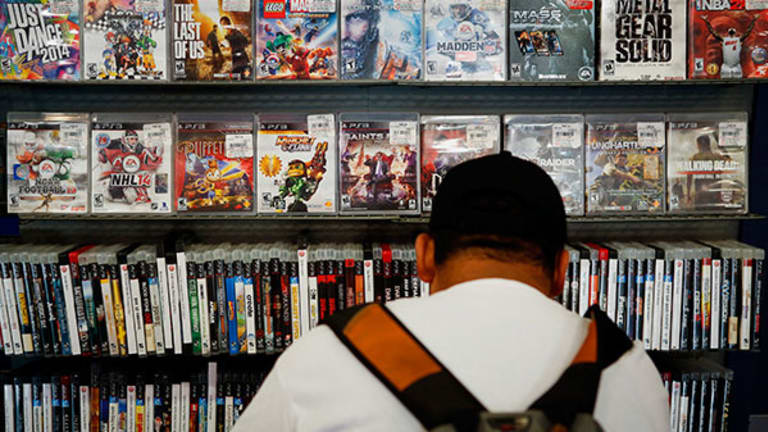 Excitement for New Video Games Fades in November
November video game sales declined 24% from a year ago.
Editors' pick: Originally published Dec. 16.
Video game sales in the U.S. fell more than $600 million in November compared with the previous year as consumers spent less on consoles and new software releases weren't as popular as some that came out in 2015.
The video game industry generated $1.97 billion in U.S. revenue last month, down 24% from $2.6 billion a year ago, according to NPD Group data cited by VentureBeat.
Hardware sales' 35% decline was the steepest by segment, while PC software sales fell 28%, console software slipped by 18% and accessories dipped by 6%.
"With such dismal data, investors are most likely to press the panic button," Zack's analysts wrote today. "However, we would advise against it."
Hardware sales were affected by a dip in spending on consoles. New products and improvements to current offering could boost spending next year, the analysts said.
"Consoles are getting old and it's a no brainer that sales will dip," Zack's analysts said. "However, upgrades to Sony's (SNE) - Get Report PS4, revival of NES Classic and launch of a new Nintendo (NTDOY) console in January should bode well for hardware sales going ahead."
The drop in software sales was driven by difficult year-over-year comparisons to last November's top three video games, NPD analyst Sam Naji said in a statement cited by VentureBeat.
Last year's three best-selling games, Activision Blizzard's (ATVI) - Get Report "Call of Duty: Black Ops III," Bethesda Game Studios' "Fallout 4," and Electronic Arts' (EA) - Get Report "Star Wars: Battlefront," were all full-priced new releases, whereas this year's were not.
This November's three best-selling games were Activision Blizzard's "Call of Duty: Infinite Warfare," EA's "Battlefield 1" and Nintendo's "Pokémon Sun," respectively, of which "Battlefield 1" launched in October and "Pokémon Sun" debuted at a discount, NPD Group said.
Rounding out this November's top 10 games were Nintendo's "Pokémon Moon," EA's "Titanfall 2," Take-Two Interactive Software's (TTWO) - Get Report "NBA 2k17," EA's "Madden NFL 17," Ubisoft's "Watch Dogs 2," Bethesda Game Studio's "The Elder Scrolls V: Skyrim" and EA's "FIFA 17."
Revenue of these seven titles rose 12% from a year ago, according to NPD Group.
Nintendo's Pokémon franchise has been performing especially well, with "Pokémon Sun" and "Pokémon Moon" becoming the fastest-selling games that the company has launched in the Americas.
The two games sold a combined 3.7 million units within the first two weeks of launching, up 85% over the company's "Pokémon X" and "Pokémon Y" games, Nintendo said last month.
The franchise saw a resurgence in popularity with the "Pokémon Go" mobile game this summer. The widespread success of "Pokémon Go" helped Nintendo record a profit of 12 billion yen ($111.1 million) from its affiliates for the six months ended September.
Activision Blizzard's "Call of Duty" franchise has received less fervor in recent weeks.
Although the company's "Call of Duty: Infinite Warfare" garnered the most sales in November, the franchise's revenue has nonetheless lagged certain estimates.
Barclays analyst Christopher Merwin yesterday lowered the firm's fourth-quarter revenue estimate for "Call of Duty" to a 32% decline year-over-year from past expectations of a 5% drop.
"We do not think the shortfall in sales to date is attributable to franchise fatigue or other secular threats, but rather a lower quality product from Infinity Ward, the same studio that disappointed gamers with 'Ghosts' in 2013 and again with 'Infinite Warfare' in 2016," Merwin noted.
But he projects that the 2016 fourth quarter and guidance for fiscal 2017 will be Activision's last negative catalyst before shares begin to rally.
"We expect the franchise will recover next year with Sledgehammer's next title, followed by a more pronounced recovery in 2018, likely with Treyarch's next version of 'Black Ops,'" Merwin said.