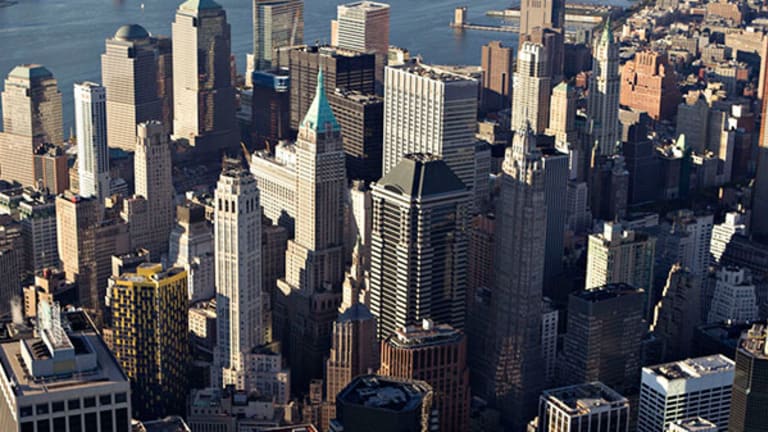 Ex-Mayor Bloomberg Named to U.N. Climate Change Post
The U.N. appointment of former New York City Mayor Michael Bloomberg as Special Envoy on Climate Change and Cities is cheered by U.S., World Bank and others.
NEW YORK (TheStreet) -- As part of a push to generate momentum toward a 2014 Climate Summit, U.N. Secretary Ban Ki-moon named former New York Mayor Michael Bloomberg to a key role.
On Friday, the U.N. leader announced the appointment of Bloomberg as special envoy to mobilize cities to build climate-change strategies. Part of Bloomberg's job will be to bring suggestions for concrete measures to the summit, scheduled for Sept. 23 in New York.
In a statement cited by Reuters, Bloomberg said, "Cities account for more than 70 percent of global greenhouse gas emissions and two-thirds of the world's energy use today, and their total population is projected to double by 2050. So the steps they take now to combat climate change will have a major impact on the future of our planet."
Read: Bank Stocks Hammered on Global Worries
Secretary of State John Kerry congratulated Bloomberg on the appointment in a statement on his office's Web site.
"The world we leave to our children and grandchildren is at stake," the statement read. "As Mayor Bloomberg knows well, how the world's cities respond to climate change will make all the difference."
Bloomberg currently serves as president of the Board of the C40 Climate Leadership Group, a network of large cities around the world organized to develop local climate-related actions that will help address climate change globally.
On Jan. 14, the U.N. issued a press release calling for investment in clean energy and a reduction in the rise of carbon pollution. That press release cited a 2012 report from the International Energy Agency that put clean energy investment cost at $1 trillion annually worldwide in order to keep the global temperature rise below critical levels.
Read: Japan's Slide May Spell Opportunities: Strategists
Quoted in the press release, Mindy Lubber, president of Ceres, a United States-based non-profit focused on business and investor leadership on climate change, said, "Ignorance of climate change's impact on investment portfolios is no longer an excuse. We need to stand up now and make the necessary shifts in capital," she said.
According to the U.N. press release, overall growth in clean energy was lower in Europe and the United States last year, but investment was up 20% in Japan and growing in many developing countries.
Current headlines of extreme weather and the sudden extinction or endangerment of species appear to be raising the stakes for the world's global warming gamblers. Increases in the frequency or severity of torms, stornadoes and extremes of heat and cold have been linked to changes in the climate system, particularly in the Arctic Ocean.
Drought in the American southwest, with its accompanying water crises and large-scale forest fires, was predicted in a 2008 report, submitted under the administration of President Bush. The report noted escalating droughts and wildfires in the Southwest among possible adverse effects of perceived man-made climate change. On its Web site, the Environmental Protection Agency notes unequivocally, "The climate of the Southwest is changing. Over the last century, the average annual temperature has increased about 1.5°F. Average annual temperature is projected to rise an additional 2.5-8°F by the end of the century."
A New York Times report last week cited rising rainfall levels and temperatures in Argentina as a result of climate change as the culprits behind a rise in deaths among Magellenic penguin hatchlings.
Human-related greenhouse gas emissions in the atmosphere are cited as at least partly behind the rise in temperatures. In its most recent Policy Making Report summary, the Intergovernmental Panel on Climate Change cited greenhouse gas concentrations in the atmosphere and said, "Human influence on the climate system is clear," adding, "Continued emissions of greenhouse gases will cause further warming and changes in all components of the climate system. Limiting climate change will require substantial and sustained reductions of greenhouse gas emissions."
At the World Economic Forum in Davos, world leaders seemed more united than they have in the past regarding the challenges and possible solutions, raising hopes for the fall's 2014 Climate Summit. At the Davos conference, the effects of climate change were framed as disruptive to the global economy and efforts to correct climate change through green energy investment and pollution reduction were seen as positive, causing the development of new industries and jobs. Coca-Cola (KO) and Nike (NKE) were two highly visible brands that have seized on the issue and had a notable presence at the conference.
On its Web site, Coke has posted a "Position Statement on Climate Change": "The consensus on climate science is increasingly unequivocal -- global climate change is happening and man-made greenhouse gas emissions are a crucial factor. The implications of climate change for our planet are profound and wide-ranging, with expected impacts on biodiversity, water resources, public health and agriculture."
Read: Las Vegas Housing Market, Casinos on Comeback Trail
But governmental responses to climate change remain sluggish, putting a greater emphasis on source-point controls than on pollution and green energy investment. This in turn makes Bloomberg's role as a marshaller of local forces in many locations, and his long history of support for active efforts to combat climate change, that much more significant.
In a statement Friday, World Bank Group President Jim Yong Kim called Bloomberg's appointment to the U.N. post "a huge boost for global leadership efforts to combat climate change."
The National Resources Defense Council also congratulated Bloomberg on his appointment to the U.N. post, noting his involvement in the previously announced City Energy Project, an effort to reduce climate change pollution in buildings in 10 major cities.
"After 12 years of experience leading our nation's largest city down a better path, he is well-suited to guide other cities toward a healthier and more sustainable future, and a perfect choice for the U.N. special envoy," the NRDC statement said. 
In Global Warming Debate, Insurers Play it Cool
-- Written by Carlton Wilkinson in New York