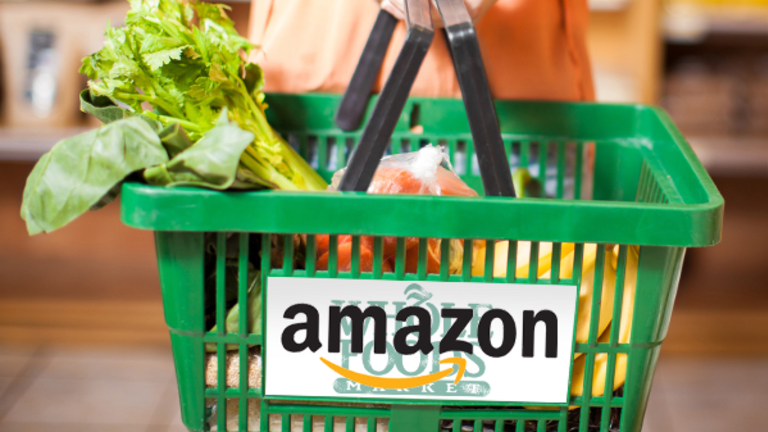 Ex-Amazon Exec Reveals What Jeff Bezos Could Do With Whole Foods - and Other Deals That May Happen
Amazon's retail strategy is getting a bit more complicated.
Amazon.com Inc.'s  (AMZN)  retail strategy has been under a microscope since its surprise $13.7 billion acquisition of Whole Foods Inc. (WFM) in mid-June as investors wonder what Amazon plans to do with Whole Foods and what other bricks-and-mortar retailers it might scoop up next. 
"Amazon is an e-commerce retailer who has evolved in understanding and accepting the strategic value of physical retail stores," said Brittain Ladd, who left Amazon in May for family reasons after working there for two years, first as the senior manager of strategy and expansion for AmazonFresh and then as the senior manager of Amazon Global Logistics for the Special Projects unit.
If anyone besides Amazon CEO Jeff Bezos can accurately predict what's next for the e-commerce dominator, it might be Ladd. He recommended that Amazon should buy Whole Foods in a paper he posted to LinkedIn back in 2013 when he was working for Deloitte. He was recruited to Amazon in 2015 and since then, the company's grocery expansion plans have followed a similar path to the one Ladd laid out in that 2013 note that was republished on LinkedIn in May 2016. He's now working as a consultant in Salt Lake City. 
This Is How Burger King's 36 Year Old CEO Uses Amazon Billionaire Jeff Bezos for Inspiration
50 Reasons Dying Sears Had No Choice But to Strike a Deal With the Ruthless Amazon
Ladd believes that Amazon is too surgical and strategic with its M&A activity to simply absorb a struggling retailer like Macy's Inc. (M) , as some analysts have suggested. Just because a winning company like Amazon buys a struggling company like Macy's doesn't mean that Amazon can save it, he pointed out. Ladd believes that Amazon will use Whole Foods' locations, as well as expand into other retail formats, including furniture, appliances, apparel, and shoes by purchasing specific well-thought out retail spaces, rather than a specific retail chain. "Amazon doesn't want too big of a physical presence because then it's not surgical," he said. "It wants to control its brand." 
Instead of buying Macy's, Amazon can reduce the risk and cost of its retail strategy by simply changing the formats of the 466 Whole Foods stores across the U.S. and the United Kingdom, Ladd said. Amazon will also increase its store count for groceries in the future as it scales the grocery ecosystem nationwide and globally, but it doesn't have to match Walmart or Kroger in store count, he noted. 
Amazon will most likely copy Apple Inc.  (AAPL) by sectioning off a section in Whole Foods for a "mini Apple store" where customers can try out its own Amazon devices, like the Amazon Echo or the Amazon Fire Tablet, and become more comfortable with them. "That's what Apple's stores have always done right is letting people test out its devices and gain confidence in them," he explained. 
In the same way, providing customers with quality food and grocery services at Whole Foods gives Amazon the opportunity to create further trust and brand loyalty, he said. Once people trust a company with their food, then they will also trust its e-commerce platform, as well as its music and video services. The company will get stickier and stickier, drawing in more and more Amazon Prime members, who spend more money on the platform than non-Prime members. The program already has an estimated 85 million members, according to a recent study from Consumer Intelligence Research Partners. 
More of What's Trending on TheStreet:
This Is Why President Trump Can Now Blame Apple for Atlantic's Reporting
Amazon gets into scripts, maybe. 
Another way Amazon is expected to surround its customers is by becoming their go-to pharmacy. In May, Amazon hired a business lead to advise it on how best to go after the $400 billion pharmaceutical market, CNBC reported. But after buying Whole Foods, Amazon can expand into the pharmacy business faster than previously expected because it can use the retail locations as a place for customers to pick up prescriptions, Ladd pointed out. 
Ladd remembers pharmacy talks coming up at Amazon during his time there. He noted that it won't go into the pharmacy business until it knows exactly what the pain points are of a typical doctor's visit and how to fix them, such as improving communication with health clinics to get prescriptions into hands faster, Ladd said. "Amazon only moves into a new format when it knows what customers want and it can provide that for them and delight them," he said. "That's what makes Amazon different." 
Best Buy Has No Reason to Exist in the Age of Amazon, This Analyst Explains
Amazon is expected to "delight" customers with a transformed Whole Foods shopping experience by adding technology updates, starting a grocery delivery or pickup option, and by potentially lowering the prices of food in Whole Foods, which is often the subject of criticism for its higher prices. Amazon will also "absolutely" change the pricey, organic food inventory that Whole Foods is known for to be more like the healthy, but reasonably-priced food seen in Wal-Mart Stores Inc.  (WMT) and Kroger Co.  (KR) , Ladd said. At the town hall meeting with employees in late June, Whole Foods CEO John Mackey said the supermarket will keep its food quality standards but that the combined company could create other "formats" that won't be branded as Whole Foods and won't meet its standards. 
With Amazon entering the scene, grocers are fearing they might end up just as Macy's and other traditional retailers ended up thanks to the "Everything Store." After the Amazon-Whole Foods acquisition was announced, shares of Walmart, Target (TGT) and Kroger (KR) plummeted as investors' imaginations ran wild with thoughts of Amazon disrupting the whole industry. 
Walmart in trouble?
Walmart CEO Doug McMillon has maintained that Walmart's physical stores give it a leg up on Amazon, but that argument no longer holds up because Amazon has 466 Whole Foods locations now, Ladd said. At this point, Walmart's best option is to divest Sam's Club and acquire Costco Wholesale Corporation  (COST) , he said. Together, Walmart, Jet.com, which Walmart acquired in August 2016, and Costco would make a worthy competitor to Amazon, he said. 
Target and Kroger's best option to stay competitive is to merge, he said. Just as Target turned to CVS (CVS) for help with its pharmacy business, Target needs to turn to Kroger for help with its grocery business. Meanwhile, Kroger can't compete as a standalone grocer while other companies like Walmart and Amazon can offer the complete retail experience with the option to purchase electronics and other items in the same location. "By merging, Target will gain access to a best-in-class grocery retailer to manage their grocery needs, and Kroger gains access to Target's retail products," he said. "I would combine the loyalty programs of each."
Potential future acquisitions for the ever-expanding Amazon giant includes Bodybuilding.com, L Brands Inc.'s (LB) Victoria's Secret, L.L. Bean and REI, Ladd said. All of these companies make "perfect sense" for Amazon to acquire because they have "tremendous brand recognition and a solid customer base, but they've lost some of their luster," he explained.
Watch More with TheStreet:
Tesla's Elon Musk Is All Jokes as the Model 3 Accelerates Into 'Production Hell'
, which Jim Cramer manages as a charitable trust, is long AAPL.