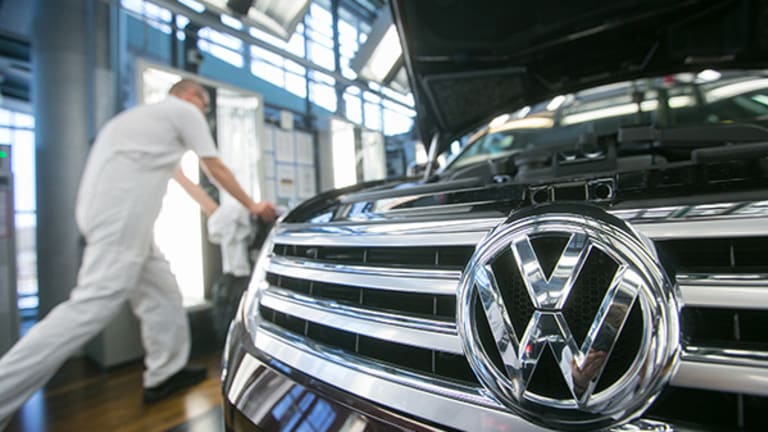 Volkswagen Scandal Widens: 10 Things to Know About the Diesel Emissions Scandal
The Volkswagen scandal has just widened to include additional cars. Will your car be recalled? Here's what you need to know about VW's emissions scandal.
This story has been updated from Oct. 7, 2015 with information on the widening scandal. 
NEW YORK (TheStreet) -- Things are progressing in the massive, worldwide Volkswagen (VLKAY)  diesel fuel efficiency scandal that claimed the company's CEO and tarnished what had been a sparkling reputation.
The German car maker said in a new statement on Tuesday that during the course of internal investigations "irregularities" were found when determining "type approval carbon dioxide levels" including diesel and gasoline-powered vehicles. The issues could affect up to 800,000 additional cars and Volkswagen estimates that it will cost another €2 billion ($2.18 billion) to fix. 
"Under the ongoing review of all processes and workflows in connection with diesel engines it was established that the CO2 levels and thus the fuel consumption figures for some models were set too low during the CO2 certification process. The majority of the vehicles concerned have diesel engines," Volkswagen said Tuesday.
The news came as the U.S. Environmental Protection Agency on Monday slapped further violations on the already embattled company, saying that certain diesel models of the Volkswagen Touraeg (2014), Porsche Cayenne (2015) and several 2016 Audi models were also outfitted with defeat devices, aimed to cheat emissions tests. 
The latest EPA violations now calls into question how much Volkswagen's new CEO Matthias Müller, who has been the head of the Porsche brand since 2010, knew about the devices. 
Some 11 million diesel-powered autos from the Volkswagen Group, which includes other brands like Audi and Porsche, are equipped with emissions-control "defeat devices." Volkswagen had previouisly said that included about 5 million VW-brand cars. Volkswagen reported a $1.83 billion loss for its fiscal third quarter, as the car maker set aside $7.4 billion to pay for recalls and fixing cars, according to USA Today. 
Despite blanket coverage by news media with updates on the scandal, lots of people are still asking questions on Google and social media. Social media is calling the Volkswagen emissions scandal #DieselGate and #VWGate, a reference to Watergate.
To become well-versed in Volkswagen, read to the end to find out all about the scandal. And when you're done, be sure to check out car scandals that were bigger than Volkswagen's.
1. So what exactly happened at Volkswagen?
Volkswagen is facing a major scandal involving using software to cheat on emission tests on its diesel cars in the U.S. The company admitted that it installed specific software designed to fool emissions tests, making it look like the cars involved (the tally is actually 11 million cars worldwide) were more fuel-efficient than they actually were.
The company said that it set aside approximately $7 billion to handle potential fines, recalls and vehicle buybacks, but reports are saying the EPA could hammer the company with fines as high as $18 billion.

2. Who owns VW?
Volkswagen is owned by The Volkswagen Group, a holding company, headquartered in Wolfsburg, Germany.
The Group has 12 brands across seven European countries. They are: Volkswagen Passenger Cars, Audi, SEAT, ŠKODA, Bentley, Bugatti, Lamborghini, Porsche, Ducati, Volkswagen Commercial Vehicles, Scania and MAN. It also has businesses in diesel engine manufacturing for marine and power plants, turbomachinery and compressors, among other things. The Group also offers financial services, including dealer and customer financing, leasing and fleet management, according to its corporate Web site.
Shares of Volkswagen AG trade on the Frankfurt Stock Exchange, but they also trade in the U.S. through American Depository Receipts that trade under the ticker "VLKAY." (It also has preferred ADR shares that trade under "VLKPY.")
The State of Lower Saxony owns 20% of Volkswagen; Qatar Holdings owns 17% and Porsche Automobile Holding owns 51%, according to this infographic published by TheTelegraph.
VLKAY
data by
3. How much is VW worth?
Volkswagen lost roughly one-third of its market capitalization following the news of the scandal, which could open doors for other suitors to acquire the company, according to The Deal, a sister publication to TheStreet. Its market cap to date is around $62 billion.
Volkswagen's enterprise value is approximately $150 billion.

4. How did VW get caught?
The U.S. Environmental Protection Agency and the California Air Resources Board issued violation notices to Volkswagen Group of America on September 18.
Here's information from the EPA's release:
• The September NOV alleged that four-cylinder Volkswagen and Audi diesel cars from model years 2009-2015 include software that circumvented EPA emissions standards for certain air pollutants resulting in cars that "meet emissions standards in the laboratory or testing station, but during normal operation, emit nitrogen oxides, or NOx, at up to 40 times the standard."
• The Clean Air Act requires vehicle manufacturers to certify to EPA that their products will meet applicable federal emission standards to control air pollution, and every vehicle sold in the U.S. must be covered by an EPA-issued certificate of conformity.
• EPA and CARB uncovered the defeat device software after independent analysis by researchers at West Virginia University, working with the International Council on Clean Transportation, a nongovernmental organization, raised questions about emissions levels, and the agencies began further investigations into the issue. In September, after EPA and CARB demanded an explanation for the identified emission problems, Volkswagen admitted that the cars contained "defeat devices."
Here's the initial response from Volkswagen's former CEO Martin Winterkorn. Here's the gist:
• I personally am deeply sorry that we have broken the trust of our customers and the public.
• We do not and will not tolerate violations of any kind of our internal rules or of the law.
• The trust of our customers and the public is and continues to be our most important asset.

4. How did the VW "defeat device" work?
A "sophisticated software algorithm on certain Volkswagen vehicles detects when the car is undergoing official emissions testing, and turns full emissions controls on only during the test," according to the EPA.
"The effectiveness of these vehicles' pollution emissions control devices is greatly reduced during all normal driving situations. This results in cars that meet emissions standards in the laboratory or testing station, but during normal operation, emit nitrogen oxides, or NOx, at up to 40 times the standard. The software produced by Volkswagen is a 'defeat device,' as defined by the Clean Air Act," the agency further said.
It's unclear why VW did this. One theory is so that it could make its diesel engines more cheaply than competitors; another is that these engines, not hampered by the engineering that being a true, clean-burning diesel would require, performed better for drivers. 

5. Is my VW recalled?
While a date for when U.S. recalls will begin is not known, the company will start recalling affected vehicles in Europe in January 2016.
"If all goes to plan, we can start the recall in January," Müller told a German newspaper in October, according to Reuters, though he did not say when recalls for U.S. cars would begin. That said, "All the cars should be fixed by the end of 2016," Müller reportedly said in the latest development as the embattled German car manufacturer reels from the scandal.
"In many instances a software update will be sufficient," according to a press release recapping Müller's statement to employees . "Some vehicles, however, will also require hardware modifications. We will keep our customers constantly informed about the measures and arrange workshop appointments."
That said, the EPA estimates approximately 482,000 cars in the U.S. were affected. Here are the VW diesel models affected:
Jetta (2009-2015)
Jetta Sportwagen (2009-2014)
Beetle (2012-2015)
Beetle Convertible (2012-2015)
Audi A3 (2010-2015)
Golf (2010-2015)
Golf Sportwagen (2015)
Passat (2012-2015)

6. Why did the CEO of Volkswagen resign?
Volkswagen CEO Martin Winterkorn, who initially apologized but intended to stay on as the company's chief executive, reversed course announcing his resignation shortly after the scandal erupted. In his statement, he said he accepted "responsibility for the irregularities that have been found in diesel engines and have therefore requested the Supervisory Board to agree on terminating my function as CEO of the Volkswagen Group. I am doing this in the interests of the company even though I am not aware of any wrong doing on my part."

7. What did Winterkorn know?
It is unclear how much Winterkorn, who has been CEO as Volkswagen since 2007, may or may not have known.
Winterkorn said he was "shocked at the events of the past few days," in his resignation statement on Wednesday. "Above all, I am stunned that misconduct on such a scale was possible in the Volkswagen Group," he said.
"While he denies any knowledge of the diesel deception, internal investigations are underway to find those responsible for installing the software cheat," according to Fortune.

8. How much did Martin Winterkorn make?
Bloomberg pegged his 2014 annual compensation, which includes salary, bonus and long-term incentives, at $18.8 million.

9. How much is the Volkswagen CEO getting to step down?
Reports say that Winterkorn has amassed a $32 million pension fund and could get millions more in severance, depending on how the company's supervisory board "classifies" the exit, Bloomberg said.

10. Is Volkswagen's new CEO involved in the scandal too? 
Matthias Müller, 62, was named the company's next CEO, replacing Martin Winterkorn, who resigned in September after the company admitted to deliberately cheating on U.S. emissions tests. He is also the chairman of the car maker's Porsche division and will continue in both roles until a successor has been found, Volkswagen.
The latest EPA violations now calls into question how much Volkswagen's new CEO Matthias Müller, who has been the head of the Porsche brand since 2010, knew about the devices.
Some analysts are wondering if an insider was the right persion to replace Winterkorn. 
"The allegations are all the more serious given that VW's new CEO Matthias Müller came from Porsche and any hint of further deception could well see his position come under scrutiny," Michael Hewson, chief market analyst at CMC Markets, told The Wall Street Journal.