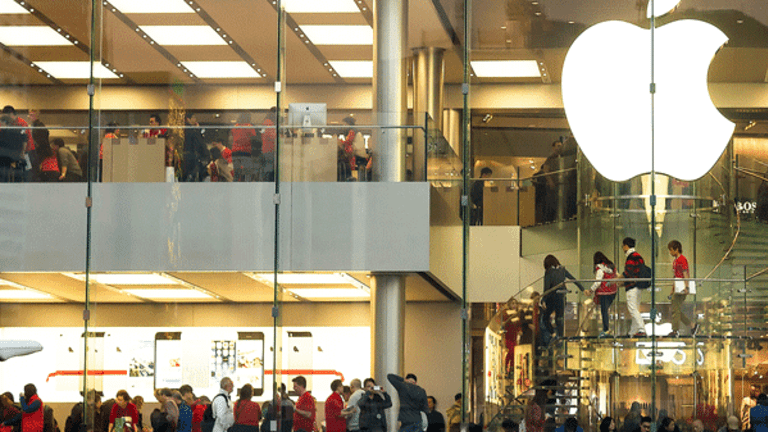 Apple Shareholders Voted on 9 Proposals This Week -- Here Are the Results
Apple shareholders overwhelmingly voted down the five proposals presented by shareholders, including one about increasing diversity on its management team.
Updated from Feb. 28 with results from the shareholder meeting.
Apple (AAPL) - Get Apple Inc. (AAPL) Report   is working on products that are "essential to Apple's growth," CEO Tim Cook claimed during the company's annual shareholder meeting at Apple's Cupertino headquarters on Tuesday morning. This defensive claim comes as many investors are frustrated at Apple's lack of innovation since cofounder Steve Jobs died in 2011. 
The research and development happening at the famously secretive company have to do with "future stuff [he] can't talk about," Cook told shareholders. 
Apple's 26,000 shareholders had a lot to applaud the company for as the tech giant's stock closed at an all-time high earlier this month, and Warren Buffett recently announced that Berkshire Hathaway (BRK.A) - Get BRK.A Report more than doubled its stake in the company in 2017. 
Berkshire now owns 133 million shares of Apple worth about $17 billion, vs. the 61.2 million shares for a total of $6.75 billion that it owned as of Dec. 31, according to Buffett's comments in an interview on CNBC on Monday. Berkshire now has about a 2.5% stake in the company. "Apple strikes me as having quite a sticky product and an enormously useful product to people that use it, not that I do," Buffett claimed. 
Cook gave Buffett a shoutout at the meeting, saying that he was "very proud" that the firm had invested in Apple. "I think what's good for Apple is to have long term shareholders," he said, noting that Berkshire Hathaway is known to be a long shareholder. 
During the meeting, Apple requested shareholder action on nine proposals. Shareholders who could not attend the meeting were allowed to cast proxy votes either online or by mail. 
The first four proposals were submitted by management, while the last five were submitted by various individual shareholders that own at least $2,000 worth of Apple's common stock. The Apple Board recommended that shareholders vote in favor of the first four proposals and against the last five proposals. Shareholders respected the board's voting recommendations on all nine accounts, as was expected. 
Also of note is that this is the last time Apple's 1 Infinite Loop campus was used for the annual shareholder meeting. In April, the company will start to move employees into its new 'spaceship' campus recently christened Apple Park. 
1. Election of directors -- approved
The Apple Board of Directors recommended that shareholders vote in favor of the election of eight nominees to the board. Those eight nominees were James Bell, Tim Cook, Al Gore, Bob Iger, Andrea Jung, Art Levinson, Ron Sugar and Sue Wagner. 
2. Ratification of appointment of independent registered public accounting firm -- approved
The Apple Board of Directors requested the appointment of Ernst & Young LLP for its independent registered public accounting firm for 2017. The accounting firm has been with Apple since 2009. 
3. Advisory vote to approve executive compensation -- approved
Apple uses a performance-based compensation plan and since 2016 was a tough year for Apple, its top executives will receive a pay cut. CEO Tim Cook will take home $8.75 million for 2016, 15% less than the $10.28 million he received in 2015. The remaining five senior executives will each take home about $22.8 million for 2016, vs. $25 million in 2015, the majority of that in stock awards.
Apple is a holding in Jim Cramer'sAction Alerts PLUS Charitable Trust Portfolio. Want to be alerted before Cramer buys or sells AAPL? Learn more now.
4. Advisory vote on frequency of say-on-pay votes -- approved
Apple's board asked shareholders to vote for a one-year cycle for votes on executive compensation packages and plans. 
5. Rules for charitable giving -- rejected
The National Center for Public Policy Research proposed that Apple release a report each year on its website that explains how the company chooses recipients for charitable contributions, the "business rationale" and purpose of the contributions, as well as a list of people who helped make the decision about the recipients. The organization also wanted to receive a follow-up report to ensure that the money was used for the stated purpose. 
"Absent a system of accountability and transparency, some donated assets may be misused and potentially harm the company's reputation and shareholder value," the organization wrote in its proposal. "Current disclosure is insufficient to allow the company's Board and shareholders to evaluate the use of corporate assets by outside organizations."
The National Center for Public Policy Research went on to note that Apple donated to an openly left wing organization, the Center for American Progress, which is "controversial" to do in the current political climate. 
For its part, Apple argued that it already discloses enough information about its core values and contributions on its website, and that "the requested report would do nothing to advance these philanthropic activities." The company said that its time is better used elsewhere. 
6. Increasing diversity of senior management and the board -- rejected 
One highly-publicized concern going into the meeting was the lack of diversity on Apple's mostly-white board. In 2015, Apple investor Tony Maldonado submitted a shareholder proposal calling for Apple to address its lack of diversity. Only five of Apple's top 107 executives are black, Hispanic, Native America or Hawaiian/Pacific Islander, Maldonado claimed in an op-ed for USA Today.
His proposal got 5.1% of the vote last year and only 4.91% of the votes this year.
In this year's proposal, Maldonado and Zevin Asset Management requested that Apple be required to increase the diversity of senior management and its board of directions. The lack of diversity is a "business risk." 
"Shareholders believe that companies with comprehensive diversity programs, and strong commitment to implementation, enhance their long-term value, reducing the company's potential legal and reputational risks associated with workplace discrimination and building a reputation as a fair employer," the proposal said. In addition, a more diverse board would increase creativity and reduce the "groupthink" at the company, they argued. 
Apple argued that its efforts to increase diversity are "much broader" than the "accelerated recruitment policy" that the proposal puts forth. Instead of focusing on Apple's senior management and Board, the company takes a more "holistic" view extending to anyone who wants to work in the tech sector in the future. 
Loup Ventures founder Gene Munster agreed with Apple, saying it does more than most companies when it comes to fostering diversity. Any tech company would resist this proposal simply because of the broader issue of the "makeup of the workforce" that would limit Apple in who it hires, Munster added. 
7. Shareholder proxy access amendments -- rejected 
Shareholder James McRitchie wanted Apple to amend its proxy access for director nominations bylaw to allow shareholders to nominate two directors on the company's board. 
Apple, however, argued that its existing proxy access framework strikes "the right balance between promoting shareholder nomination rights and protecting the interests of shareholders." 
8. Executive compensation reform -- rejected
Shareholder Jing Zhao proposed that Apple use "multiple outside independent experts or resources from the general public to reform its executive compensation principles and practices." 
He argued that the Compensation Committee is clearly not doing a good job given that the CFO, the Retail and Online Stores SVP, the Internet Software and Services SVP, the Hardware Engineering SVP and the Secretary all have almost exactly the same compensation plans (as noted in proposal 3). The committee should be able to "differentiate the contributions" of the different roles, he argued. 
Apple responded that its similar internal pay equity among executives is because of the company's "team-based approach" to its executive compensation program. This proposal would not help shareholders, is unnecessary and is "not consistent with market practice," Apple wrote. 
9. Requirement for executives to retain significant stock -- rejected 
The last shareholder proposal came from Kenneth Steiner who said that requiring senior executives to retain a significant portion of stock they got through executive pay plans until they reach the normal retirement age of at least 60 would "focus our executives on our company's long-term success." He recommended a share retention percentage requirement of 75% of net after-tax shares. 
Apple argued that its existing executive compensation program already encourages leadership to focus on the long-term success of the company. Cook is expected to own shares of Apple common stock that have a value of ten times his base salary, the company pointed out.