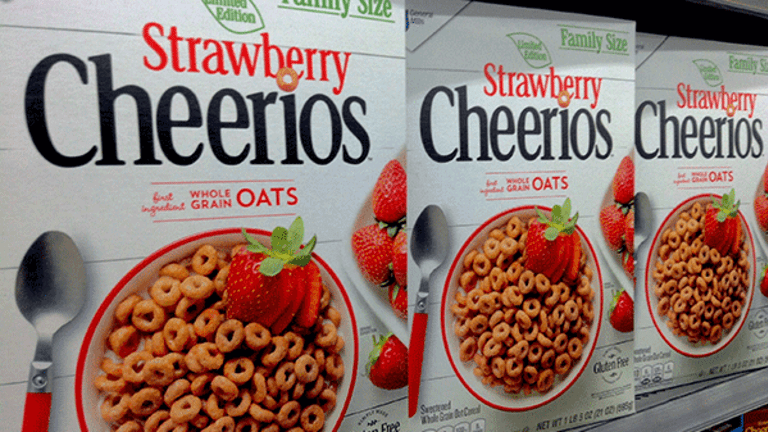 Everything We Know About the Latest Addition to the Cheerios Family
General Mills is about release a new Cheerios flavor, but with a twist.
Add another renovated cereal to the Cheerios family.
Next month, General Mills (GIS) - Get Free Report will launch "Very Berry" Cheerios, a cereal which contains strawberries, blueberries and raspberries. The monumental thing: It will be absent artificial colors and flavors, and will be gluten-free. So yes, it uses real fruit.
Don't be too hard on yourself if you can't remember whether Cheerios ever did berry-flavored cereal before.
The company introduced three different versions of "Berry Burst" Cheerios back in 2003: strawberry, triple berry and banana. All three were eventually phased out. Last spring, the company introduced gluten-free strawberry Cheerios for a limited-time. It performed "very well," said a company spokeswoman.
The latest Cheerios flavor follows more than a year of General Mils overhauling its most beloved cereal brands to make them more appealing to increasingly health-aware shoppers. Last year, five iterations of Cheerios -- Apple Cinnamon, Multigrain, Frosted, Honey Nut and original -- went gluten-free. In January, Trix hit the markets minus artificial colors and flavors. The company said more than 90% of its cereals can now claim they are free of artificial flavors and colors.
Although consumers have embraced General Mills' renovated cereals with a healthy angle, tepid demand for more sugary offerings continued to weigh on the category's overall results. Cereal sales fell 3% in the second fiscal quarter ended Nov. 27, slightly better than a 4% decline in the first quarter. Sales of General Mills' cereal dropped 1% to $2.3 billion in the fiscal year ended May 29, 2016. 
More broadly, cereal industry sales continue to be plagued by people cutting back on sugar and navigating toward eating snack bars for breakfast. U.S. retail sales of ready-to-eat cereal fell 1.1% to $8.7 billion for the 52-weeks ended Nov. 26, according to Nielsen data.