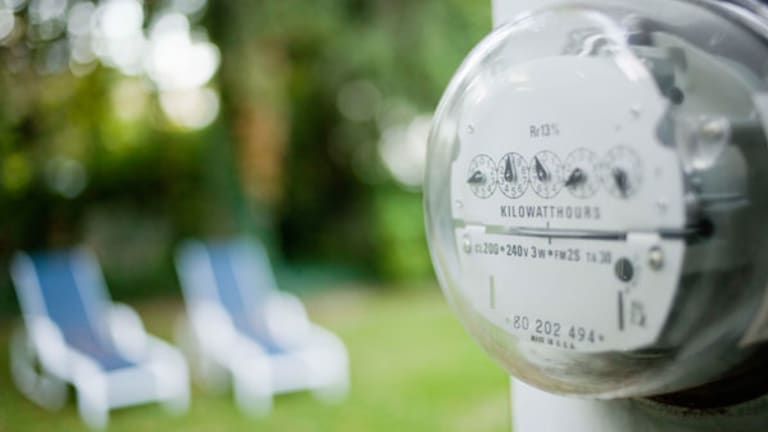 Publish date:
Even an Analyst Long on Chesapeake Energy Can't Say 'Buy'
Citigroup downgrades Chesapeake Energy, arguing that even the company's best efforts can't do more than keep it afloat.
Citigroup downgrades Chesapeake Energy, arguing that even the company's best efforts can't do more than keep it afloat.
NEW YORK (
) - The analyst disclosure section of Citigroup energy analyst Robert Morris's new downgrade on
Chesapeake Energy
(CHK) - Get Report
may be the most telling part of the report.
Morris is long shares of Chesapeake Energy, but in moving to neutral from buy on Monday (and we all know on Wall Street that a neutral rating is just a sell rating by another name), the Citigroup analyst is not willing to tell any other investor to buy Chesapeake Energy shares here, even as the shares sit at a four-year low in tune with the historical slide in the price of natural gas.
The outlook for natural gas has not necessarily improved just because it hit the psychological threshold of $2. The fundamentals in the natural gas production market suggest the price pressure
could get worse before it improves.
It's one of the reasons why Chesapeake Energy shares aren't trading like they did in days past. Historically, an announcement from Chesapeake Energy about monetizing assets typically led to a rally in the stock. But, last week, when the company announced $2.6 billion in asset deals, the stock fizzled.
The breaching of the $2 natural gas barrier was a big part of the
market yawn in reaction to the Chesapeake deal.
Citigroup's downgrade reinforces the idea that as Chesapeake looks to monetize as much as $10 billion to $12 billion in assets, the company is merely doing what it takes to avoid more pessimism from the sell side. Its ability to sell more from its asset collection shouldn't excite investors.
"We give the highest marks to Chesapeake management for its success in creatively monetizing assets and we are not doubting its ability to continue to do so," Morris wrote. "However, the remaining funding gap this year stands at ~$5.8bn and for 2013 at $4.4bn but this could grow to $5.7bn if natural gas prices were to average $2.50/MMBtu next year. But the risk to filling such a large funding gap in a downside scenario over the next two years is growing and by far greater for CHK than for any other company in our coverage group."
One of the classic bull cases for Chesapeake Energy has been that its "great collection of assets" implies that the stock trades at a huge discount to net asset value. Morris notes this argument, but as a way of saying that if it's a fact, it's still not a reason to buy Chesapeake shares.
"Thus, despite being relatively inexpensive on NAV
net asset value, we see no compelling reason to step up aggressively on CHK's shares at this juncture with nothing, in our view, to revitalize natural gas prices any time soon and many hurdles yet ahead for Chesapeake to meet its objectives," Morris wrote in his downgrade.
Last Friday, Chesapeake Energy announced a $5 million gift to the University of Kansas to build a high-tech auditorium on the UK campus as part of an energy center that will, in Chesapeake's words, produce the next generation of this country's energy leaders (that's why you are paying $5 million, ostensibly, Chesapeake shareholders; ultimately the UK energy center will help to fuel the shale drilling boom that will fuel Chesapeake Energy).
If you think that's some tortured logic at a time when the Chesapeake management has done little as far as shareholder value, Chesapeake noted in its gift to UK that the company's chief operating officer, Steven Dixon, is a UK alumnus.
Dixon has made close to $40 million over the past four years at Chesapeake, a period of time during which long-term holders of the company's shares have made no money. It wasn't Dixon, though, who was making the gift to UK as a wealthy alumnus, but Chesapeake Energy.
Chesapeake made the $5 million gift on the same day that its shares hit a four-year low -- the bar has been set even lower on Monday morning after the Citi downgrade, with shares off by close to 4% and below $20.
As has often been said, with some derision, about Chesapeake Energy CEO Aubrey McClendon -- whether it's a
high-priced bottle of wine while he is wining and dining a
Rolling Stone
writer, using Chesapeake Energy money to advertise in a basketball arena of a team he partly owns, making a donation in the name of Chesapeake Energy to his COO's college, or amassing that
great collection of assets -- the CEO sure knows how to spend money.
As far as Citigroup is concerned, though, even if McClendon can turn from spending to making some money, even to the tune of the $10 billion to $12 billion it claims will cover its funding gap, it's not going to be anything like a gift for Chesapeake shareholders in the near-term.
-- Written by Eric Rosenbaum from New York.
>To contact the writer of this article, click here:
Eric Rosenbaum
.
>To follow the writer on Twitter, go to
.
Follow
TheStreet
on
and become a fan on